September 19, 2017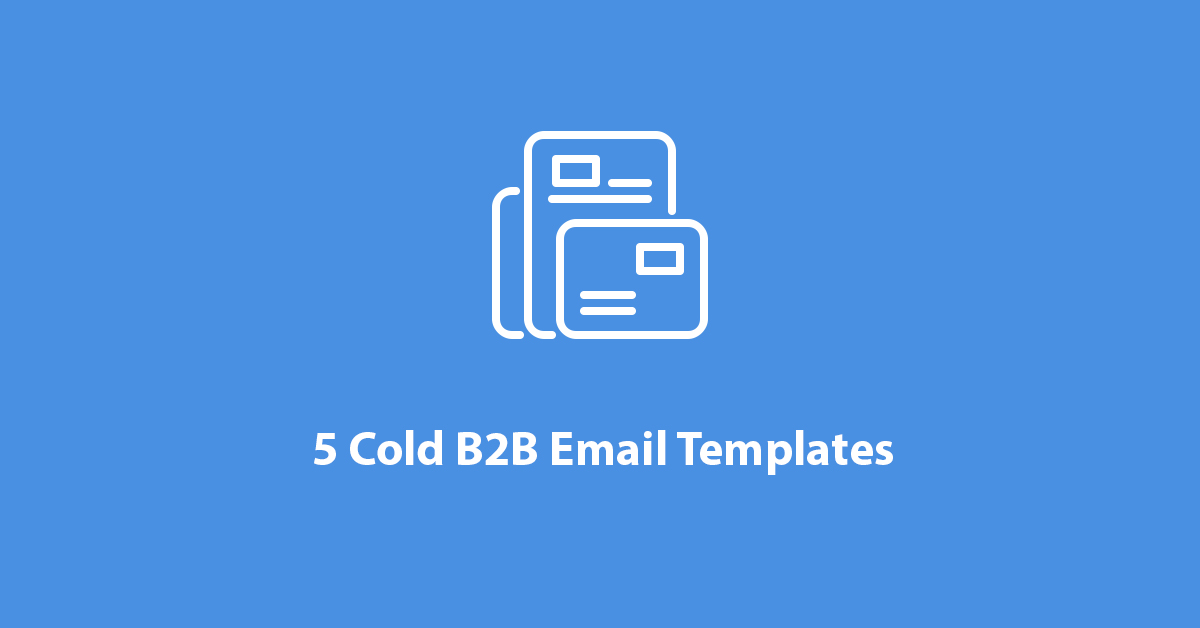 Is writing each email from scratch slowing down your cold email prospecting process? Emailing prospects is a time-consuming process, and every saved second gives you an edge in bringing in new customers and closing new deals.
Since every prospect you contact has different needs and priorities, there's no such thing as a "perfect" cold email. However, by using cold email templates, you can create a basic structure that can be adapted, tweaked and modified to suit each and every person you contact.
Below, I've shared five cold email templates to add to your B2B prospecting process, from initial contact emails to follow-ups and more.
The direct approach
When your product or service is perfectly suited to a prospect and there are clear signs showing their interest (such as tweets, hiring notices or competitive pressure), sometimes the best email sales approach is to be direct.
This direct cold email template uses the Problem, Agitate, Solve (PAS) formula to draw attention to a specific problem, agitate the problem, and propose a solution:
"Hi [Name],

I saw your recent tweet/job posting/blog post and noticed you're searching for a team of web developers for your upcoming project.

I know how hard it can be to find reliable people for a project like this and I'd love a few minutes to share how we can assist you.

We've worked with a wide range of clients like [include several examples] and produced some significant benefits for them:

Benefit #1
Benefit #2

Are you available for a quick call to chat about how we can help you?"
The structure of this email is simple. The first sentence defines the problem — in this case, that the prospect is searching for a service provider. The second sentence agitates the problem by discussing how difficult it can be to solve.
Finally, it delivers a solution, along with a list of benefits to strengthen the solution. If you have a product or service that's a perfect match for a prospect, this type of direct sales email is often all it takes to start discussing a potential deal.
The results email
Courtesy of SalesFolk, this cold email template focuses totally on results. It's a quick, direct way to explain to a prospective customers exactly how you can help them achieve their growth goals or other objectives:
Subject: "10x [prospect's company's] traction in 10 minutes"

"Hello [Name],

I have an idea that I can explain in 10 minutes that can get [company] its next 100 customers.

I recently used this idea to help our client [SaaS company/competitor] almost triple their monthly run rate.

[Name], let's schedule a quick 10 minute call so I can share the idea with you. When works best for you?"
In internal campaigns, this email template achieved a 57% open rate and 21% response rate. It also brought in 16 new paying customers. Here's why:
It's direct and to the point. There's no time wasted explaining the problem or promoting the salesperson's company. Instead, it leaps right into offering a compelling solution.
There's a curiosity factor. What company isn't interested in learning how it can 10x its traction in 10 minutes?
It uses real results to create social proof and credibility. Better yet, it (if appropriate) has a direct mention of a competitor, creating a sense of urgency and necessity for the target recipient.
Like all results-based emails, this type of template works best when you can back-up your value proposition. If you really do have an innovative solution or unique product, the curiosity-inspiring approach is often the most effective for inspiring prospects to take action.
The mutual connection email
Often, a friend, former colleague or customer is the most effective path for getting in touch with a sales prospect. If you have a mutual connection with a potential customer, by all means use it to start a conversation.
This email template uses a recommendation from a shared connection to break the ice, making what would otherwise be a completely cold email a little warmer:
"Hi [Name].

I work with/know [Connection], who recommended we get in touch. We work/worked together on [specific project]. I noticed you're currently working on [project] at [company] and thought we could be a good fit for you.

We've helped [other companies/competitors] with [specific objective/task]. I'd love to talk about how we can help you too. Do you have any time in the next week for a quick call? If so, which day and time is best?"
The psychology behind this approach is simple — people are more likely to respond to a mutual connection than a stranger. By leveraging a connection to get your foot in the door, your email is far less likely to go ignored or deleted by the recipient.
The "appropriate person" follow-up email
No matter how much you research your prospects before contacting them, some of your emails will inevitably end up going to the wrong people within an organization. This email flips the usual sales script by asking for the appropriate person's name and email instead of a phone call:
"Hi [Name],

I'm getting in touch to follow up on my last email. Since I didn't hear back from you, I assume it went to the wrong person within your company.

Could you please let me know the appropriate person to talk to about [problem/project]?"
Short and simple, this follow-up email is often all that's required to redirect the conversation in the right direction and restart the conversation with a prospective customer or client.
The "close your file" follow-up email
Sometimes, a prospect that seems like a perfect fit for your product or service ignores your first few emails. If you've followed up again and again only to be rebuffed or ignored, the "close your file" email can be a valuable tool for reconnecting.
Also known as the "breakup email," this cold email template — penned by Bryan Kreuzberger — delivers an ultimatum to the person receiving the email:
"Hi [Name],

We are in the process of closing files for the month. Typically when I haven't heard back from someone it means they're either really busy or aren't interested. If you aren't interested, do I have your permission to close your file?

If you're still interested, what do you recommend as a next step?

Thanks for your help."
Since this email is so direct, it's best used as a last resort when a prospect has stopped replying to your previous messages. It works well for several reasons:
It changes the tone of the conversation, from asking for something to giving the prospect a yes/no decision to continue the sales process.
It puts them in control of the situation by asking for permission to close their file for the month.
It flips the typical sales script by asking for their recommendation for how to proceed.
If you have a great lead that just isn't taking action after several follow-up emails, the breakup email can be a great tool for restarting the sales process. Just don't send it too early, or you'll likely end up scaring away people that might otherwise be interested.
Get a hand-curated list of 10,000+ fast growing tech companies
GrowthList hand curates lists of fast growing tech companies, all sorted and organized to make launching your cold email campaign as easy as possible. How many can you convert into customers?