September 27, 2017
Feel like expanding your software toolkit? From invoicing and time tracking tools to blockchain platforms, Slack bots and more, here are 50 cool B2B SaaS products I've discovered recently: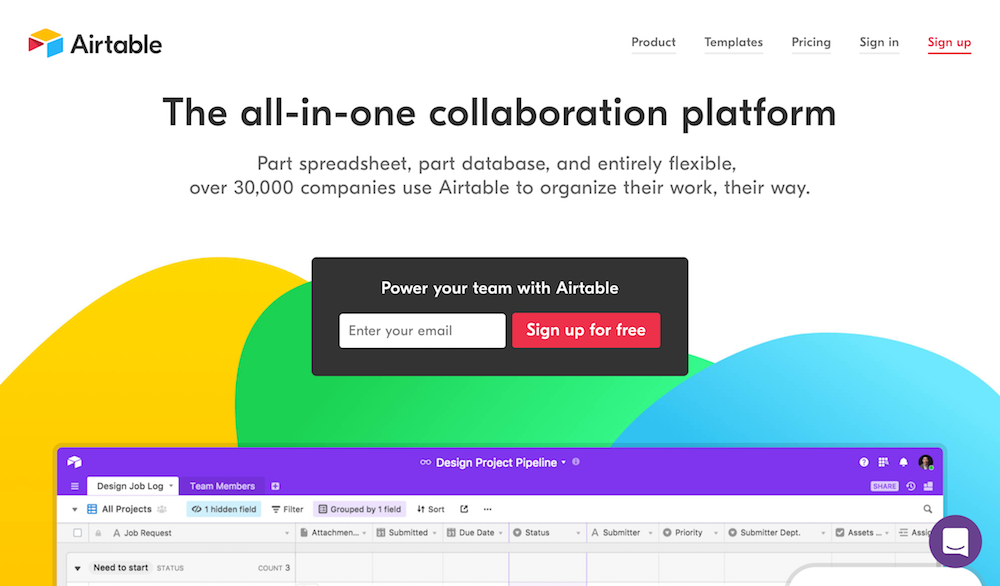 Airtable is an all-in-one collaboration platform that lets you organize everything from you paid ad campaign planning and purchasing to your content marketing plan, editorial calendar, cold email outreach and more.
If you're part of a marketing team that needs to stay on top of multiple projects at once, Airtable can be a valuable asset. It includes a huge selection of templates for almost every project type you can think of, with native mobile and desktop apps to make managing things simple.
It also integrates with a wide variety of other tools, from MailChimp to Slack, making it easy to add to your team's software toolkit.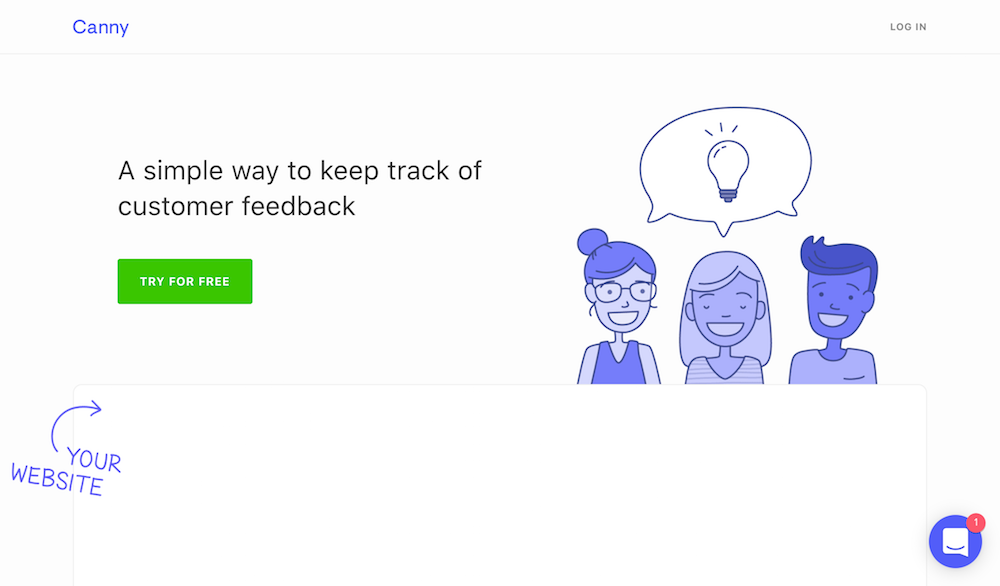 Canny is a feature request management tool that lets you capture ideas submitted by customers and users, then manage and prioritize them efficiently.
Designed for companies that receive and respond to user feedback often, Canny comes with a variety of features to make managing feedback easier. There are comments, letting you follow up with customers and get clarifying feedback, plus live status updates for requested features.
Canny integrates with Slack, letting you receive feature requests and feedback instantly in your group channel. It also integrates with Zapier, letting you send triggers to the other tools you rely on to run your business.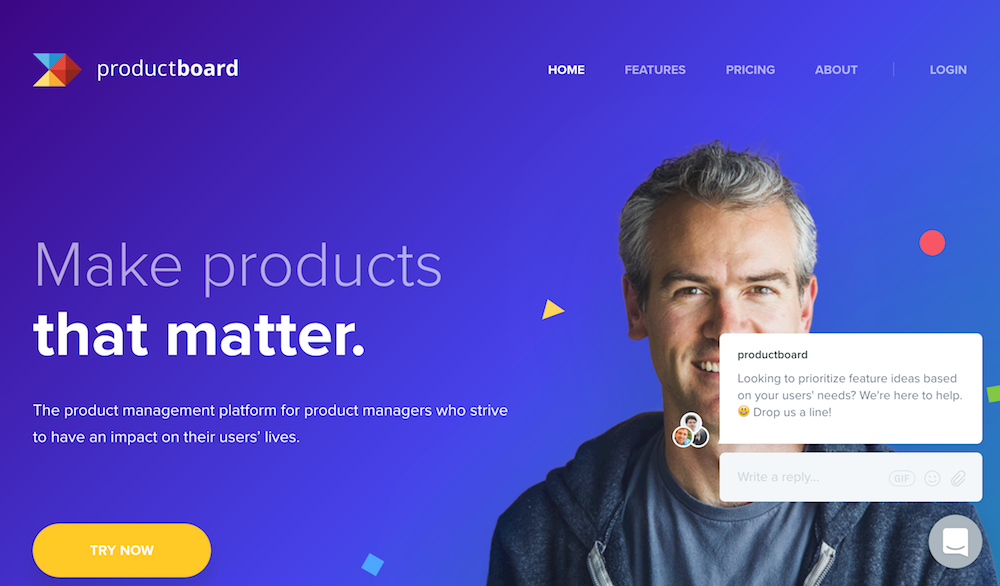 Productboard is a product management platform that helps you track and consolidate feedback, prioritize specific features and product improvements, monitor progress towards product-related goals and automate your product roadmap.
In short, it's an all-in-one tool that's ideal for product development teams that need to stay on top of a variety of tasks at once while improving an existing product. It even has useful features like user impact score, letting you prioritize improvements based on their popularity with customers.
Productboard integrates with a huge range of tools, from customer support tools like Intercom and Zendesk to collaboration platforms like Slack.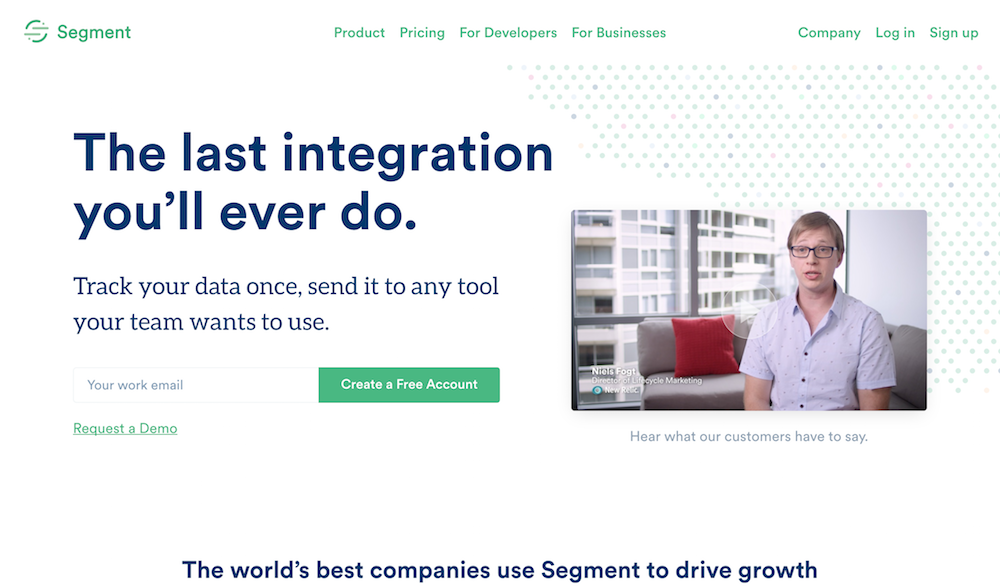 Segment is an analytics and customer data platform that lets you collect data from a massive range of different sources and send it to hundreds of tools for everything from marketing and analytics to data warehousing.
For example, you can collect data from cloud apps, analytics tools and e-commerce platforms for delivery to tools like Google Analytics, MixPanel and other analytics software. Segment can also push data to CRMs like Salesforce and HubSpot, making it great for sales teams.
The more tools you use to run your business, the more complicated managing and monitoring your data can become. Segment makes the process of data management simple, with a huge range of integrations for hundreds of different apps and platforms.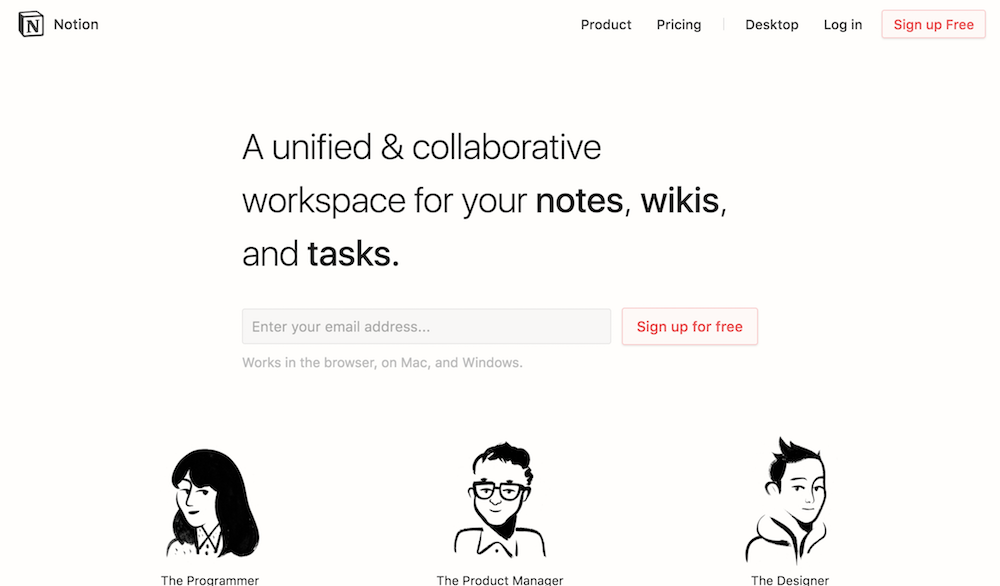 Notion is a collaborative workspace that brings all of your task lists, notes and wikis into one location. Designed for small to mid-sized teams, Notion integrates with tools like Google Drive, WordPress, Trello and Basecamp to bring all of your important data onto one platform.
In short, if you have folder and file chaos, Notion is a great way to solve it. Built around a light and simple drag-and-drop editor, it's also refreshingly easy to use, making it a great alternative to juggling a variety of collaboration, document and file sharing tools.
Notion integrates with Slack, making it easy to add to your team's toolkit. It also works in your browser or via an iOS app, making it ideal for managing your team's essential documents and resources while on the go.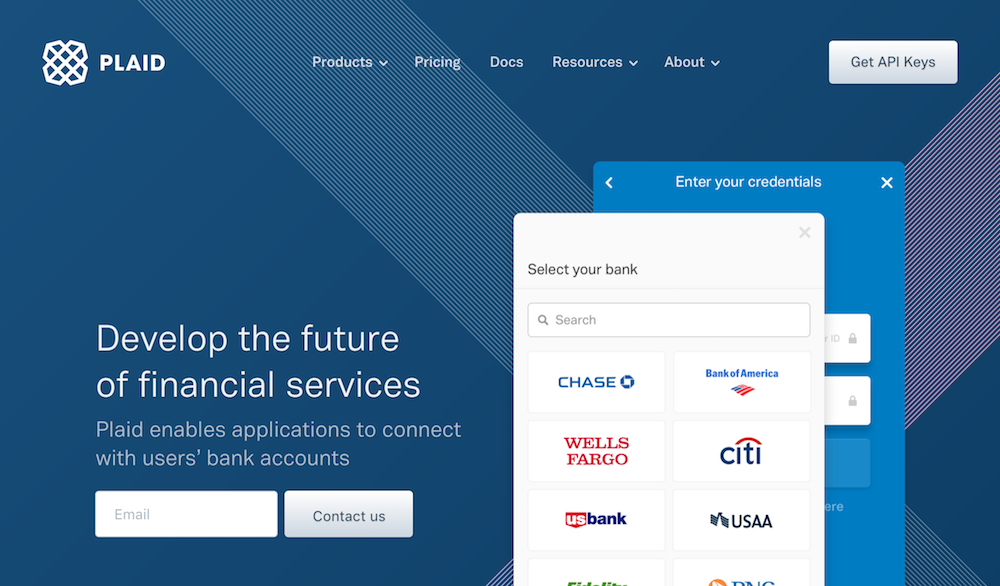 Plaid lets applications connect with users' bank accounts, letting you aggregate transaction data, authenticate user accounts, validate identities and capture payment details for a wide range of purposes.
If your business depends on ACH transfers to bill customers, Plaid can be a hugely valuable tool. Plaid's credential-based flow lets you retrieve account data seamlessly, with features like instant account ownership verification and balance checking.
This makes it a great tool for everything from billing and payment collection to fraud and NSF reduction.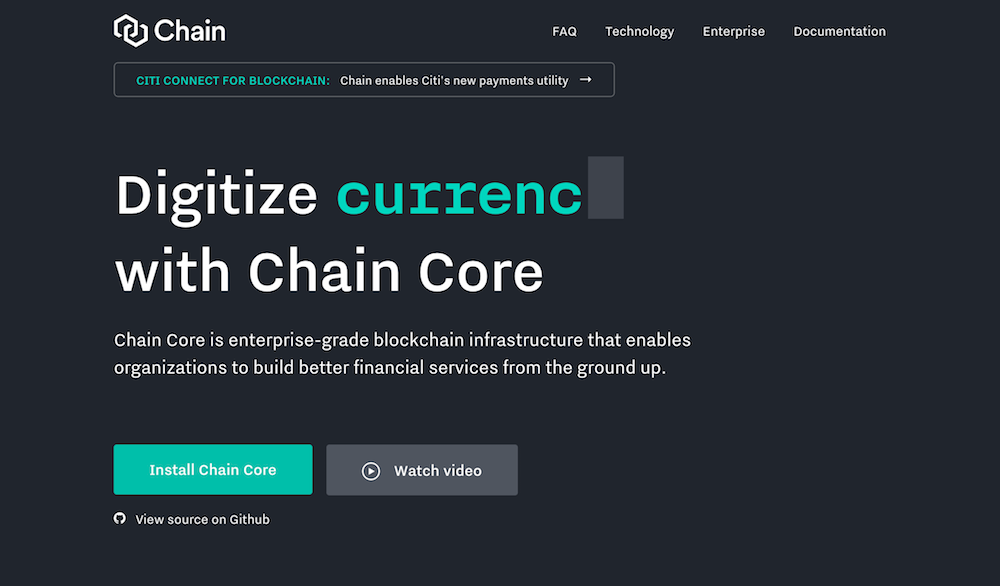 Chain is a blockchain platform that lets businesses of all sizes launch and operate their own blockchain networks. It can also be used to connect to other blockchain networks for financial asset transfer and issuance.
Built specifically for financial services businesses, Chain includes features like permissioned network access, multi-signature accounts and an immutable ledger that allows for monitoring and auditing transactions.
If you're interested in adding blockchain technology to your company's technical toolkit, Chain offers a scalable, effective solution.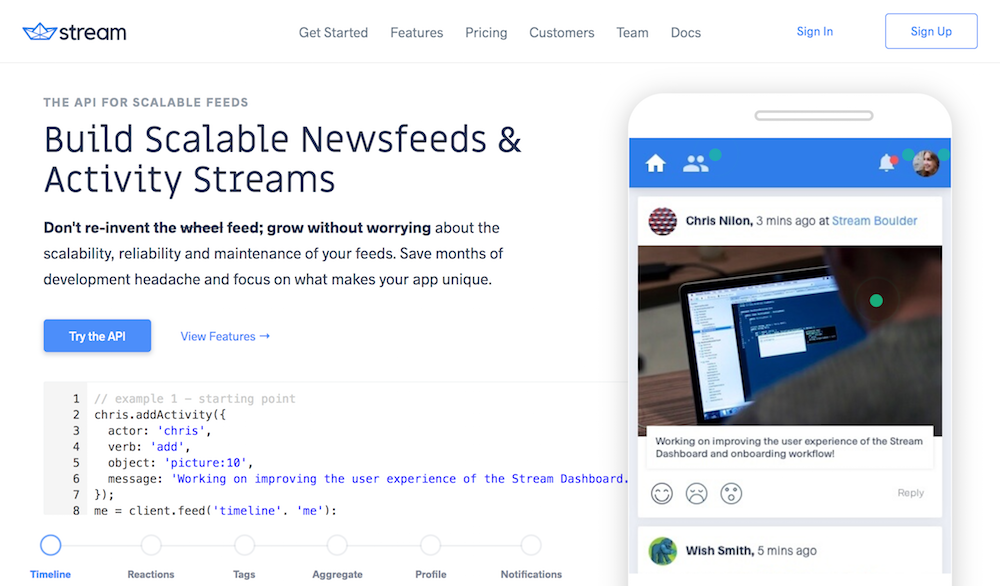 Stream is a scalable news feed API that lets you quickly and easily add feeds to your application without having to worry about scalability and compatibility. Used by brands like MakerSpace and Product Hunt, Stream is a quick, easy and convenient way to add social activity to your app.
Some of the features of Stream include tags, reactions, notifications, a timeline-like activity feed and simple user profiles. Stream also includes personalization features that let you tailor each user's activity feed to their preferences, based on interests and activity data.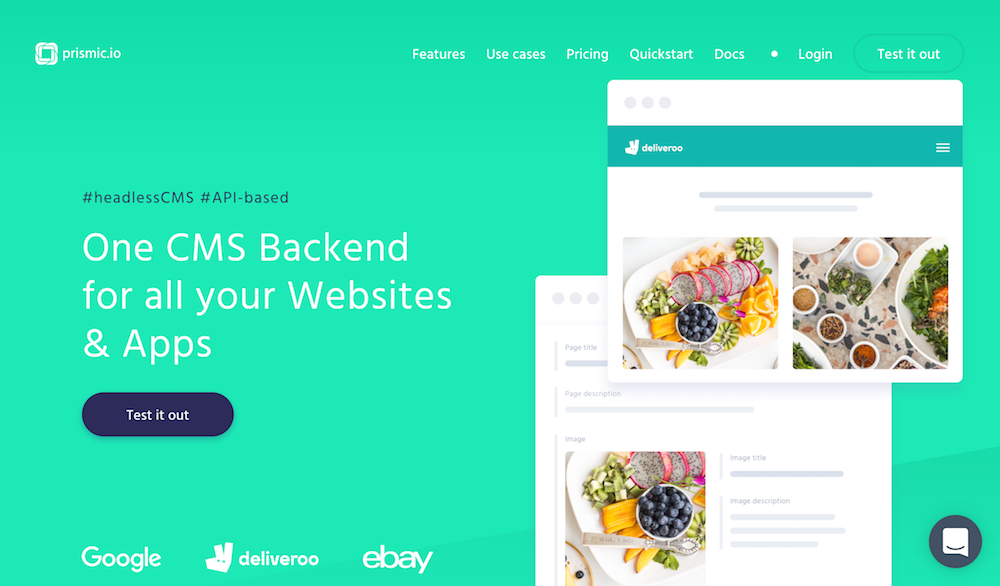 Prismic is a CMS designed to make creating product pages, content-based websites and other online content simple. It's also a great backend for managing and pushing content to your web and native apps.
Features include a visual custom type builder that lets you structure pages quickly and easily for deployment to your website, content scheduling, multi-language content localization, dynamic page layouts and a full revision history.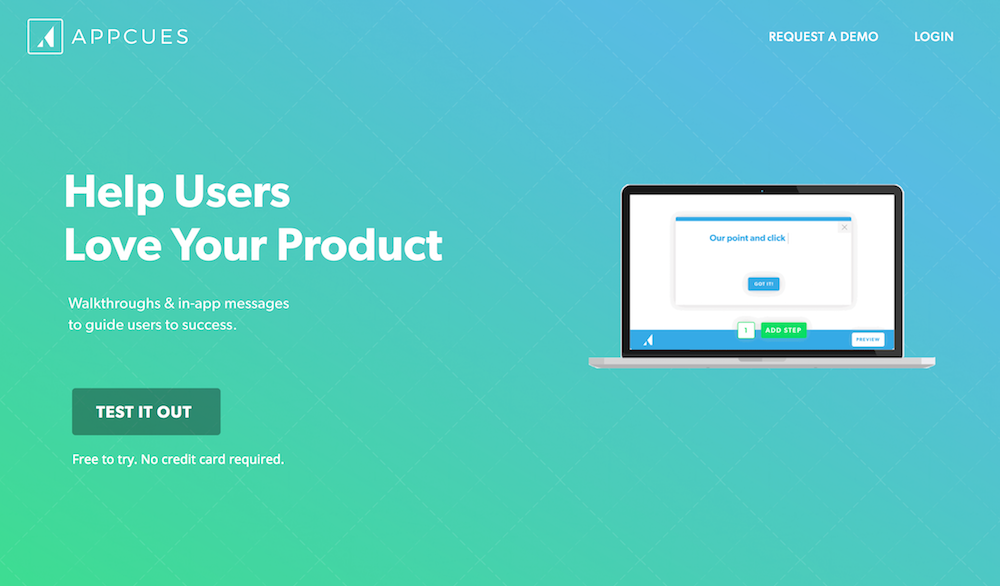 Appcues is a useful walkthrough and in-app messages tool that lets you add tutorials, guided tours and other helpful content to your applications without having to write a single line of code.
Used by companies like AdRoll and Canva, Appcues lets you add interactive onboarding intros and tutorials in just a few clicks. You can also use Appcues to add in-app messages highlighting specific features, with custom design options to match the look of your messages to your app.
Appcues includes a point-and-click editor that's extremely easy to use, making it a great option for adding tutorials and messages to your app without requiring any coding work.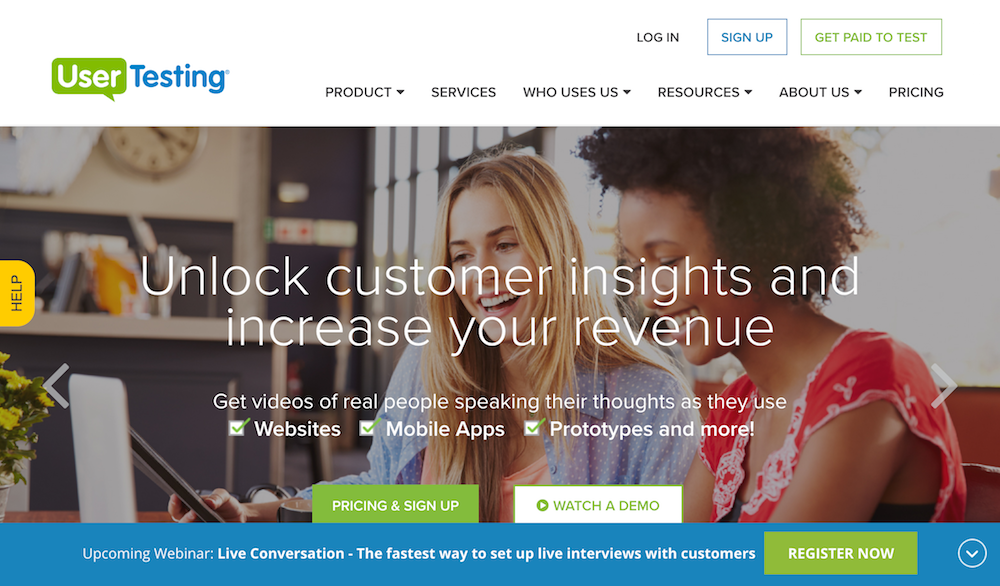 UsetTesting is an online testing program that gives you access to thousands of remote testers around the world. In a single test, you can generate insights into your website or app's usability or receive real feedback on your wireframe, prototype or beta release.
You can also use UserTesting to get live video and audio of people interacting with your website or application, letting you discover weak points and make improvements.
UserTesting is used by tens of thousands of businesses, ranging from Fortune 500 companies to independent designers and developers. If you're looking for a testing platform and don't have the resources to run QA and usability testing in house, it can be a fantastic resource.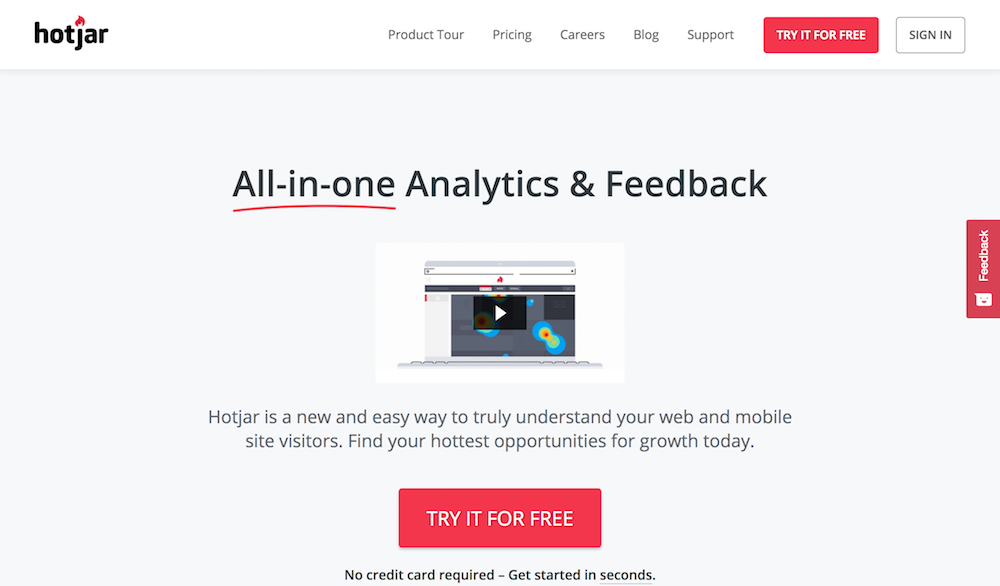 Hotjar is an all-in-one analytics and feedback platform that lets you record user activity, generate heatmaps based on mouse activity and click patterns, analyze your conversion funnels and use a huge variety of user data to improve your website.
It even includes tools for specific tasks such as form analysis, collecting live feedback from your users and recruiting people for user testing.
In short, Hotjar is an awesome tool if you're looking to make data-supported improvements and optimizations to your website. Because it comes localized in more than 40 languages, you can even use it to survey and analyze your international visitors.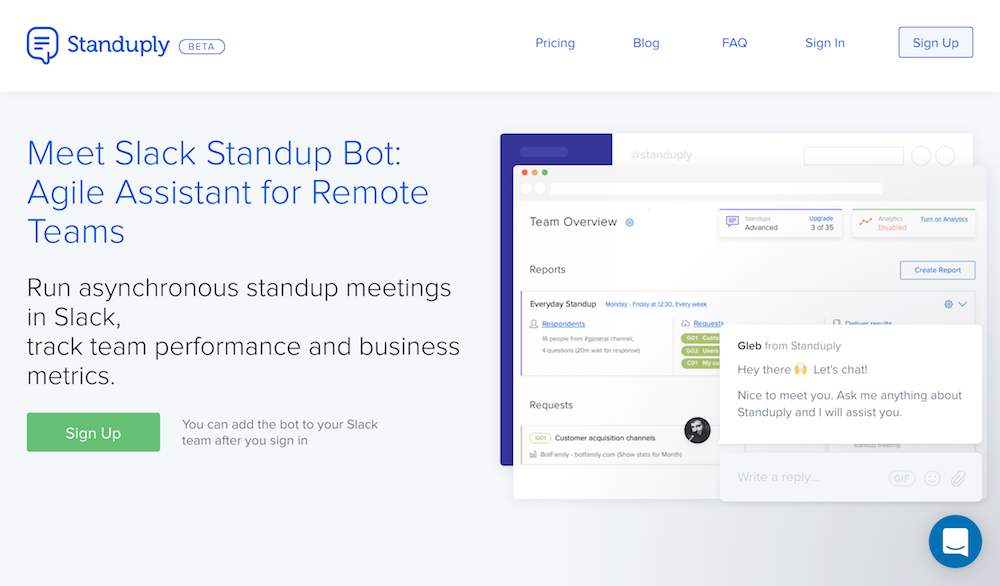 Standuply is a Slack bot that lets you run asynchronous standup meetings, helping you avoid time-consuming group calls and manage your team across multiple time zones.
It also lets you attach Google Analytics data to your reports to increase transparency and keep track of performance. You can even capture data from database tools, run retrospectives as a way to interview your team via Slack and survey your team remotely to track their mood.
Standuply includes a variety of predefined templates, letting you automate every aspect of your standup meetings. You can also create your own questions to generate targeted feedback from your team members, all without any active work on your part.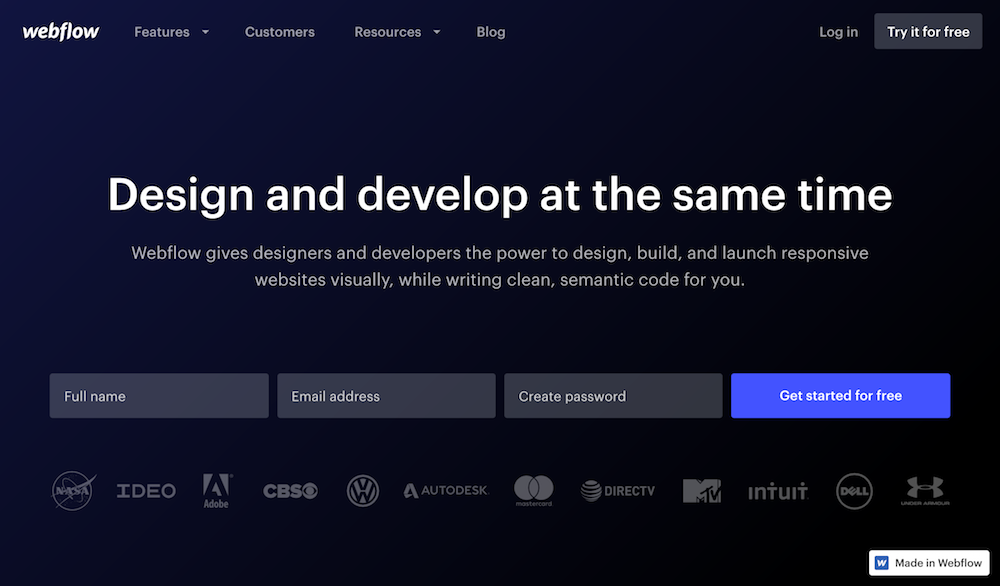 Webflow is a responsive design platform that lets you build and launch stylish, 100% responsive websites without having to worry about coding.
Designed for lightweight sites, Webflow features a user-friendly but powerful designer that lets you build your website just as if you were using offline graphic design software. It also includes a visual content management system that makes it easy to manage your website's structure.
Add precise interactions and animations into the equation and Webflow stands out as a great alternative to free CMSes like WordPress for design-focused businesses.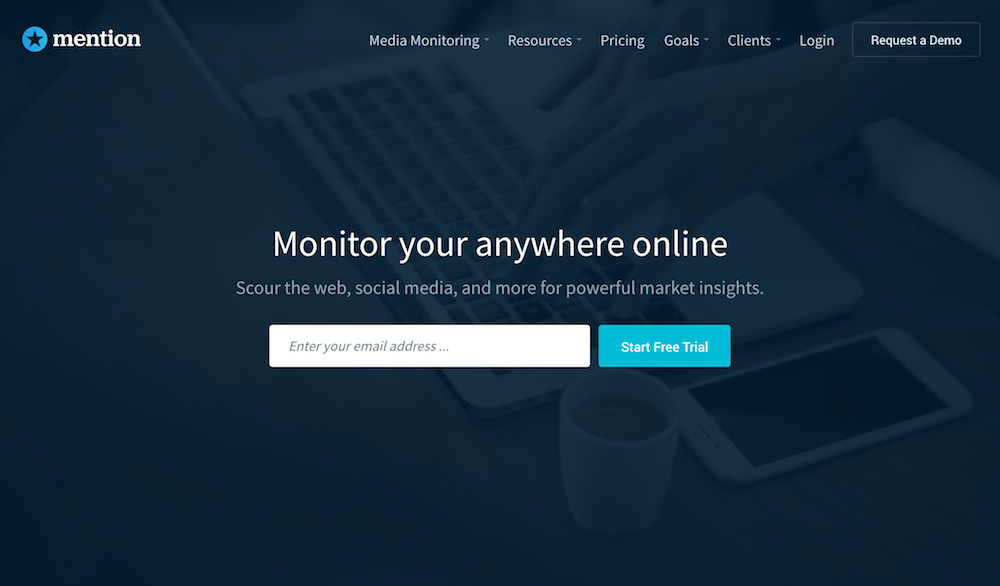 Mention is a media monitoring tool that lets you track more than one billion sources for mentions of your brand, making it easy to stay on top of press coverage, track user feedback and respond to new posts on forums and social media.
It also lets you monitor your competitors, letting you analyze and learn from their public relations and user feedback strategies.
Finally, Mention includes tools to help you locate influencers, giving you a target list of people to reach out to via email or social media. Think of it as Google Alerts expanded and upgraded with the specific needs of brands and businesses in mind.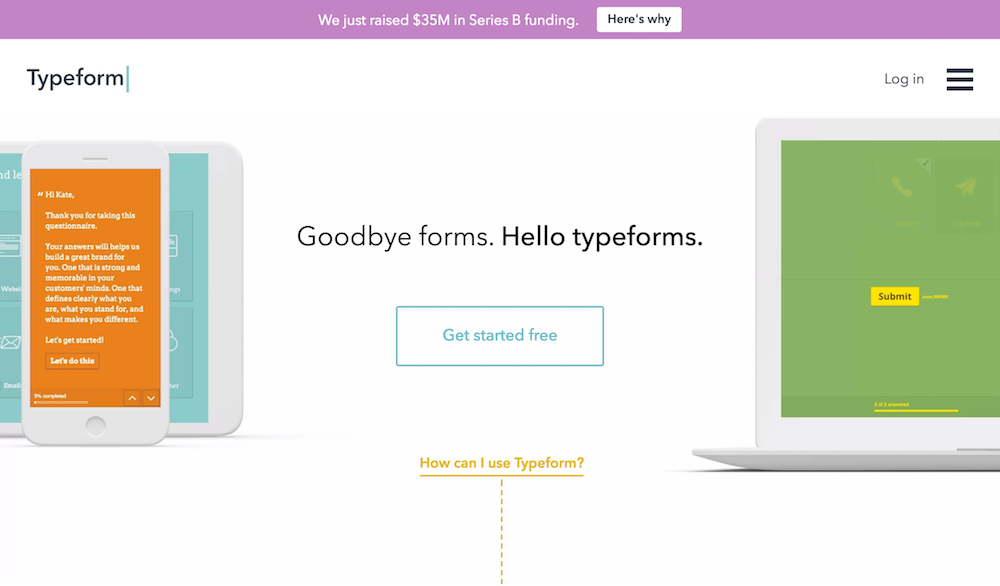 Typeform is an interactive form tool that lets you create engaging, beautiful web forms that users can't wait to fill in.
Unlike traditional web forms, forms created using Typeform walk users through the full process of filling in their information, making signing up for your product or joining your mailing list much less of a task and more of an enjoying experience.
Typeform includes a variety of form templates, letting you use it for everything from adding new users to your mailing list to processing payments from your customers. It even integrates with a variety of other tools through Zapier, making it easy to add to your software toolkit.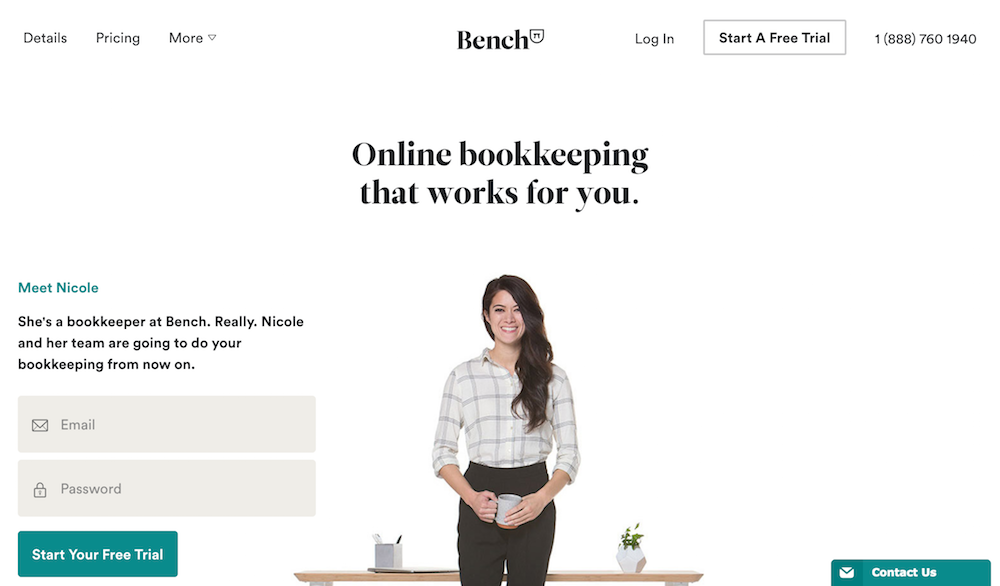 Bench is an online bookkeeping app that lets you stay on top of your key financial data without having to worry about boring, repetitive tasks like number crunching and data entry.
Designed specifically for small businesses, Bench goes beyond just being software. Instead, it gives you access to a complete team of online bookkeeping staff to provide you with accurate, detailed financial statements every month, plus year-end and tax time support.
If you don't have time to manage bookkeeping in-house and prefer to use an online service than a local bookkeeper, Bench can be a hugely valuable addition to your small business accounting and bookkeeping toolset.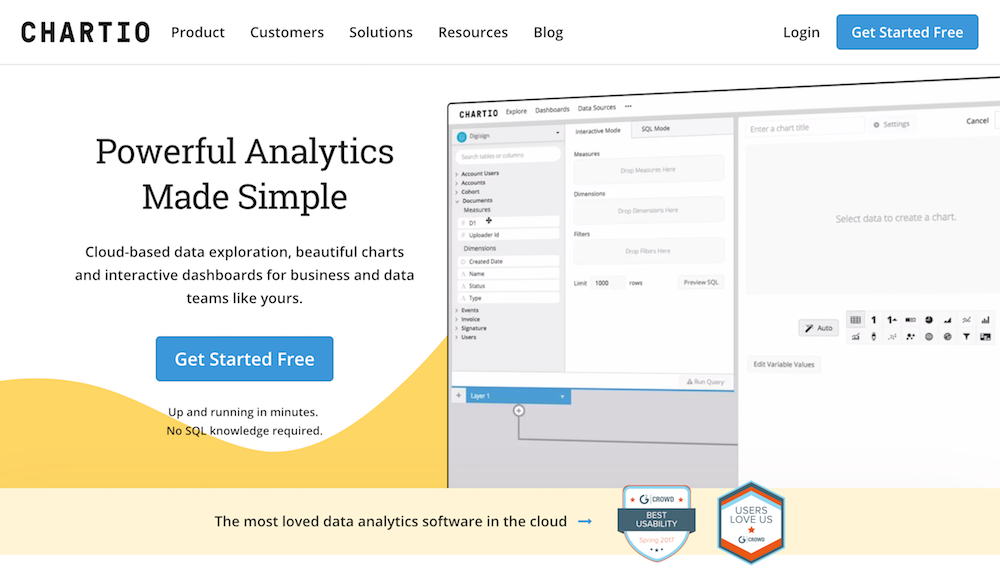 Chartio is a cloud-based chart and data exploration tool that lets you create detailed, interactive dashboards for every aspect of your business.
Designed to work with everything from CSV files to Amazon Redshift, Chartio can connect with a huge range of applications to transform your data into auto-refreshing dashboards and charts for analysis and optimization.
Chartio can also connect with tools like HubSpot, Google Analytics and Salesforce to give you detailed visualizations of your on-site and customer data. If data is a key part of your business, Chartio makes the entire process of analysis and improvement much easier.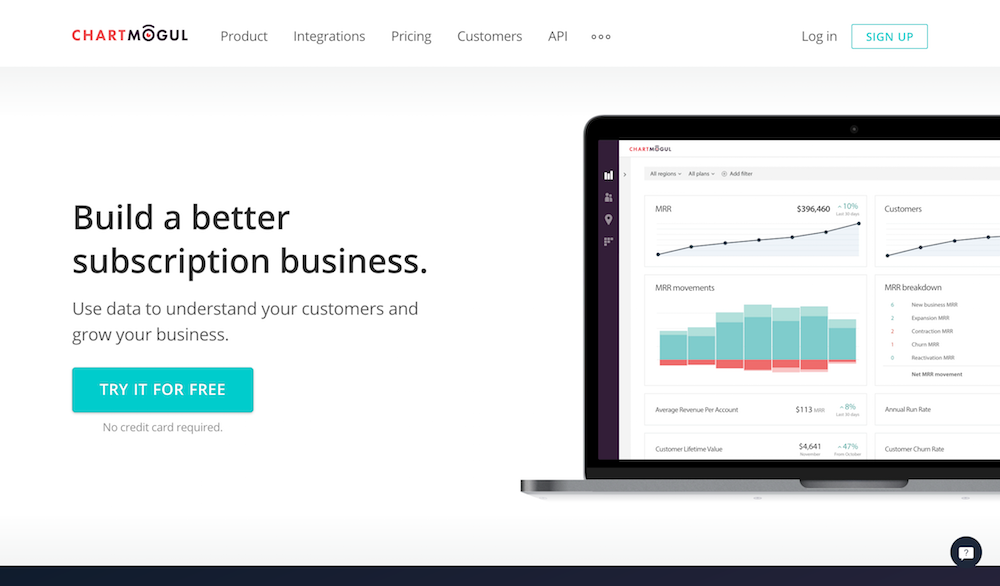 ChartMogul is a subscription analysis and revenue reporting tool for businesses that depend on recurring subscriptions.
If you run a SaaS or other subscription startup, ChartMogul's detailed charts and visualizations can make analyzing your data quicker and easier. ChartMogul also includes useful automated calculations, letting you keep track of MRR, LTV, ASP and other key financial metrics.
You can also use ChartMogul to analyze your data in greater detail. Features like MRR source breakdown let you see which lead sources are worth the most to you, while ChartMogul's geo mapping features let you quickly identify your most valuable countries and regions.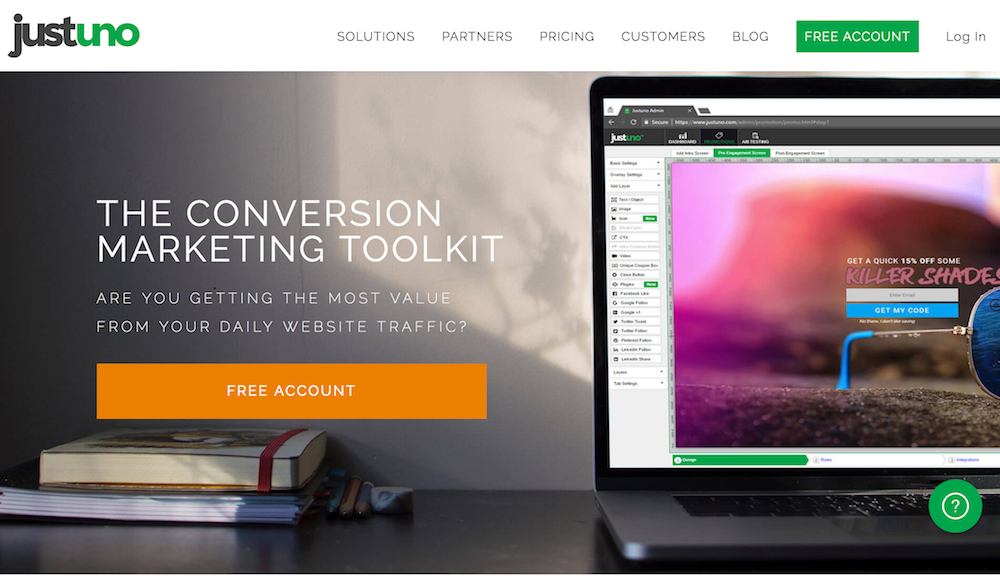 Justuno is a suite of conversion optimization tools designed to help you get more results from your traffic.
Key features of Justuno include high-converting signup bars, modal popups and signup forms, as well as behavioral based offers designed to help you improve conversions and avoid major sources of lost revenue such as cart abandonment.
Justuno also includes behavioral offers, letting you target users based on their behavior and convert more sessions into sales. Integrations are available for Shopify, BigCommerce and a variety of other e-commerce platforms, making it an easy tool to start using.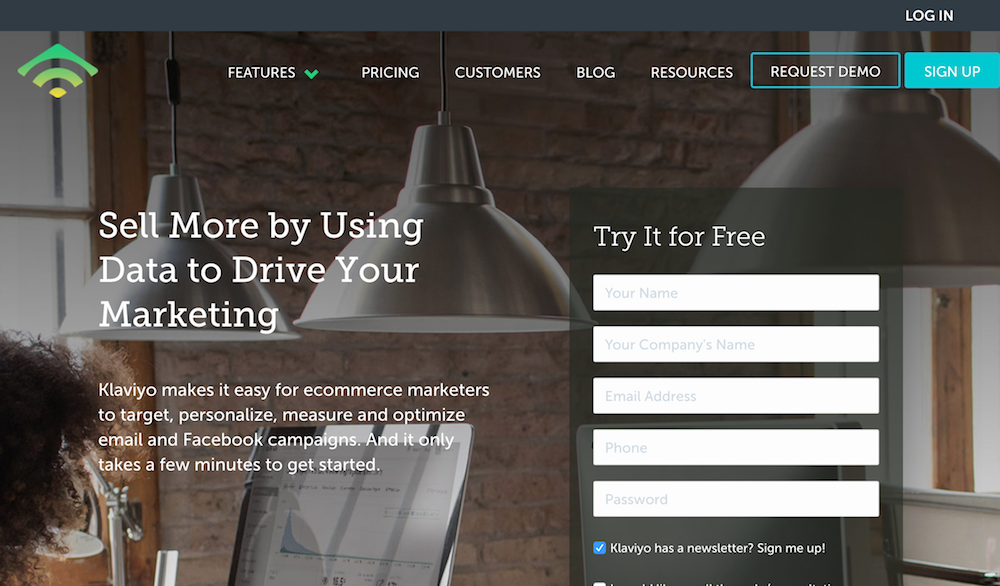 Klaviyo is an email and Facebook marketing tool designed for e-commerce merchants that want to increase sales and generate more revenue.
Designed to help you get more from your existing traffic, Klaviyo lets you segment used based on their behavior for targeting in Facebook Ads and email campaigns. It even includes built-in email autoresponders to help you welcome new customers and recover abandoned carts.
Klaviyo also features a comprehensive set of reporting tools, helping you stay on top of your campaigns' results as they happen and see exactly how much money you've generated from your marketing efforts.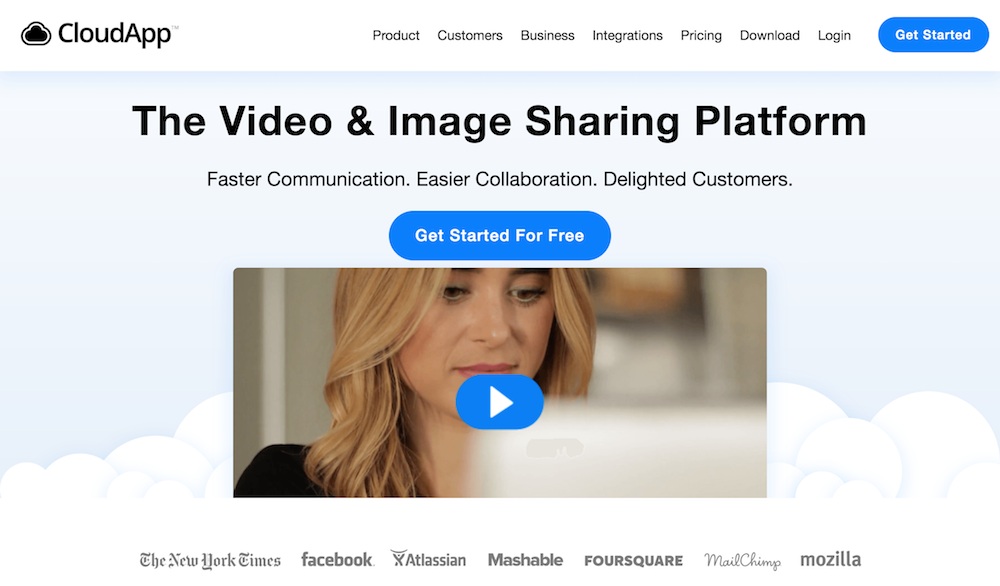 CloudApp is an image and video sharing platform that lets you quickly and easily record GIFs, annotated images and screen workflows.
If you're part of a team and need to show your coworkers how to use software, complete tasks or just find their way around your business, CloudApp can help you convert what would usually be a long instant messenger conversation into a quick, explanatory video.
You can also use CloudApp to record animated GIFs for your SaaS product, show workflows for users and prospective customers and create annotated images for blog posts, helping you save time and add new depth to your landing pages and blog posts.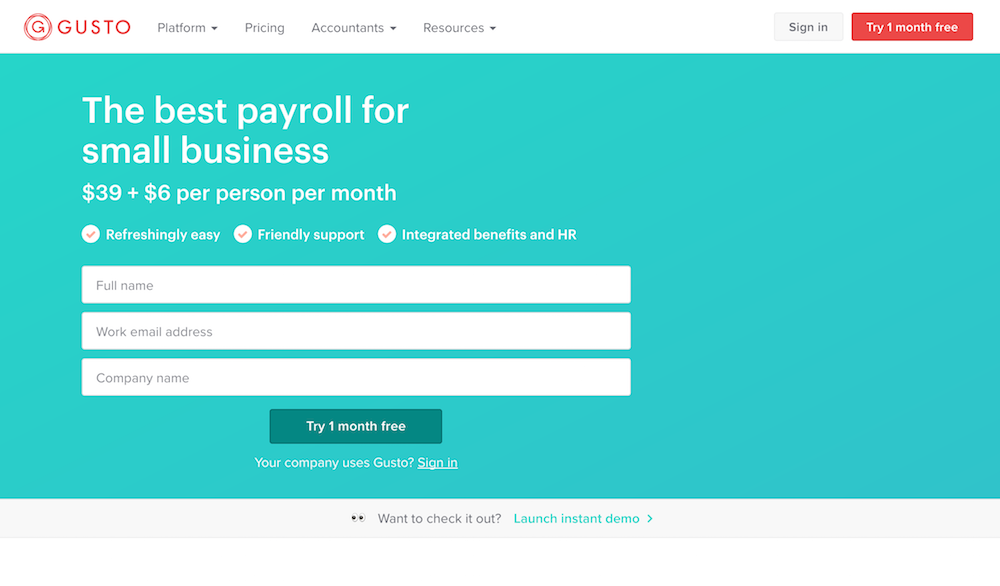 Gusto is a cloud-based payroll service that makes managing your payments to employees and payroll taxes totally effortless.
It also includes tools for offering health benefits, providing workers compensation insurance and services like 401(k) retirement plans and 529 college savings plans for your employees. Simply put, Gusto makes almost every aspect of payroll management and HR quicker and easier.
It also helps you reduce payroll errors — something four out of five users notice after making the switch. If reducing paperwork, increasing accuracy and improving your HR and payroll process is a major goal for your business, Gusto is definitely worth considering.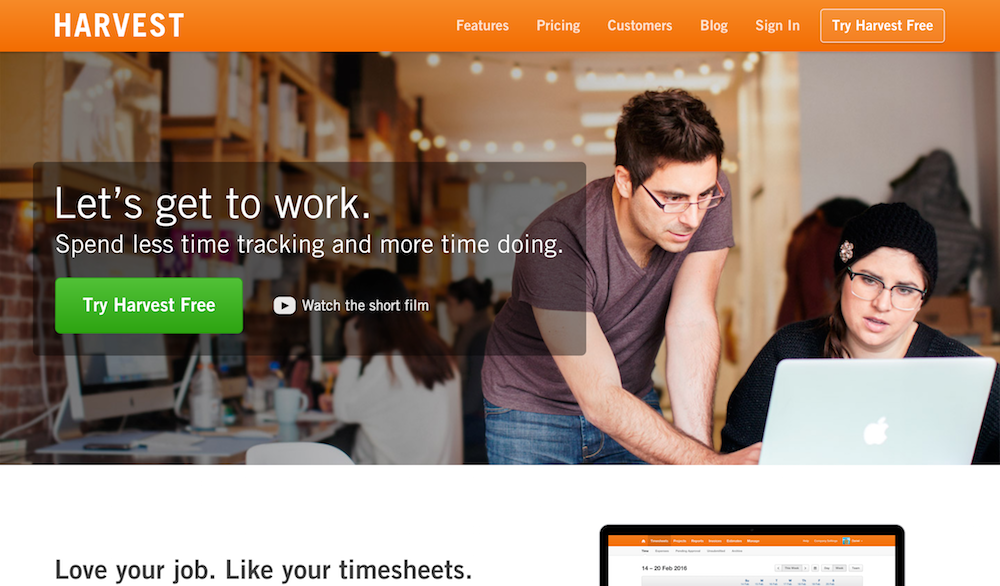 Harvest is an online time tracking tool that lets you quickly and easily monitor where you spend your time, time your work and manage your hours in an online timesheet.
There are several ways to use Harvest. You can enter your time manually, adding hours after you've completed a specific project or task. You can also start and stop timers as you work to create a complete record of your activity within Harvest.
If you're a freelancer or consultant that bills by the hour, or part of a service business with an hourly fee structure, Harvest can be an invaluable tool. It's also worth considering even if you don't bill by the hour and simply want to stay on top of your day-to-day time management.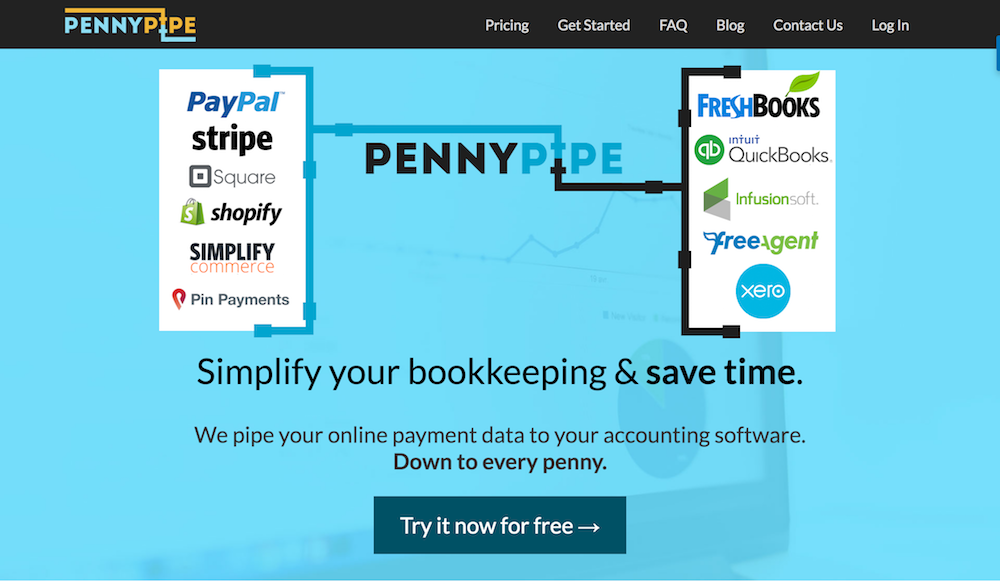 PennyPipe is a bookkeeping sync tool that automatically sends transaction data from platforms like PayPal, Stripe and Shopify to your accounting software, letting you record payments without the usual workload.
Designed specifically for online businesses, PennyPipe connects with tools like Square, Shopify, PayPal and Stripe to track online payments as they come in. When you receive a payment, it's automatically piped into accounting software like Xero, FreshBooks and Infusionsoft.
PennyPipe updates every five minutes, making it perfect for both high-volume businesses that want to simplify their accounting and small businesses that prefer to avoid hiring bookkeeping staff.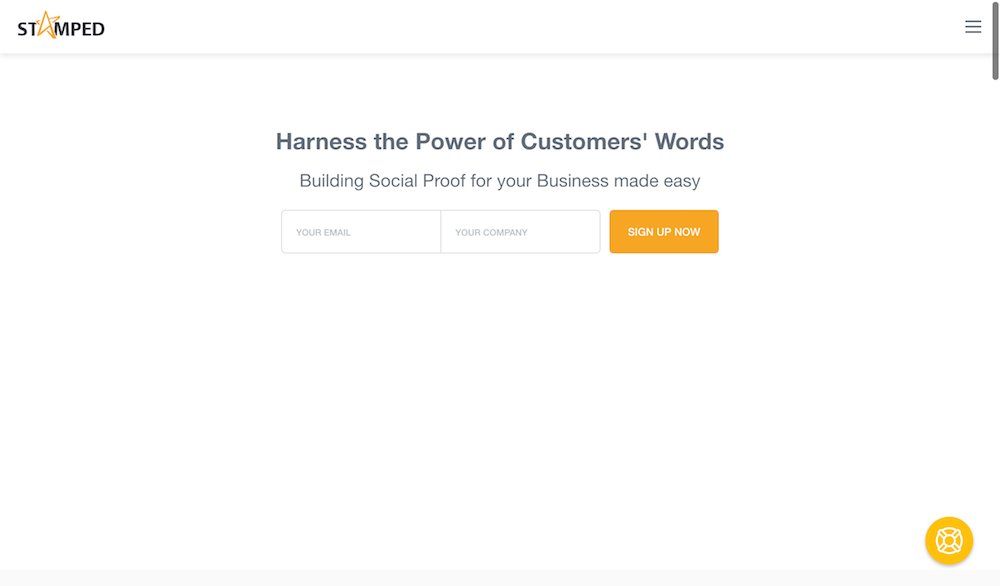 Stamped is a product review and customer feedback tool that lets you automate your review collection process.
Designed for physical and digital product businesses, Stamped uses automated surveys and in-email forms to reach out to your customers, helping you generate product-specific feedback and social proof.
Stamped also includes Net Promoter Surveys, letting you measure customer satisfaction and stay on top of potential issues that could affect retention and feedback.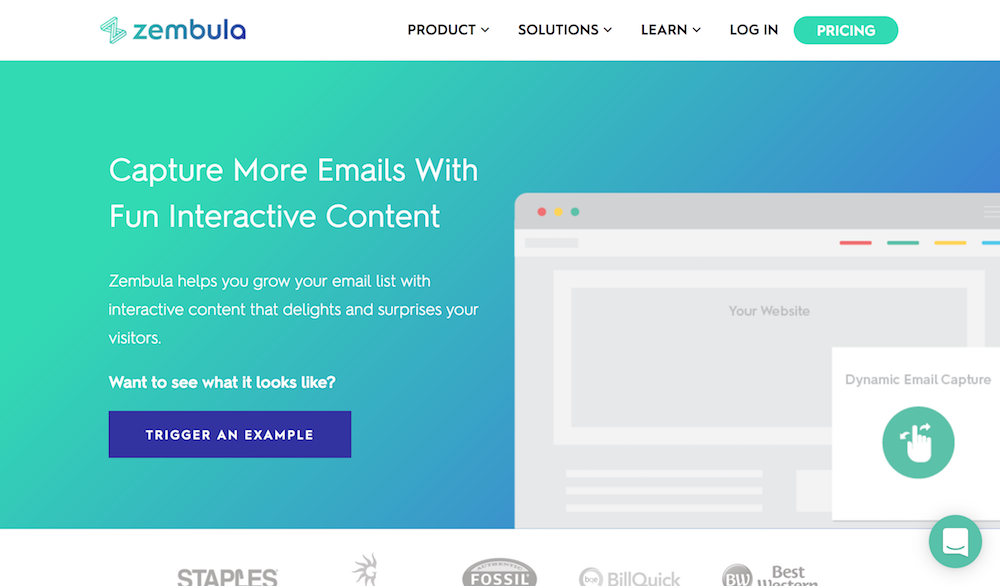 Zembula is an interactive content platform that helps you grow your email list using interactive lead generation popups.
Instead of the typical static lead generation popup, Zembula lets you create scratch-to-reveal and other interactive popups to foster curiosity and encourage users to pay more attention to your list building efforts.
Zembula offers seven different interactive experience types, letting you tailor your popups to your audience. It also a built-in analytics dashboard to help you keep track of your campaign's performance.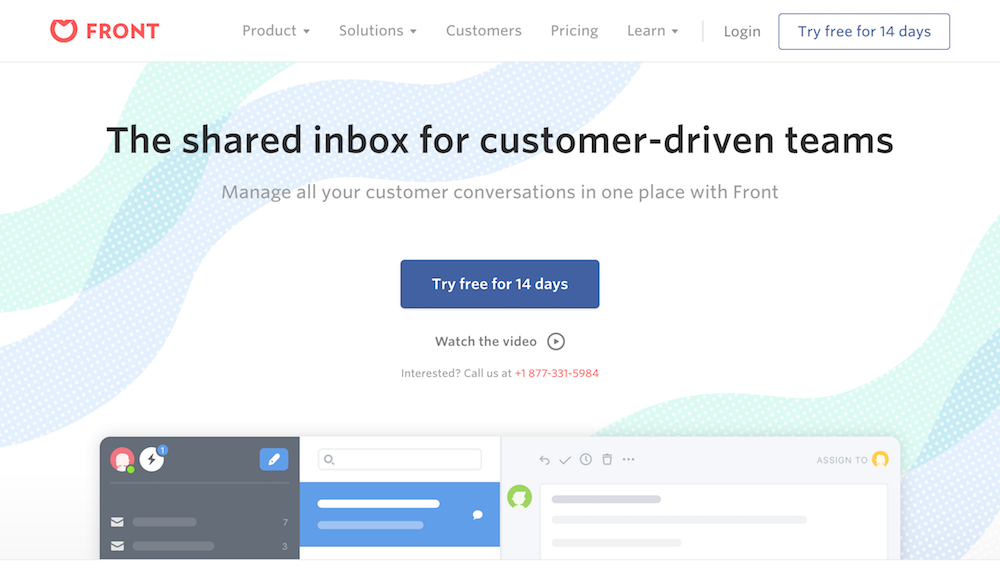 Front is a shared inbox tool that lets your entire support, sales or other customer-focused team manage all of its communications in one place.
Designed for teams that interact with customers on a frequent basis, Front eliminates confusing email threads, duplicate replies and other annoyances that can occur when your support team's inboxes are separate.
It also includes behind-the-scenes collaboration tools to assign messages to specific people, as well as integrations with CRMs, project management tools and team messaging platforms such as Slack.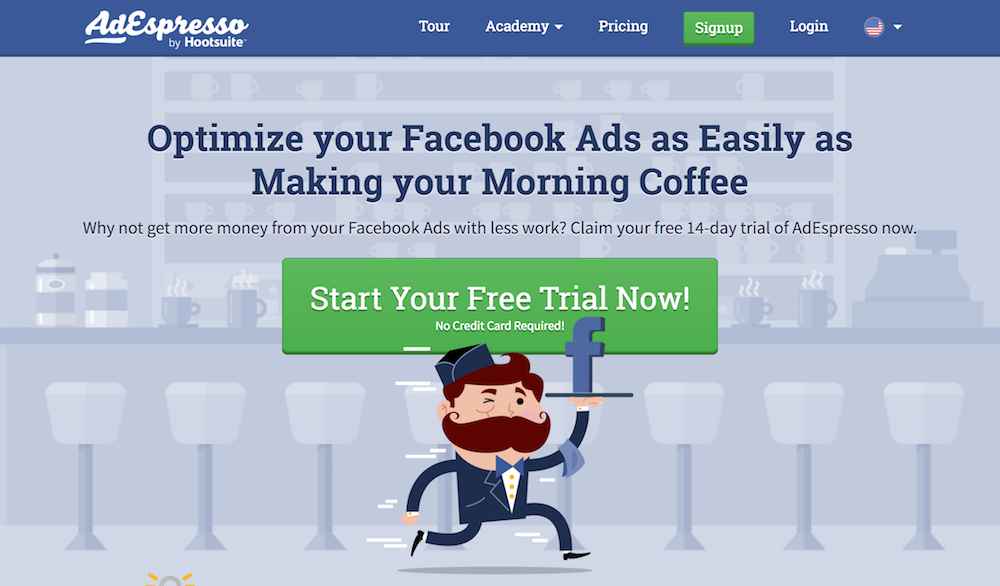 AdEspresso is a Facebook Ads optimization tool that lets you A/B ad creatives, target audiences and other campaign variables to increase your ROI and get more from your campaigns.
Designed specifically for Facebook Ads, AdEspresso makes creating thousands of variations of your Facebook Ads a quick and simple process. It even stores all of your media online, allowing you to rapidly create ad variations without having to reupload images.
Add features like clean, detailed analytics and algorithmic campaign optimization into the mix and AdEspresso stands out from other Facebook Ads tools as a great way to get a better ROI from your campaigns.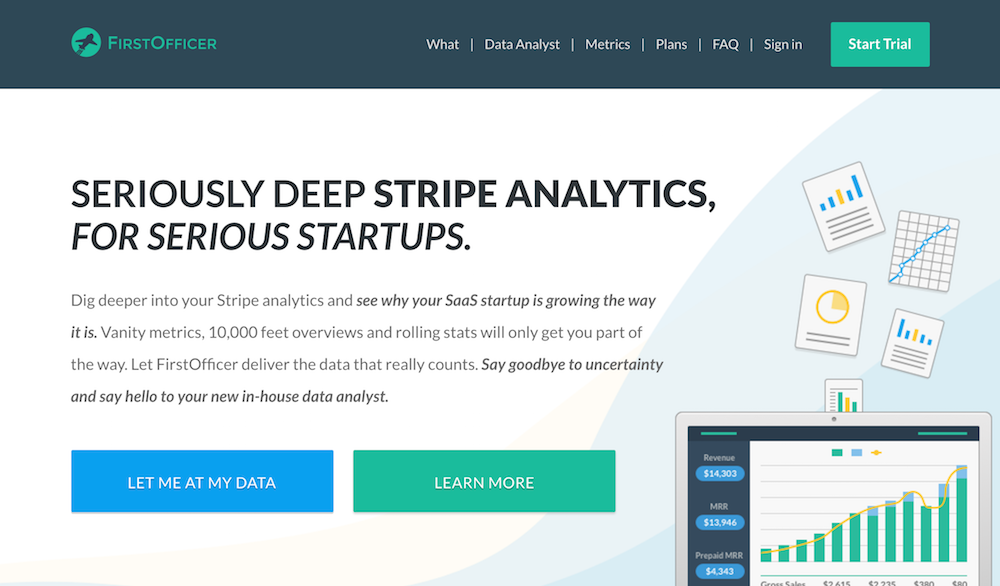 FirstOfficer is a Stripe analytics tool that allows you to dig deeper into your Stripe data to find growth and revenue optimization opportunities.
Designed to eliminate data "fluff," FirstOfficer bases its figures on a monthly schedule, helping you avoid the short-term data fluctuations that can make drawing conclusions from your data a difficult process.
It also eliminates many of the vanity metrics from the analytics process, with a focus on useful, actionable data such as MRR, LTV, churn rate and upgrade/downgrade rate.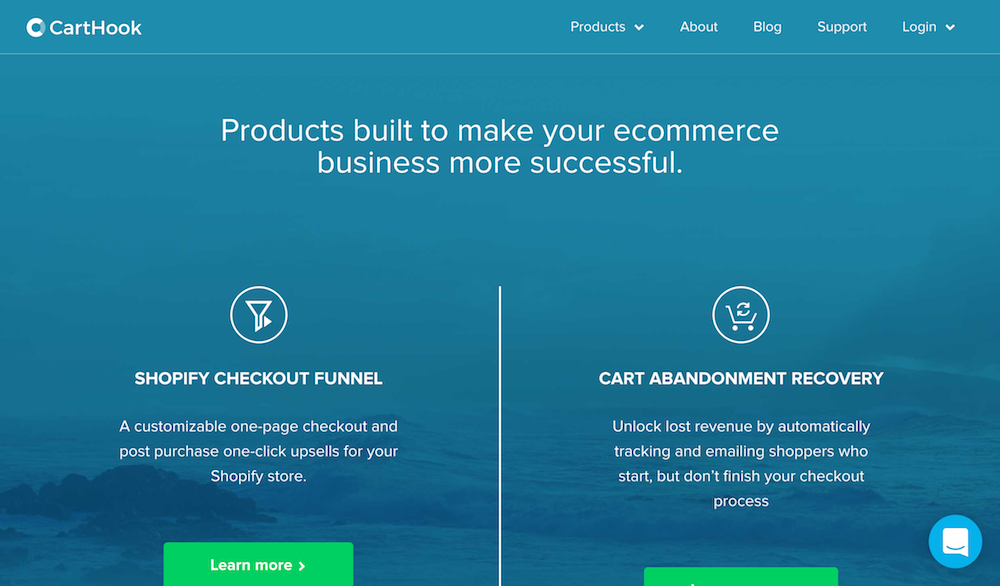 CartHook is a suite of e-commerce tools designed to help you generate more revenue from your Shopify business.
There are two parts to CartHook. The first is a customizable one-page checkout with one-click upsells that integrates seamlessly with your Shopify store, letting you increase your conversion rate and earn more from your existing traffic.
The second is an abandoned cart recovery tool that lets you follow up via email with customers that abandon their shopping carts, helping you recover lost sales and increase your total sales revenue.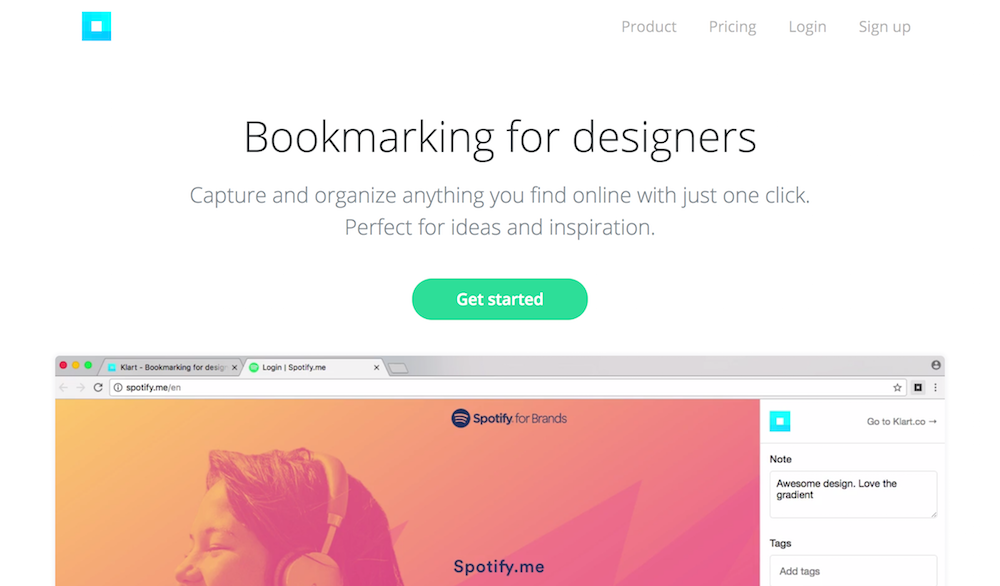 Klart is a bookmarking tool built with designers in mind, with useful features like notes, tags and archiving to help you curate design ideas and inspiration.
Unlike most bookmarking tools, Klart is designed specifically for web and graphic designers that want to compile ideas from around the web. Bookmarks are kept in boards, allowing you to sort and segment ideas based on their style or purpose.
Since Klart stores your data online, you can easily access your bookmarks and boards via any device. You can also create shared boards, letting you show ideas to members of your design team and other colleagues.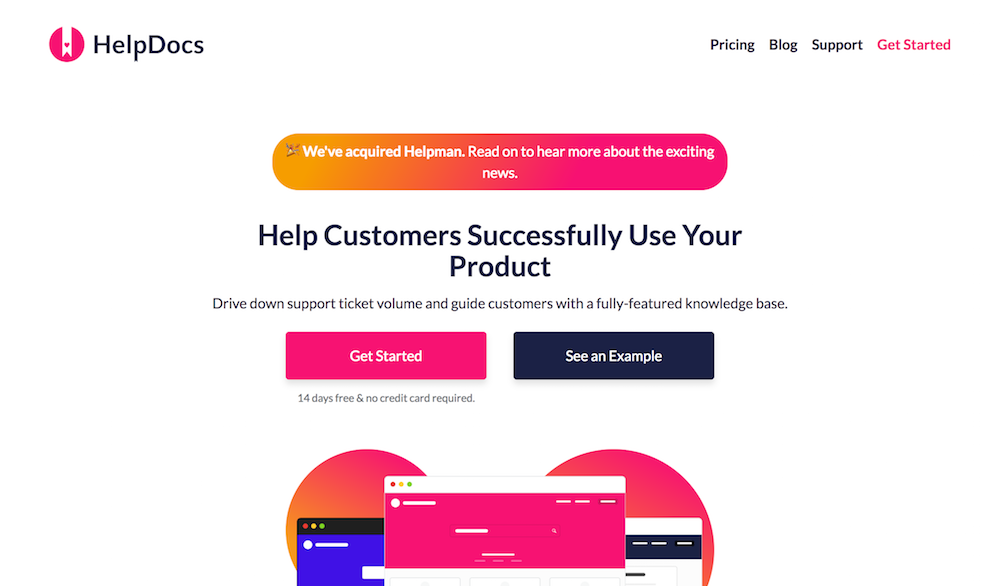 HelpDocs is a knowledge base platform that lets you solve customer questions and create a full archive of guides, tutorials and other how-to content for users of your products.
If you run a SaaS company, HelpDocs can be a valuable tool for reducing support ticket volume and making your product easier to use for your customers. In just a few clicks, you can create a great looking, interactive knowledge base that covers all of your most common user questions.
HelpDocs supports custom CSS, HTML and JavaScript, letting you customize the look and feel of your help documentation to match your business. It also integrates with tools like StatusPage, Smooch and Intercom to let you provide extra hands-on support for your customers.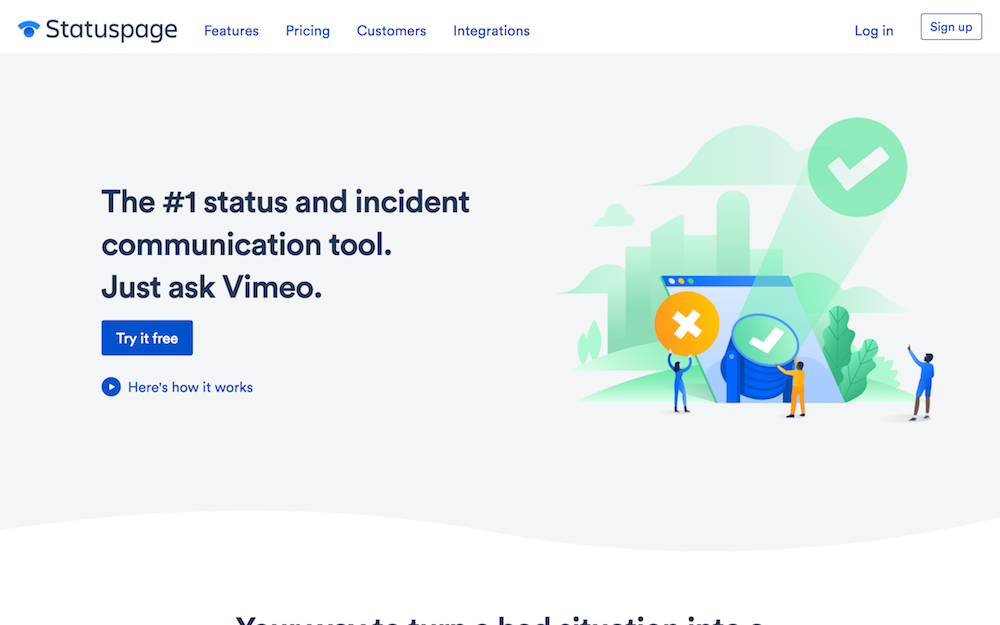 Statuspage is, as you might expect from its name, a hosted status page tool that lets you keep users in the know when your website is down.
From DDoS attacks to server issues, Statuspage provides live status updates on the condition of your website. If users visit while your website is down, they'll see a live status update instead of the usual 404 or other error page.
When things go wrong (as they occasionally do), Statuspage can drastically reduce the number of support emails you receive from users, letting you focus on restoring your website instead of responding to support tickets.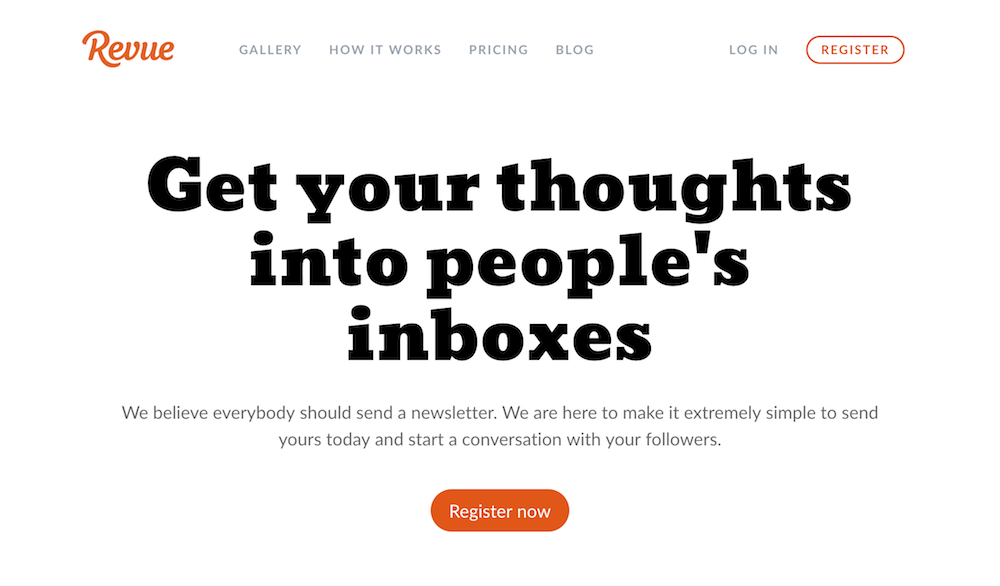 Revue is a newsletter tool that makes it easy to send eye-catching, interesting newsletters to your email subscribers.
Designed for businesses, communities and publishers that curate interesting content, Revue lets you schedule newsletters for delivery at a specific date and time, easily embed photos in your email newsletters and even add content directly from tools like Pocket.
It also integrates with tools like MailChimp to help you import email subscribers, comes with a WordPress plugin to collect subscribers from your blog or website and support Zapier for easy integration with other marketing tools and platforms.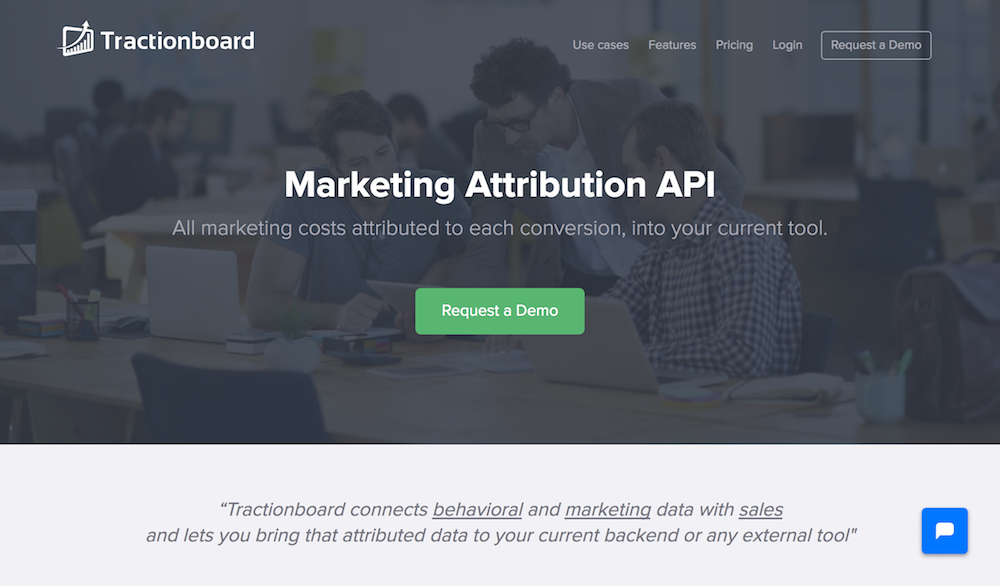 Tractionboard is a customer acquisition analysis tool that lets you dig deeper into your marketing efforts to see which campaigns are contributing to sales.
Using Tractionboard, you can see exactly which marketing campaigns have the greatest results on your sales revenue. You can also spot opportunities to allocate your marketing budget more efficiently for cheaper conversions and a better ROI.
Tractionboard supports cross-device tracking, letting you monitor user behavior across multiple devices. There's even auto-tagging to separate campaigns from different ad providers to help you identify and prioritize your top revenue sources.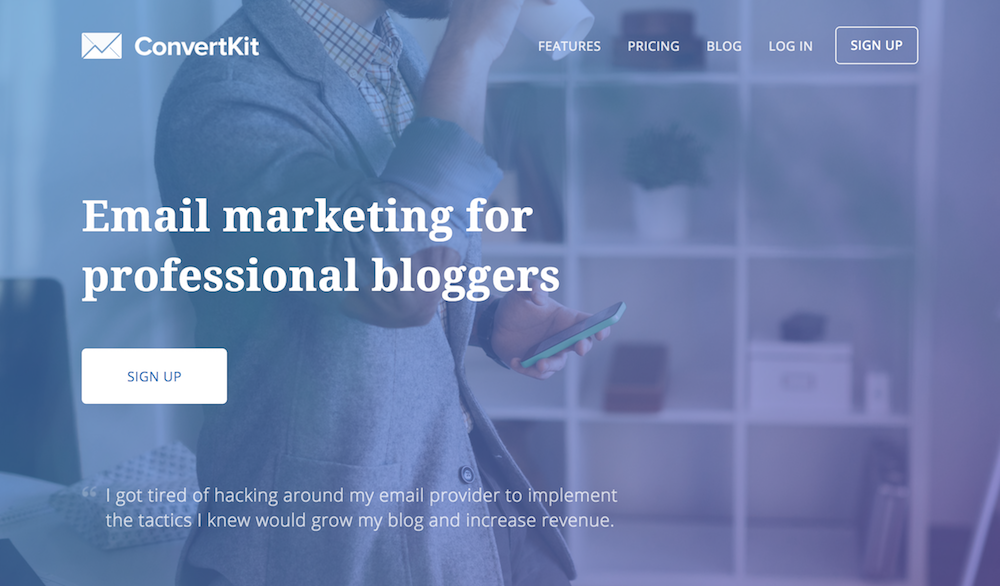 ConvertKit is a lightweight but powerful email marketing automation platform designed with the specific needs of bloggers and content marketers in mind.
Inexpensive and easy to use, ConvertKit is a great option for bloggers that want to get started with email marketing automation. It includes a variety of email opt-in forms, plus a WordPress extension to make adding lead generation forms to your website a quick and simple process.
ConvertKit's automation features are powerful and easy to use, even if you have no previous experience with marketing automation. It also offers all of the usual email marketing features, such as one-off email broadcasts and scheduled email autoresponders.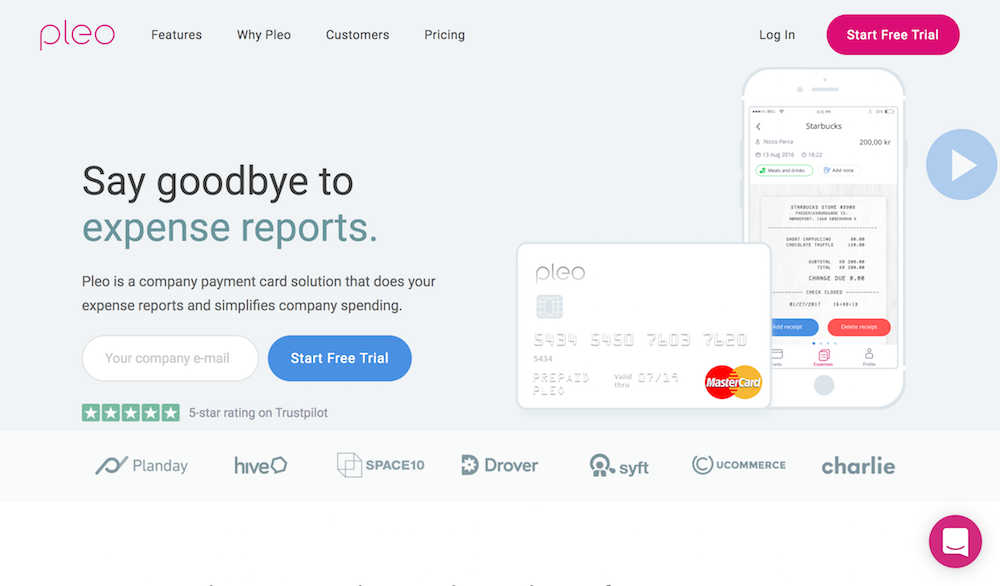 Pleo is a business payment card system that lets you create virtual or plastic payment cards for your employees and stay on top of expense reporting, all without the usual paperwork.
Designed to replace company credit and debit cards, Pleo lets you create accounts for specific staff members with predefined spending limits. As your staff members use their cards, Pleo will log their spending in automated expense reports, letting you keep track of employee spending.
You can even set automatic notifications when a Pleo card is used, activate or deactivate cards in one click and automatically categorize purchases. Pleo even includes analytics tools to help you see which categories account for the majority of your company's day-to-day spending.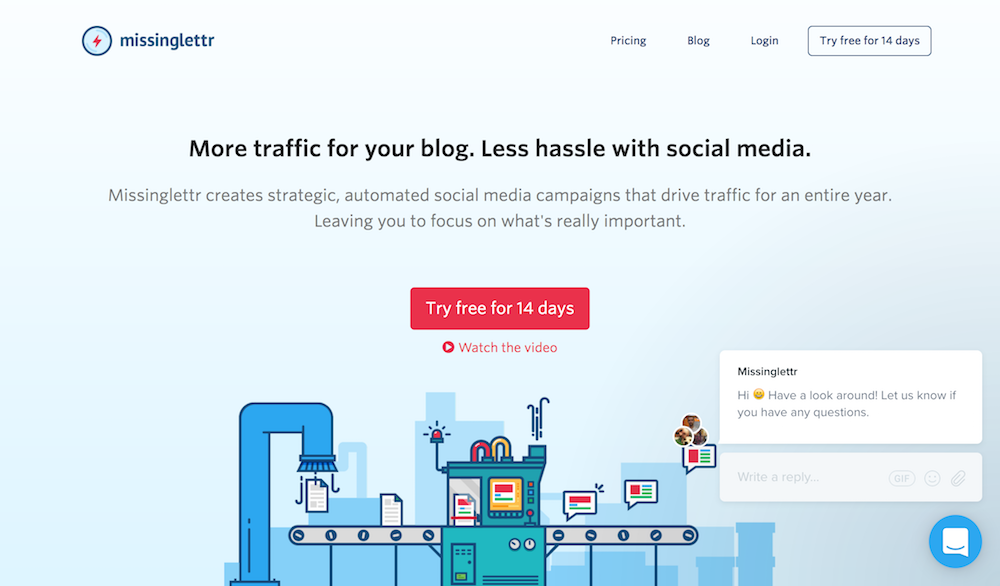 Missinglettr is a social media tool that lets you automate your Facebook, Twitter, LinkedIn and other social network marketing campaigns.
Designed for companies that use content to generate traffic from social media, Missinglettr can prepare a year's worth of social media updates with pre-filled images and quotes from your blog posts and other content.
The end result is an automated social media campaign that helps you get more from your blog content, all without the time investment of posting to Facebook, Twitter and other social media platforms manually.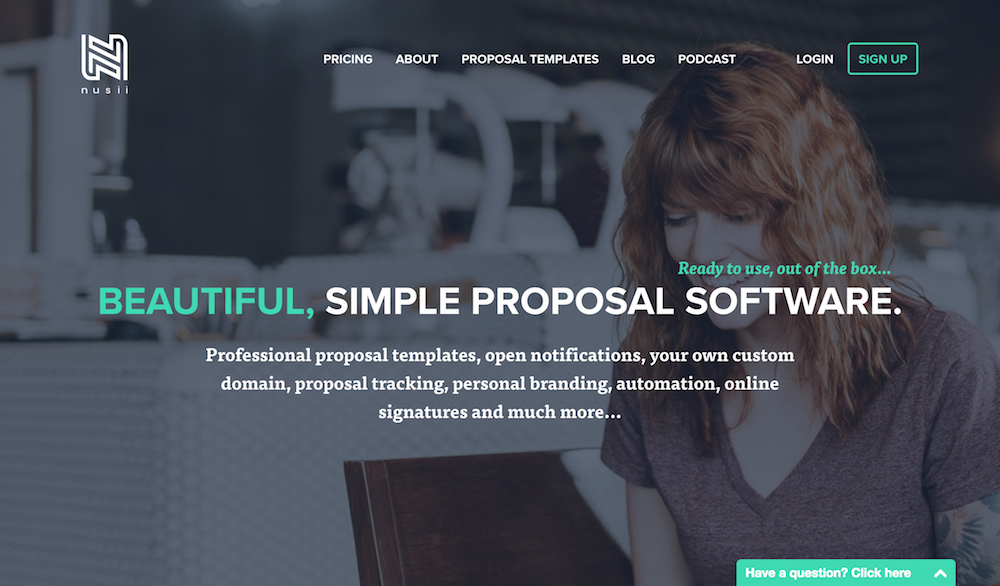 Nusii is a proposal application designed for freelancers and service providers that need to send sleek, professional proposals to their clients and prospects.
Nusii includes a huge variety of branding options, letting you easily add custom logos and color options to your proposals. It also comes with a range of professional templates for projects like social media marketing, web design, sales consulting and other topics.
After you've created and sent a proposal, Nusii even allows your customers to sign online and commit to the deal, helping you avoid extra paperwork while protecting yourself with contracts for all of your ongoing projects.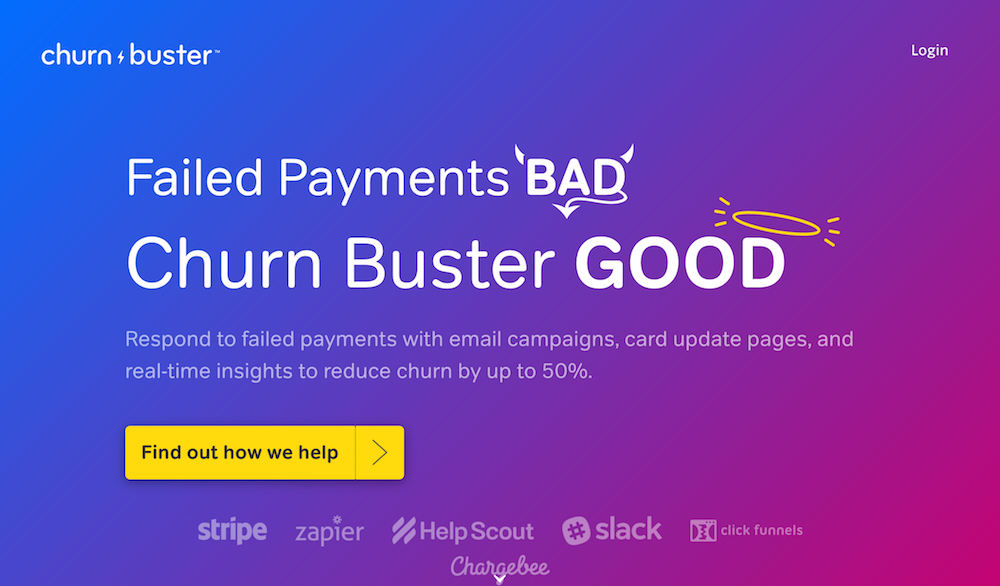 Churn Buster is a Stripe failed payment recovery and retention improvement tool that helps you reduce churn and increase your average customer lifetime value.
Designed specifically to stop failed payments, Churn Buster includes features like card update pages that you can automatically send to customers after a failed credit card payment, helping you keep records up to date and reduce card expiry churn.
It also includes tracking tools for staying on top of past-due accounts and undeliverable email addresses to further reduce churn. If churn is an issue for your SaaS business, Churn Buster's more than 50% average recovery rate makes it a worthwhile addition to your toolkit.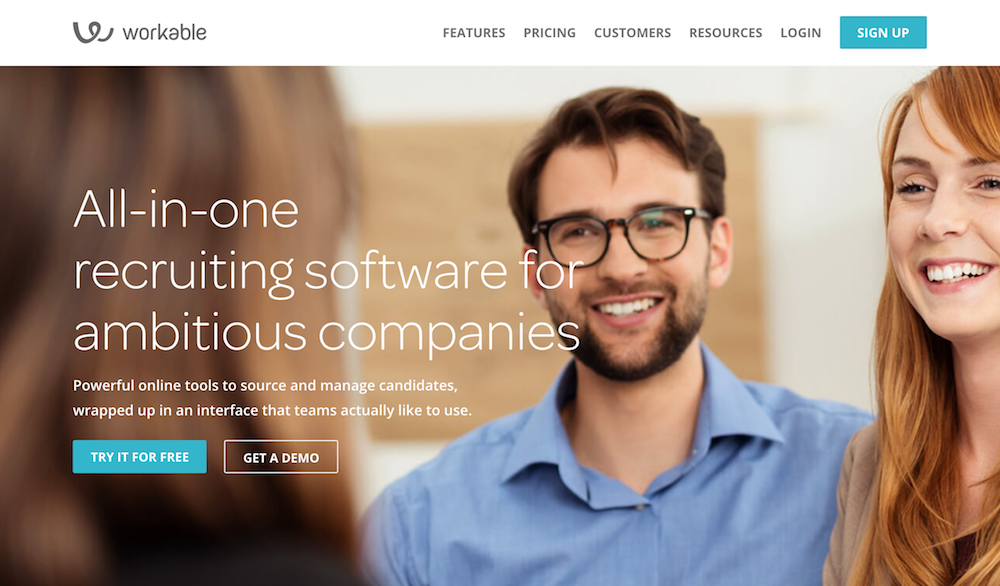 Workable is a suite of online recruiting and applicant tracking tools to help you create visual hiring pipelines, schedule interviews and evaluate job applicants.
Designed for small and mid-sized businesses, Workable makes the entire process of hiring more manageable. In a few clicks, you can sort applicants into visual pipelines to track the status of your hiring efforts and evaluate applicants one by one with detailed profiles.
Workable also includes useful features like email and calendar integrations for scheduling interviews, interview kits and scorecards for ranking applicants and rich recruiting reports to make planning your recruiting strategy easier.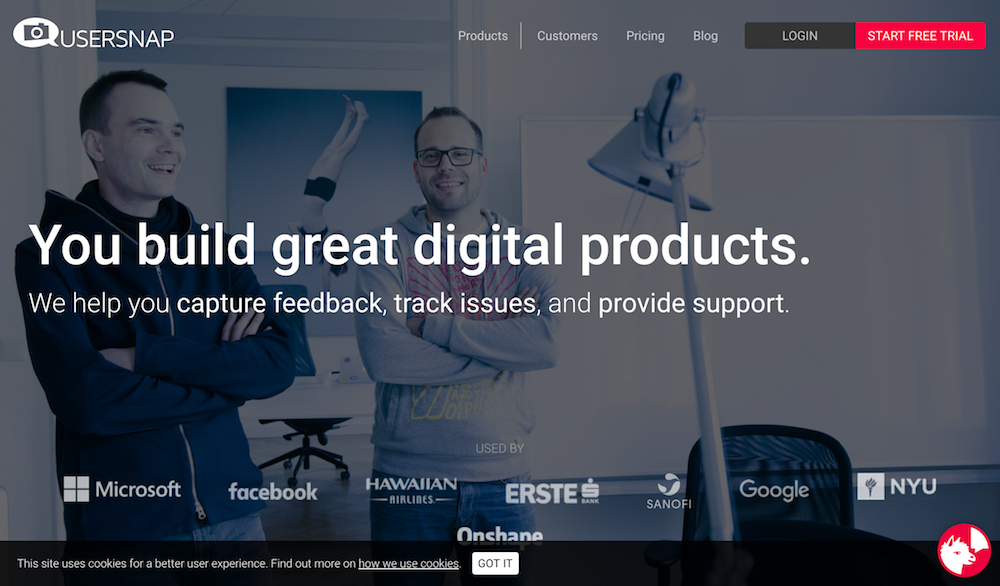 Usersnap is a bug tracking, feedback and support platform that makes it easier to improve your product and communicate with your customers.
Split into several features, Usersnap offers everything from issue and bug tracking to developer collaboration tools. It also includes an in-app conversation tool to help you communicate directly with your customers via your browser or mobile app.
Usersnap also features qualitative and quantitative feedback tools, giving you the ability to ask your customers for direct feedback on how you can improve your product and make sure your next iteration exceeds the last.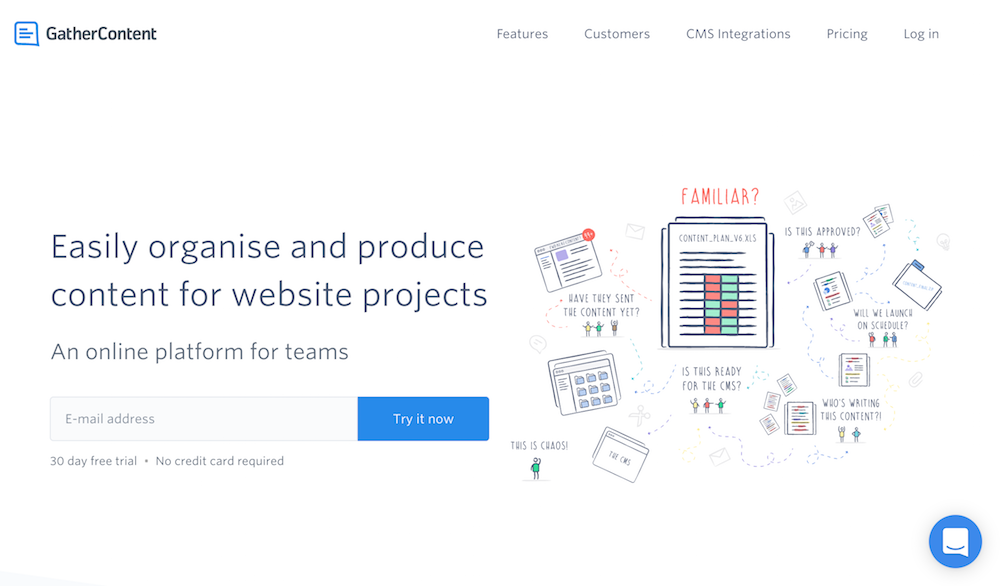 GatherContent is an online content management and collaboration platform designed for teams of writers and content producers.
Designed for content-based websites, GatherContent lets you organize and collaborate on your content in one place, without having to worry about word processing software or shared online folders.
It also includes simple migration into CMSes like WordPress, Drupal and HubSpot, saving you from having to copy and paste, fix formatting manually and re-add images and other content to your posts and articles.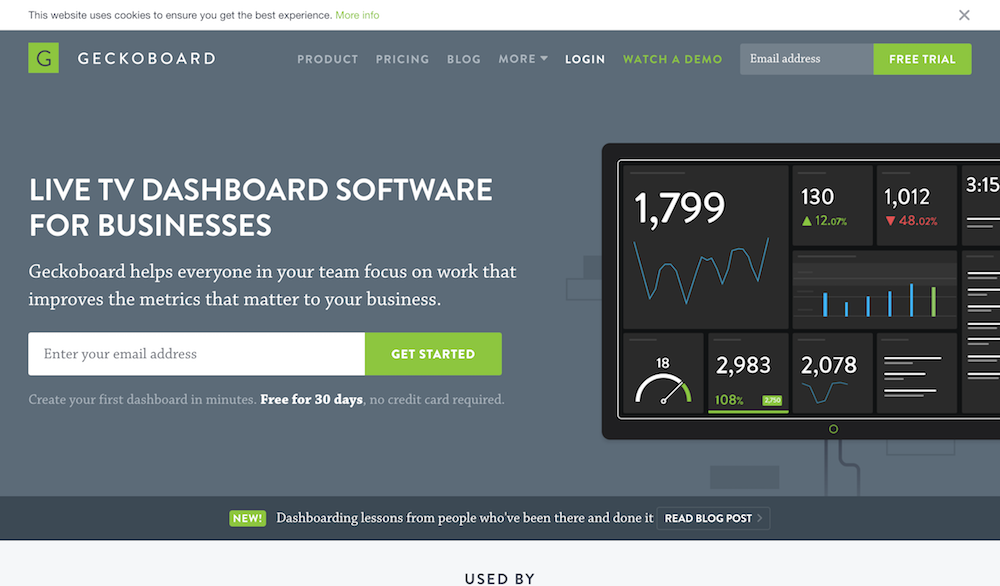 Geckoboard is a live TV dashboard tool that helps your team members focus on the key metrics that matter to your business.
Designed for modern offices, Geckoboard displays your KPIs in a clean, easy-to-monitor display interface. Instead of checking up on key metrics manually, your team can glance up at a the TV for a live feed of KPIs such as total revenue, recently closed deals or average conversion rate.
Geckoboard includes built-in dashboards for sales, digital marketing, startups and a wide range of other situations, making it easy to incorporate into your existing business without too much of a setup process.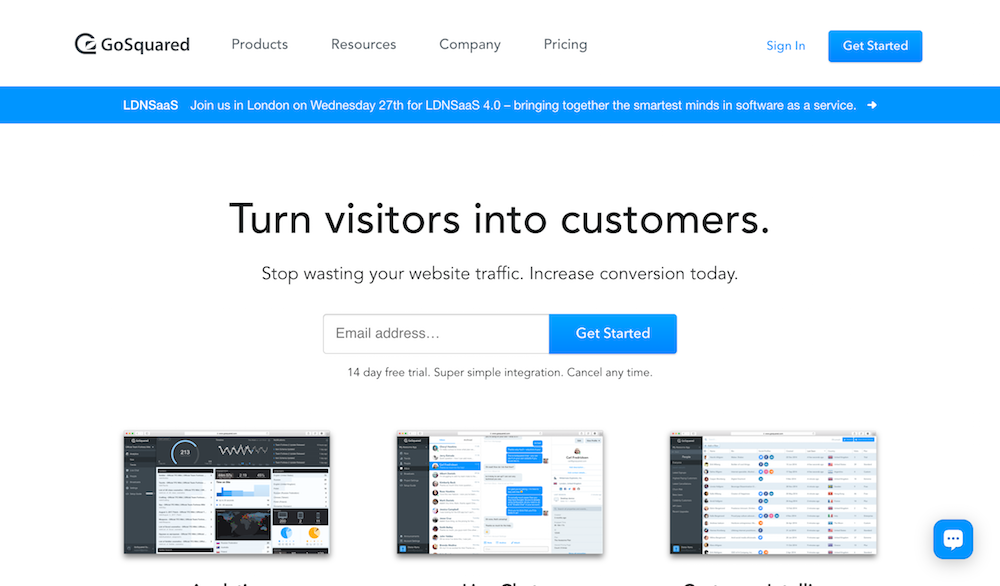 GoSquared is an analytics, live chat and customer intelligence toolset built to help you convert more of your visitors into customers.
Split into three modules, GoSquared includes a real-time analytics dashboard that lets you stay on top of your traffic sources and monitor visitor journeys in incredible detail. It also includes a variety of estimated metrics, ranging from bounce rate and pageviews to total visitors.
There's also a sleek, beautiful live chat messenger, letting you communicate with visitors and convert them into customers, as well as a detailed customer intelligence platform that stores all of your contacts in one location.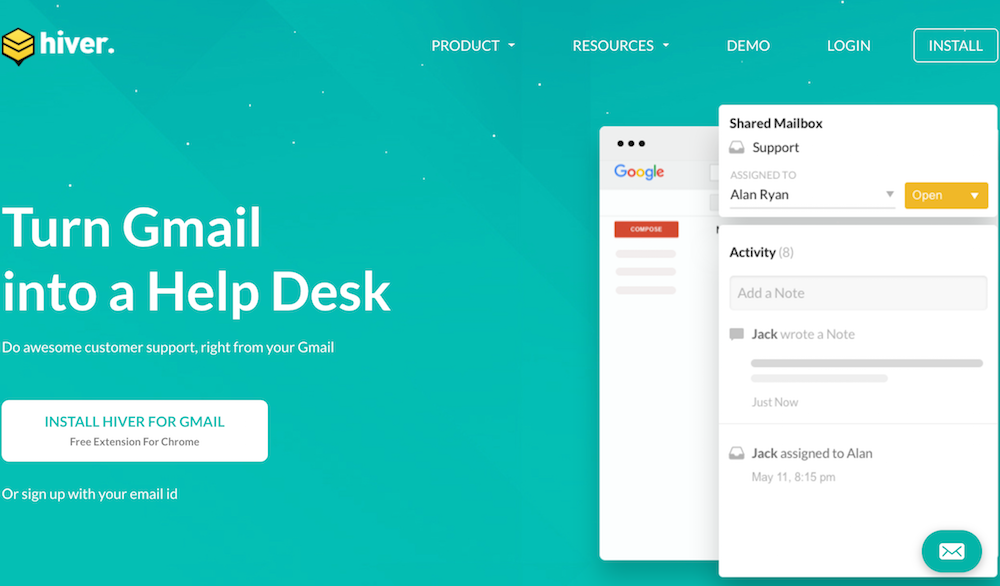 Hiver is a customer support tool that lets you turn your Gmail inbox into a collaboration-ready helpdesk.
Built to integrate seamlessly with Gmail, Hiver lets you delegate emails to specific members of your team in seconds, making it easy to follow up on customer messages. It also lets you turn emails into tasks, helping you stay on top of open tickets and provide faster, better support.
Add useful analytics such as average time to response and time to resolve customer issues into the equation and Hiver stands out as a great tool for staying on top of support without relying on the usual expensive, overly complicated software.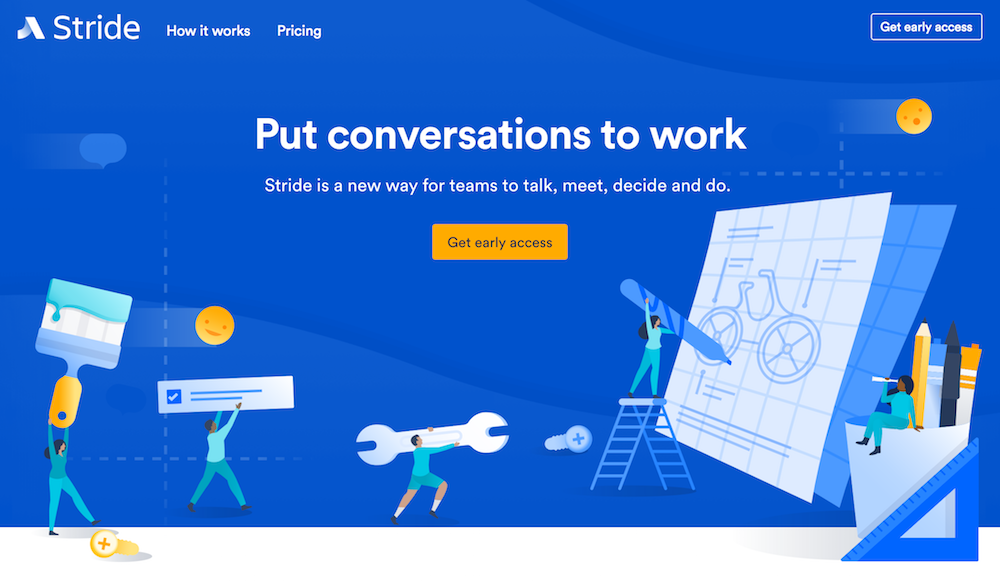 Stride is a team communication tool that's designed to manage everything from casual chat to weekly meetings.
Currently unavailable to the general public, Stride is available to specific people interested in early access. To apply, you'll need to enter your email address and team size into the online registration form.
Key features of Stride include voice and video conferencing, group chat and direct messaging, built-in collaboration tools and a variety of helpful productive features like shared task lists and decisions.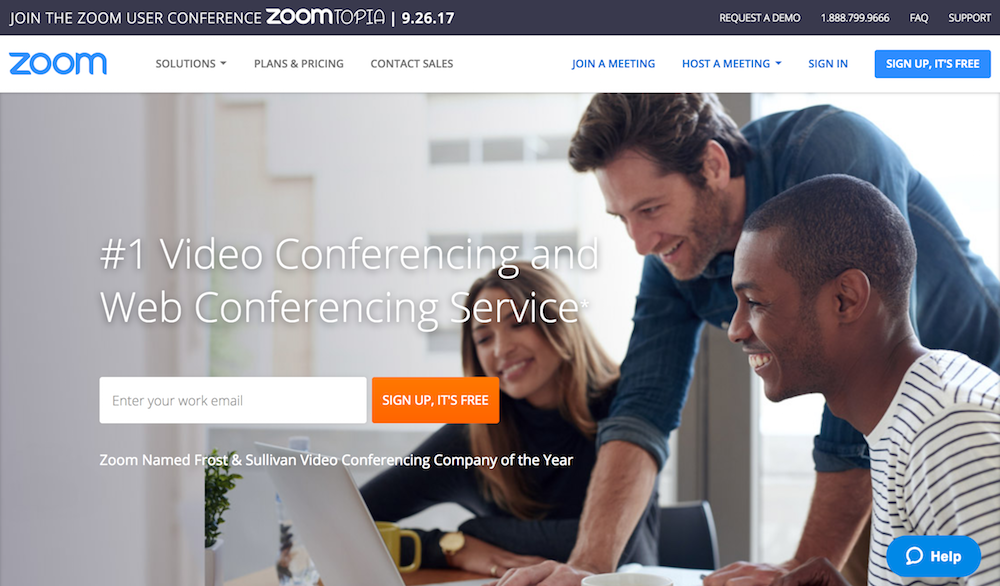 Zoom is a video conferencing and web conferencing tool designed for meetings, conferences and webinars.
Built for businesses of all sizes, Zoom lets you hold video meetings for project discussions, team hangouts and training sessions. It also has video webinar features for holding marketing events, town hall meetings and educational events.
Beyond video conferencing, Zoom includes a lightweight but full featured instant messenger tool that lets you send text, images, video and audio files effortlessly from your computer or mobile device.
Calendly is a meeting scheduling tool designed to help you quickly and efficiently schedule calls and meetings with sales prospects, clients and customers.
Using Calendly, you can set up available times and create an online calendar that will sync your schedule with your existing appointments. As prospects and clients book meetings, Calendly will automatically update your schedule to block out specific periods of time.
Calendly integrates with tools like Google Calendar and Outlook, making it easy to add to your existing scheduling toolkit. It also includes a variety of features to help you set buffer times and avoid last-minute meetings that disrupt your schedule.