February 23, 2017
Manual outreach – like it or not – has become extremely popular over the past year or two due to an abundance of new tools available for finding and sending emails, along with the impressive results it can drive.
But manual outreach is a double edge sword for many people within the tech space. We like sending cold emails to drum-up new business, but start to freak out when we start receiving cold emails in our own private email inboxes.
I on the other hand, don't freak out. In fact, I feel great when someone from within the tech space cold emails me.
Why? Because those who are active with manual outreach are great leads to turn into sales prospects. They are actively trying to grow their business – and if they are spending money on tools to help market their business, that's a great sign that they have money to spend (companies who want to grow and have money to spend are great prospects to build relationships with).
I guesstimate I've earned $8,000-12,000 over the past year from receiving cold emails, and I predict that figure will only increase judging by the increase of cold emails I've been receiving recently. And the best part is you can do the same and it only takes 5 minutes to setup.
How I make money with cold emails
I simply responded back with a counter offer. Here is the email I used for over a year when email was 'manageable':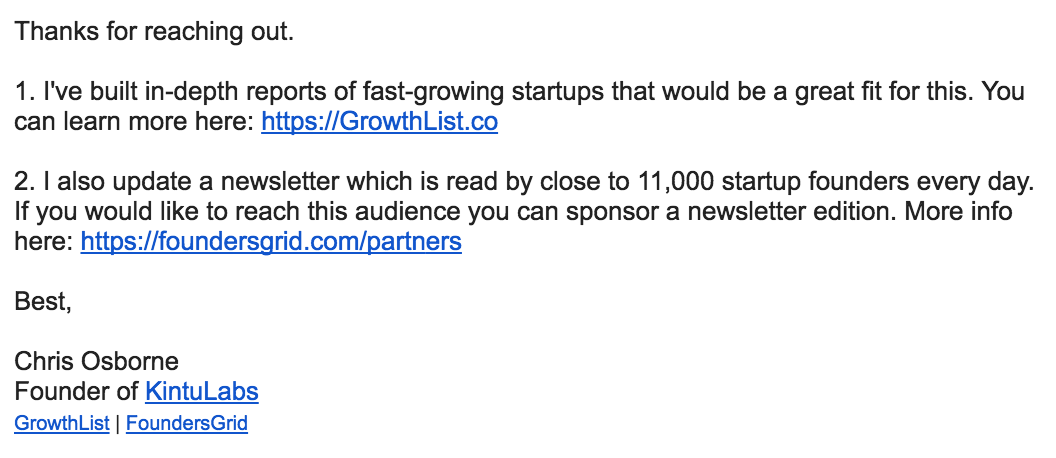 A few notes:
I saved this as a canned response so it was quick and easy to respond.
If I had time or the email was from a big company within the tech space I would customize the email.
After sending my response I would then save the email chain to a folder and use Boomerang so I could follow-up a few days later (ha, the power of the follow-up!).
With my email getting a little out of hand these days, I now use Google's Vacation responder that sends an automated reply to incoming messages offering a reminder of what I'm working on: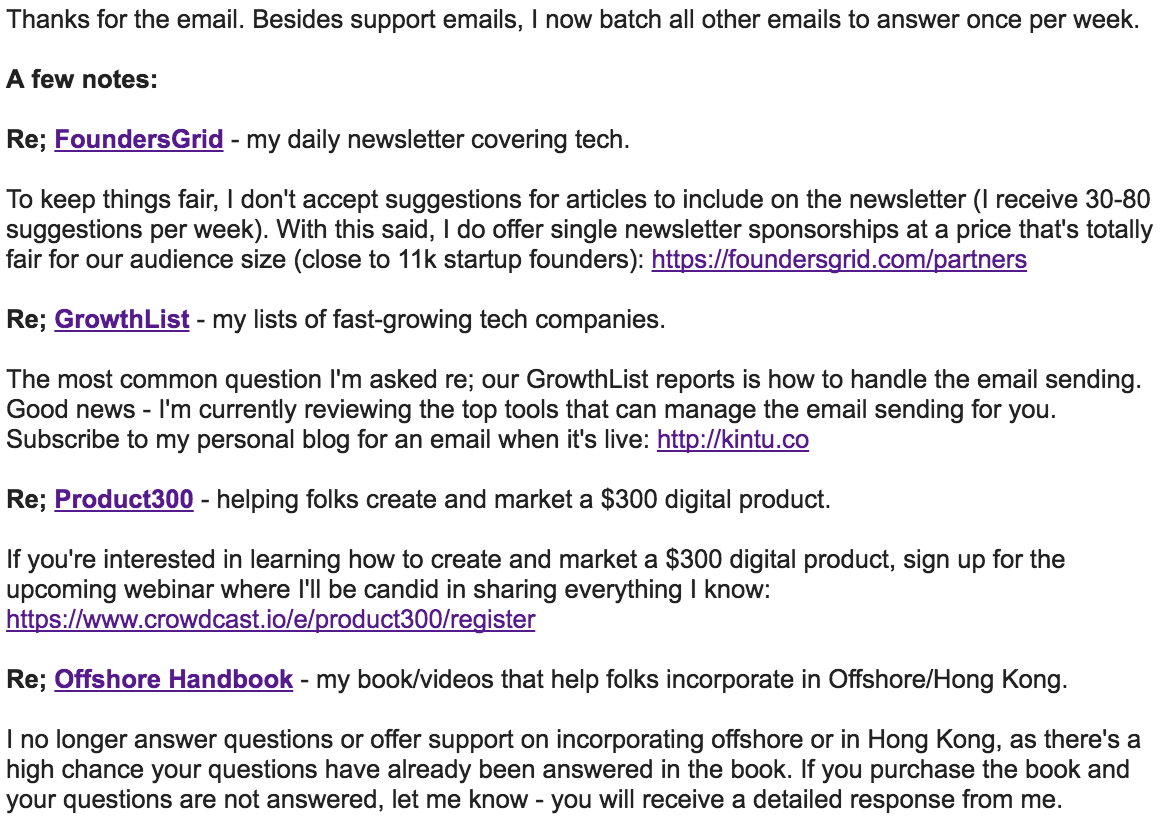 A few notes:
If a contact sends my several messages, this automated reply will only be sent once every 4 days.
I've only recently set up this responder up, so it'll be interesting to monitor the response and adjust accordingly.
The aspect I'll be testing first will be limited the products I include (I understand most folks won't read the whole email).
Hopefully the above with give you some ideas on how you can turn cold emails into more business for yourself.
Interested in learning more about manual outreach?
I'm currently writing an in-depth guide on the best tools to use to manage outreach efforts at scale. It's nearly finished and I'll be letting email subscribers know about the guide before anyone else. Subscribe to receive an update.
I also research fast-growing tech companies at GrowthList that'll help you to understand what companies you should be building relationships with right now. So far I've curated fast-growing B2B tech companies, Shopify stores and tech companies based in the U.K and NYC.
Any questions? Feel free to reach out to me on Twitter.