July 3, 2018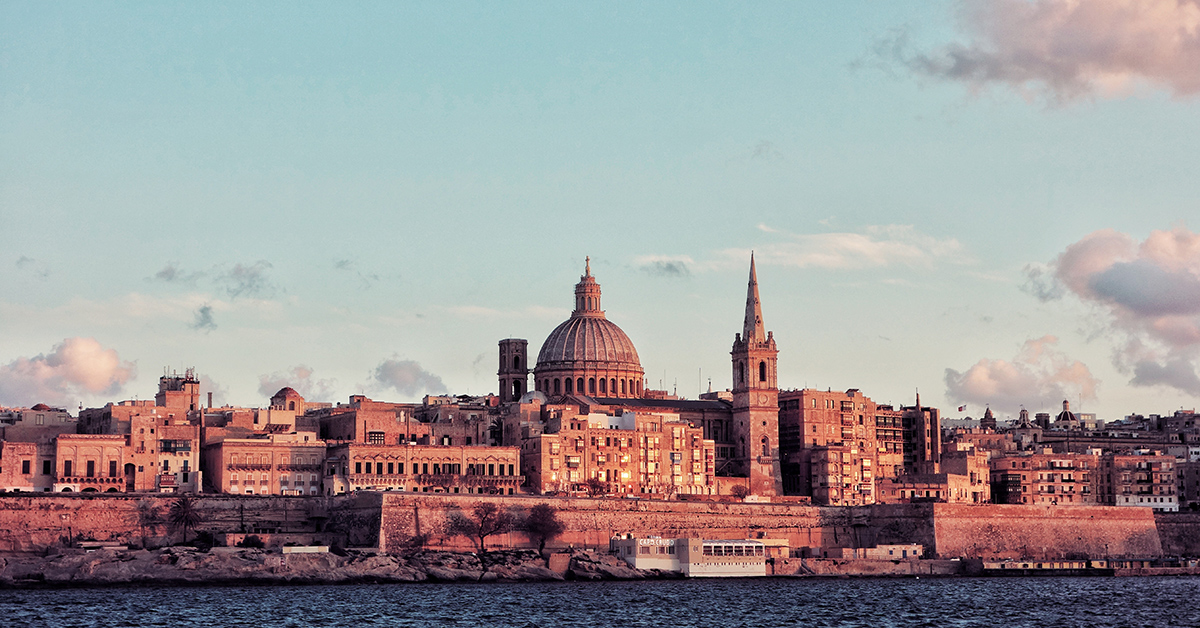 If you're interested in crypto, be sure to check out CryptoList – my hand-researched list of crypto companies, and consider subscribing to CryptoWeekly, my weekly crypto newsletter.
Malta is one of the newest (and fastest-rising) hubs for crypto companies this year. The country is aiming to become a magnet for crypto companies worldwide through a top-down initiative that's being led by Prime Minister Joseph Muscat.
The tiny island nation has already attracted some of the world's largest crypto exchanges to its shores and is in talks with countless others about potential partnerships. With low corporate taxes, a supportive government, and clear regulations, Malta is quickly becoming one of the top places for crypto entrepreneurs to launch their crypto projects.
Binance is the world's largest crypto exchange, and it recently moved its headquarters from Hong Kong to Malta after heavier crypto regulations were enacted by the Hong Kong government. Led by longtime CEO Changpeng Zhao, the exchange chose to move to Malta due to heavier regulations in Japan and Hong Kong, but also because of the Maltese government's openness to crypto.
Founded just last year, the crypto exchange presently supports dozens of the world's leading cryptocurrencies and alt-coins, in addition to its native token, the Binance Coin (BNB). In addition to offices in Tokyo and Hong Kong, the firm also recently opened its newest office in Taipei last month.
OKEx is one of the world's largest digital asset exchanges, and it recently moved its headquarters from Hong Kong to Malta. It's affiliated with fellow exchange OKCoin, though the two are run as separate entities. In addition to offering token trading, OKEx also offers crypto traders the option to invest in hundreds of crypto futures trading pairs on its asset exchange.
The OKEx exchange is one of the largest in the world by volume, with over 20m customers served to date, and its BTC futures exchange sees more than $1.5b in trading volume on a daily basis. The firm also offers other digital services for crypto traders beyond just its exchange services, such as margin trading and a mobile crypto portfolio management app.
Decentralised Ventures is a Malta-based consultancy that provides advisory services around blockchain, cryptocurrencies, and decentralized technologies. The firm is a joint venture between TokenKey (another Maltese crypto company) and Strategic Coin, a blockchain consultancy.
The venture was launched this month at the World Blockchain Forum in Dubai, and it aims to be the first "full-stack service provider" in Malta's nascent crypto ecosystem. The firm will provide crypto companies with end-to-end support on everything incorporation and taxation, to launching ICOs and token sales.
Following in the footsteps of Binance and OKex, Coinvest has become the latest major player to move its headquarters to Malta. The crypto investment trading firm relocated to Malta this month and has announced a new collaboration with the Maltese government to establish a blockchain council that is reportedly set to create hundreds of local jobs as well.
The Coinvest platform allows crypto investors and asset managers to create their own crypto index funds. The executive team is comprised primarily of Microsoft alumni (including CEO Damon Nam). The firm closed its ICO in April 2018, raising more than $5m in funding to help it accelerate product development and ramp up hiring.
Yovo is the world's first fully tokenized mobile network. The startup recently relocated its global headquarters from London to Malta, and is continuing to develop its unique mobile platform, which allows users to purchase YO tokens and then use them to pay one's phone bill with more than 500 providers around the world.
In addition, tokens can be earned on the Yovo network by doing simple daily tasks, like browsing the web or downloading certain apps. Yovo's blockchain-based mobile network is built using the Stellar protocol, and the Alpha version of its platform is slated for release later this month.
ICO Launch Malta bills itself as a "full-stack ICO platform" that offers legal, technical, and financial support to help crypto founders turn their ICO idea into a reality. The firm specializes in launching EU-based ICOs that comply with current European Union regulations, and already has a lengthy client list of successful token offerings.
Founded in 2017, ICO Launch Malta also offers pre and post-token sale marketing services, such as Airdrops and Bitcoin brokerages. The firm also provides crypto founders with PR and legal services, which can be retained after completion of a given token sale.
Exanta is a multinational investment firm based in Malta that recently began branching out into the world of crypto. Most notably, it's the only licensed brokerage in the world to offer Bitcoin spot and Bitcoin CMOE futures in one unified account. The firm was one of the true pioneers in Malta's crypto ecosystem, and it remains highly active in the crypto island's community as well.
In addition to its for-profit business, Exanta also is partnering with the Maltese government to attract more crypto companies to the island, and is actively investing in other crypto companies in the region as well (such as Comino, which produces at-home GPU miners).
Ledger Projects is a Malta-based startup that's looking to build the next generation of distributed ledger applications for crypto companies and enterprise businesses. Founded in mid-2017, the startup was the first in Malta to launch a distributed ledger application (an asset management transfer tool for institutional investors).
According the LP's founders, the firm decided to incorporate in Malta due to their government's open approach to crypto and a innovation-friendly regulatory environment. This year, the firm is working towards accreditation by Malta's new Digital Innovation Authority so that it continue developing its distributed ledger technology and further expand its platform to crypto companies.
Learning Machine Technologies is a Malta-based startup that has just launched the world's first pilot program for storing one's digital learning credentials on the blockchain. Under the new program, Maltese citizens will be able to record all of their online learning achievements on the blockchain, and any results will be immediately verified by Learning Machine's technology partners.
Users are able to access their digital records through Blockcerts, a crypto and digital asset wallet that's been designed for use with participating institutions. By leveraging a blockchain-based solution that works across many educational providers, the government of Malta hopes to better understand what skills its citizens are learning, and better prepare them with the skills needed to succeed in the workplace of the future.
nChain is one of the true pioneers in the global blockchain community, and it was recently acquired by a Malta-based private equity fund in exchange for $100m in funding. As part of the deal, the firm will be run primarily out of Malta, and it intends to use the fresh funding to accelerate research and development of its flagship enterprise platform.
nChain's platform is entirely open-source and boasts a large developer community, as well as some of the most prominent names in blockchain on its team (including former Bitcoin Foundation director Jon Matonis). The firm is a global leader in blockchain research and development, and has a worldwide staff of over 60 employees.
STASIS is a startup that gives governments the ability to tokenize fiat currencies and track their usage through a blockchain-based platform. The project is led by a team of Maltese and Kazakh entrepreneurs, and is seeing collaboration between the countries' governments as well. The STASIS team sees its platform becoming the foundation for a pan-European digital currency, and is actively reaching out to other countries about the possibility of running a pilot program for its platform as well.
In addition to their intergovernmental initiatives, the team at STASIS is also putting together a proposal for crypto asset governance within financial markets, which would see STASIS' native token (which has yet to be announced) pegged to the Euro.
Loci Nexus is a foundation focused on promoting the Loci Coin ecosystem. Based in Malta and formed just last month, the foundation is now taking a more active role in facilitating the purchase and sale of intellectual property through the Loci platform.
Although Loci was originally founded in Washington DC, it's now investing heavily in Malta's crypto ecosystem and is partnering with the European Patent Office to bring its vision of a fully decentralized IP marketplace to life.
Bitmalta is a nonprofit organization that's dedicated to increasing the adoption of cryptocurrency in Malta. Founded in 2017, the organization is headed up by Jonathan Galea, Head of Consulting at TokenKey and Managing Director at The Blockchain Advisory firm.
As part of its effort to promote the use of cryptocurrencies in Malta, Bitmalta coordinates regularly with the Malta Chamber of Commerce and other organizations to host events and workshops around Blockchain and cryptocurrencies.
Neufund is an equity raising service that's run entirely on the blockchain. The firm made headlines in April of 2018 when it announced that it would be relocating its worldwide headquarters from Berlin to Malta after a number of discussions with the Malta government and its financial regulators.
Founded in late 2016, the Neufund platform allows nearly anyone to raise private equity funds in the form of cryptocurrency, making it one of the most elegant solutions bridging the gap between the worlds of equity and crypto to date. The firm is led by CEO Zoe Adamovicz, a serial entrepreneur who has founded and scaled numerous startups in the European market.
The Blockchain Malta Association is perhaps the most influential organization in Malta's crypto ecosystem at the moment. The organization consults regularly with Malta's government on how the country can continue attracting more crypto companies to its shores, and also plays a significant role in influencing the development of crypto regulations within the country.
In addition, the association is highly active in Malta's nascent crypto community, and it participates regularly in events and conferences held around the country. The organization is led by a mix of private entrepreneurs and public officials, and its efforts to attract crypto investment to Malta have paid off so far – including its wooing of large exchanges like Binance and OKex.