June 13, 2018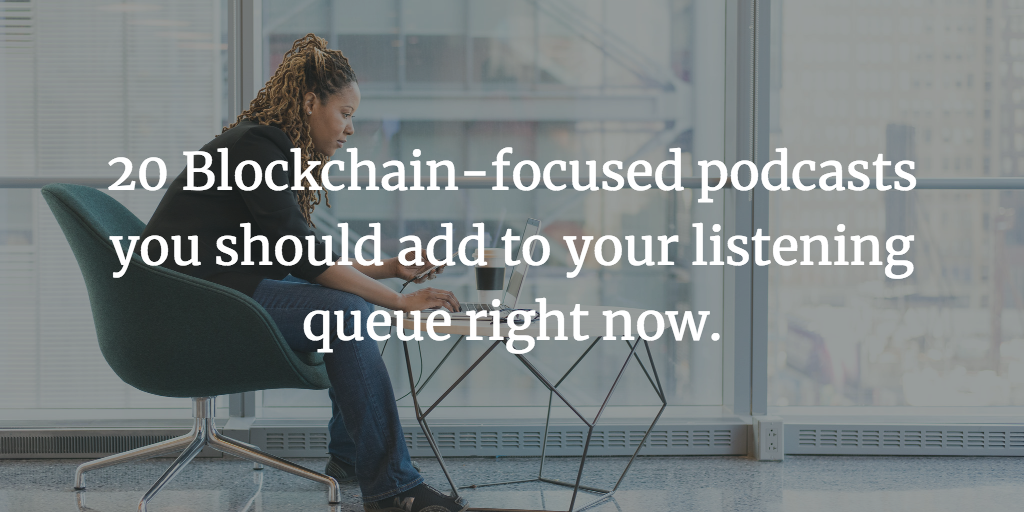 If you're interested in crypto, be sure to check out CryptoList – my hand-researched list of crypto companies, and consider subscribing to CryptoWeekly, my weekly crypto newsletter.
Amidst the fastest-growing industries on the planet, crypto and blockchain exist in an ever-expanding universe of knowledge, information, and insight. Massive technological breakthroughs are happening at breakneck speed, and it can be easy to get lost in the noise. Fortunately for you, I've done the hard work of identifying the twenty crypto and blockchain-focused podcasts you should add to your listening queue right now.
Let's dive right in.
Headed up by crypto and blockchain journalist Laura Shin, Unchained is quickly becoming the go-to resource for crypto investors around the world. Focused on emerging ideas in the world of crypto and blockchain, Shin interviews individuals from multiple industries that are doing interesting work in the space.
The show has seen a diverse lineup of guests, ranging from Ethereum founder Vitalik Buterin to Zooko Wilcox, CEO of Zcash. By examining blockchain's impact on numerous industries through the course of her interviews, Shin reveals to listeners why this technology is here to stay – and how it will likely change the underpinnings of society forever.
Block Zero is hosted by Kevin Rose, founder of Digg, Pownce, and an array of other other Bay Area startups. The show focuses primarily on Bitcoin, Ethereum, and other cryptocurrencies that have high usage, but Rose occasionally interviews founders of blockchain-related startups (such as Bancor co-founder Eyal Hertzog) as well.
Rose is a seasoned podcaster, having headed up both the legendary DiggNation podcast, as well as the Revision3 podcast – and it shows. Every episode of Block Zero is packed with insights, and Rose knows how to ask the right questions to get his guests to open up about their projects.
Also hosted by journalist Laura Shin, Unconfirmed is an ongoing dialogue with crypto experts on the latest developments in the field. For each episode, Shin selects a timely topic in the world of crypto and brings on one guest to quiz about it – most recently, Ari Paul of BlockTower Capital joined the show to talk about the recent downturn in crypto, and what it means for the market.
In addition to discussing current events in the market, Shin and her guests often cast their eyes forward to the future of crypto, and have meaningful discussions around what's coming next in the space. Like Unchained, make this podcast a priority in your listening queue – it's worth it.
Noded is hosted by engineering students Michael Goldstein and Pierre Rochard, who are both pursuing technical degrees at the University of Texas. Together, the duo co-founded the Satoshi Nakamoto Institute (an organization that is analyzing the elusive inventor's body of work) and are software engineers by trade.
The podcast focuses primarily on current events in crypto and blockchain, with the duo providing analysis and commentary along the way. Goldstein and Rochard frequently have guests on the show as well, ranging from developer Jimmy Song to crypto engineer Jameson Lopp.
Let's Talk Bitcoin is a bi-weekly podcast hosted by Adam Levine and a rotating cast of guests. The show focuses on the top individuals and ideas that are reshaping the future of money, and also includes analysis from prominent individuals in the crypto community.
The show distinguishes itself from other podcasts by putting an emphasis on crypto founders, and it's already built up a wide range of interviews with founders in its archive. Each episode is fascinating, with great questions asked throughout. Well worth a listen.
The Bitcoin Knowledge Podcast is hosted by entrepreneur and monetary scientist Trace Mayer. The show format alternates between episodes hosted by Mayer himself, and interviews with other entrepreneurs in the crypto space. This podcast has been running since 2012, making it one of the more established shows on this list.
While Mayer and his team issue podcasts on a fairly irregular basis, they're always high-quality and packed with valuable content (the most recent episode includes an extended discourse on the ideological foundations of Bitcoin).
Coin Mastery is a podcast that teaches anyone how to be an expert in crypto and think more deeply about the blockchain technology behind it. Hosted by crypto entrepreneur Carter Thomas, the show spends equal amounts of time analyzing current trends in the crypto space, while offering tips and resources to retail crypto investors looking to boost their knowledge.
In addition to his podcast, Thomas is also active on YouTube, and produces a video series on crypto investing as well. Given Thomas's timely analysis on developments in crypto large and small, both are well worth a listen if you have the time.
Published by legendary Bitcoin developer Jimmy Song in partnership with The World Crypto Network, Off Chain is a video podcast that breaks down the latest trends in crypto and shares tips for becoming a more effective crypto investor.
In addition to dissecting market forces, Song also does an excellent job of explaining arcane, but necessary crypto terminology to a mainstream audience. Ever wondered what a full node is, and how it works? Song helps break all of this down and more, making his podcast an indispensable resource for many crypto investors.
Hosted by Internet pioneers Joel Comm and Travis Wright, the snarkily-named Bad Crypto Podcast is anything but. Comm and Wright do an excellent job of not taking themselves too seriously, and it shines through in their nearly-daily show – which alternates between analysis of current events in crypto, and interviews with other entrepreneurs in the space.
The duo takes on serious issues in crypto with their signature mix of hard-nosed analysis and humorous diversions, making each episode a light-hearted (but incredibly insightful) journey into the world of crypto.
Daily Crypto is a podcast focused on informing its listeners on the latest news around cryptocurrencies, blockchain, ICOs, new regulations, and more. Hosted by crypto investor Jose Mota, the show is run on a daily basis and includes Mota's expert analysis on the latest trends in crypto, as well as the occasional interview.
Recent episodes have covered IBM's efforts to create a central bank digital currency and the recently discovered anonymity flaws in Monero. Well worth listening to for a daily rundown of crypto news and insights.
The Bitcoin Podcast is run by the Bitcoin Podcast Network, an independent media organization that analyzes the worlds of crypto and blockchain. Run on a bi-weekly basis, the show hosts long-form interviews with numerous individuals in the blockchain community, all moderated by the group's several long-time hosts.
In addition to The Bitcoin Podcast, the BPN also publishes a number of other niche podcasts related to crypto – such as "Buy or Sell, What the Hell", which focuses on the economics side of cryptocurrencies and the forces that are driving recent trends in the markets.
This weekly podcast hosted by Meher Roy and Brian Crain offers up in-depth interviews with some of the brightest minds in crypto. The podcast focuses on the decentralized technology space, which naturally means crypto and blockchain receive ample coverage. In addition, the duo also runs a YouTube channel, which includes additional video content and interviews.
Epicenter was originally founded back in 2013, making it one of the longest-running crypto podcasts out there. The show's focus is global, and the team has already brought on dozens of bright minds in the crypto community to share their thoughts on the space.
This weekly show, hosted by crypto enthusiasts Simon Taylor and Colin Platt, provides listeners with a weekly digest of the most critical headlines in crypto. Blockchain analyst Sara Feenan frequently joins the duo as a guest host, and together, the group provides compelling commentary on the direction crypto and blockchain are headed.
Blockchain Insider has been running for well over a year and brings on a diverse range of guests – from Blythe Masters (CEO of Digital Asset Holdings) to Joe Lubin (co-founder of Ethereum). It's an easy-to-understand podcast that makes it accessible to both crypto newbies and experts alike – well worth checking out.
Sydney-based Aaron Fifeld is the charismatic host of Chat with Traders, a weekly podcast that covers the world of cryptocurrencies from all angles. While most podcasts interview exclusively individuals who've already established themselves in crypto, Fifeld has conversations with everyone – from retail traders just starting out, to giants of the crypto world.
Along with his podcast, Fifeld is also the producer of a number of other assets targeted toward crypto traders – including guides to crypto trading mentorship, lessons learned, and transcripts from previously unreleased interviews.
The Third Web is hosted by Bitcoin enthusiast Arthur Falls, and is focused on covering the full gamut of decentralized technologies – from Ethereum, to blockchain, and everywhere in between. As part of his podcasting efforts, Falls is also developing video content and a mini-documentary on cryptocurrencies that he hopes to release later this year.
Prior to launching The Third Web, Falls also was the Director of Media at blockchain firm ConsenSys, and the creator of two other crypto podcasts – The Ether Review (an exclusively Ethereum-focused show) and Beyond Bitcoin.
Launched in mid-2016, The Blockchain Show is a weekly podcast that seeks to advance the adoption of cryptocurrencies and decentralized technologies. The show is headed up by sound engineer Ethan Kinderknecht, who is accompanied by an ensemble of four other co-hosts who discuss the latest developments in crypto each week.
The Blockchain Show generally alternates between discussing current events in crypto (the latest developments on the hardware wallet front was a recent topic) and interviewing crypto luminaries like Brian Gallagher, CEO of Insights Network.
The Crypto Street Podcast focuses on covering the latest news around Bitcoin, Ethereum, and other major cryptocurrencies. The show initially started through several crypto enthusiasts getting together for regular chats via Twitter, and has since evolved into a weekly show with crypto analysis and interviews with key influencers in the crypto community.
The Crypto Street Podcast is relatively new on the scene, but has already gained a massive following. Most recently, the team at Crypto Street interviewed the co-founders of Tap Project, a decentralized gaming community, about the development of their coin and the firm's upcoming token sale.
CryptoRadio is a podcast about the top news in crypto and blockchain, hosted by a team of four crypto investors and entrepreneurs. The show is conducted in an interview-style format, with a different focus for each series of episodes (past series have included interviews with thought leaders in crypto, as well as interviews with crypto founders).
In addition to regularly recording new shows, the team at CryptoRadio has also done an excellent job of putting together a huge number of free crypto-related resources, infographics, and case studies on their website.
The What Bitcoin Did podcast is hosted by crypto trader Peter McCormack. Although his podcast only started less than 6 months ago, McCormack has already landed some hard-hitting interviews (such as a fascinating back-and-forth with Lyn Ulbricht, mother of Silk Road founder Ross Ulbricht) that make for gripping listening.
As part of recording What Bitcoin Did on a semi-regular basis, McCormack has also invested a significant amount of time in building some valuable resources for crypto investors, including a beginner's guide to crypto trading.
Bitcoins and Gravy, hosted by lifetime podcaster and communications specialist John Barrett, is a down-to-earth, no-nonsense guide to the world of crypto. Unique to most crypto podcasts, Barrett takes on current events in crypto with a sense of humor, and frequently injects his own jokes into the show.
This also might be the first crypto podcast with a completely original soundtrack. Barrett writes and composes all of the music for each episode himself, resulting in a show that's equal parts educational and refreshingly light-hearted.