July 10, 2018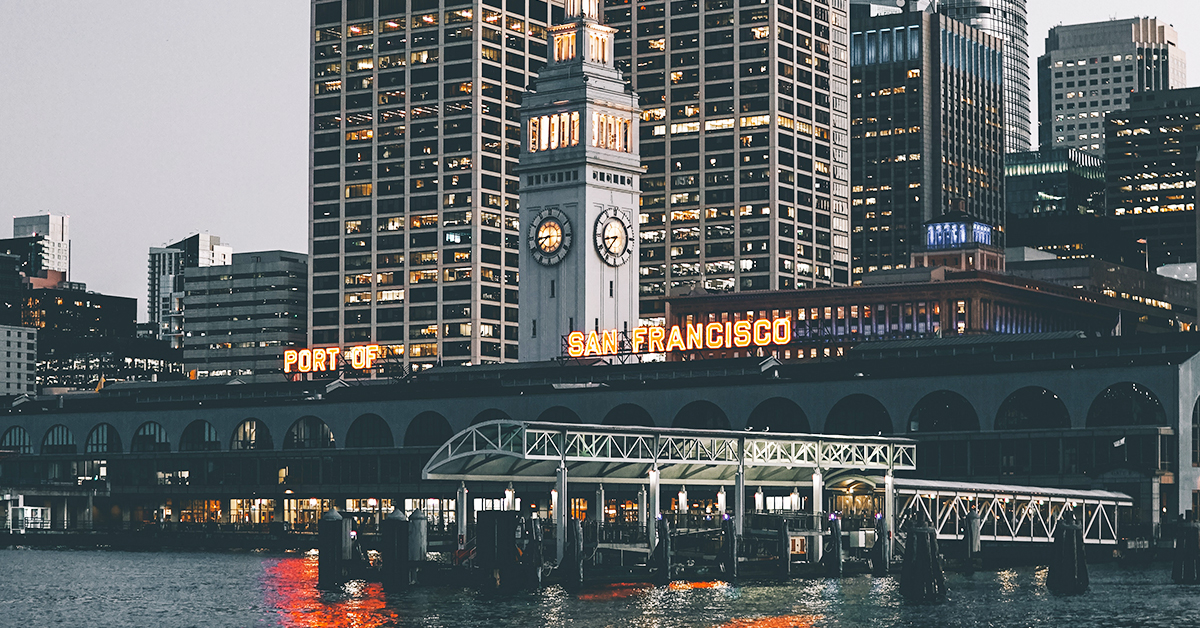 If you're interested in crypto, be sure to check out CryptoList – my hand-researched list of crypto companies, and consider subscribing to CryptoWeekly, my weekly crypto newsletter.
The heart of Silicon Valley has always been a magnet for both founders and capital, but it's now one of the key hubs for the blockchain revolution.
Hundreds of crypto companies have set up shop in San Francisco to take advantage of its proximity to capital and massive talent pool in recent years, and the trend isn't slowing down.
There's now a thriving crypto ecosystem in the city, ranging from crypto-focused hedge funds to Tachyon, the city's first Ethereum-focused accelerator.
Blockchain Capital is one of the world's most influential blockchain VC firms, and a significant player in the worldwide crypto ecosystem. Founded by serial entrepreneurs Brock Pierce, Bart Stephens, and Bradford Stephens in 2013, it was one of the first venture firms to focus exclusively on crypto and blockchain investments.
Earlier this year, the firm announced that it had raised $150m in its fourth round of funding, of which $25m came in the form of Ripple's XRP cryptocurrency. The investments will be used to research new use cases for Ripple's proprietary protocol, as well as identify promising new investments in the blockchain space.
Purse is a San Francisco-based startup that's looking to enable Bitcoin purchases through Amazon and the creation of an entirely new, crypto-powered online marketplace. The Purse platform matches would-be online shoppers with crypto holders that are wiling to give up their tokens for online gift cards. Though in its infancy, the team at Purse hopes to eventually turn their service into a fully-fledged crypto ecommerce platform.
The service is powered by bcoin, which is an enterprise-level implementation of Bitcoin designed for large-scale ecommerce applications. Founded in 2014, Purse is a true innovator in the crypto ecommerce space, and it shows no signs of slowing down anytime soon.
Augur is a decentralized "prediction market" that's based on Ethereum and lets crypto investors bet on the likelihood of future events. Prediction markets can be created around the outcome of any given event, which can then be bet on using Augur's native token. The firm issued 11m tokens in its initial token sale, on which there is also a hard cap.
Earlier this year, Augur's engineering team released the next iteration of its whitepaper, which suggests the platform is preparing for a large-scale launch in the near future. This will allow an entirely new group of users to create markets for different outcomes, while increasing the amount of fiat flowing into the firm's crypto markets.
Ripple is a San Francisco-based blockchain startup that's taken the world by storm in recent months. At its core, the Ripple platform is a blockchain-based system that allows enterprises and individuals to send global payments and remittances incredibly cheaply and quickly. The platform also has an open-source payment protocol, and that protocol has garnered significant interest from some of the world's largest financial firms (such as Santander and MoneyGram).
Ripple's native cryptocurrency is known as XRP. The cryptocurrency is unique in that it exists directly inside the Ripple protocol, and as such doesn't require any mining (tokens like these are known as a "pre-mined" cryptocurrencies).
Coinbase is one of the largest crypto exchanges in the world, and it's rapidly expanding its offerings into every area of the financial services industry. The exchange already supports trading between Bitcoin, Bitcoin Cash, Litecoin, Ethereum, and fiat currencies in dozens of countries around the world, and has plans to expand even further in the coming year.
Founded in 2011, Coinbase is a true pioneer in the crypto exchange space, and it was one of the first to offer trading capabilities and a crypto wallet in one platform. In addition to its core offerings, Coinbase also offers developers an API for connecting the exchange to third-party applications, and in what may be a sign of things to come, recently acquired paid email service Earn.com for $100m.
Harbor is a platform that allows anyone to convert their rights to an asset (such as fine art or real estate) to a digital token on the blockchain. Launched just this year, the San Francisco-based firm recently raised $10m in Series A financing to help it accelerate development of the first generation of its platform and accelerate hiring on the R&D front.
Competition in the market for tokenized private securities is presently light, and Harbor is one of its first entrants. As part of its launch, Harbor has also created the R-Token, an Ethereum-based token that allows Harbor to enforce compliance across any trading platform.
San Francisco-based Kraken is one of the world's most active crypto exchanges in terms of trading volume, and also one of its most acquisitive – in the past two years, it's purchased at least four crypto startups to fuel its growth plans and build out its trading platform. It was one of the first exchanges to offer Ethereum dark pool trading, and is also the source of truth for Bitcoin pricing on the Bloomberg terminal.
In early 2018, Kraken decided to close its operations in Japan after a steady rise in the cost of doing business there. It continues to maintain an outsized presence in North America and the EU, however.
Last year, after raising $4m in seed funding, Bitwise Investments launched the world's first cryptocurrency index fund. In the first two months of 2018, the fund reportedly delivered 45% returns to investors, beating out both the bull and bear markets for crypto in recent months.
Bitwise plans to use its round of seed funding to hire up to 10 new employees, and further build out its software platform. Presently the fund is passively managed, and Bitwise is hoping to build out a fully-fledged software layer for its fund that will distinguish it from other offerings in the market.
LibraTax is the world's leading accounting solution for crypto investors. The LibraTax platform tracks one's entire crypto portfolio, and can automatically calculate capital gains and losses on crypto investments for tax reporting purposes. The platform supports most major cryptocurrencies, and is presently available as a free service for crypto investors.
For US taxpayers, the LibraTax platform is designed for compliance with all IRS regulations and has historical reporting capabilities for retroactive taxation as well. Founded in 2014, LibraTax was one of the world's first firms to focus on the tax implications of crypto, and it continues to be a leader in the space today.
CoinList is a San Francisco-based startup that's quickly transforming the way crypto companies launch token offerings. The startup is looking to build out a full suite of financial services products for founders looking to launch an ICO, including a blockchain-based securities exchange.
Earlier this month, the firm raised $9.2m in Series A funding (led by Polychain Capital), which it plans to use to build out its software platform that will allow investors to quickly identify and invest in the most promising ICO opportunities on a fully-accredited platform.
Uphold is a cloud-based cryptocurrency platform that allows users to buy, sell, and trade dozens of cryptocurrencies and crypto commodities. Founded by entrepreneur Halsey Minor in 2013, the platform enables the conversion of Bitcoin into fiat, other cryptocurrencies, and previous metals.
Earlier this year, Uphold received $57.5m in investment from former Ripple executive Greg Kidd. As part of the investment deal, Kidd joined Uphold's board of directors and has created an R&D arm of the company to help it scale and build out its still-nascent platform.
San Francisco startup Chia Network is building an energy-efficient cryptocurrency that it hopes will one day rival Bitcoin in usage. Founded by Bram Cohen (one of the early pioneers in the BitTorrent community), Chia is powered by a blockchain based on proofs of space and time – theoretically, this makes the cryptocurrency for more energy-efficient than both Bitcoin and Ethereum.
Chia is further distinguishing itself from its rivals by avoiding the traditional ICO route – instead, it's opting to launch a mini-IPO later this year under a federally-sanctioned equity crowdfunding program. This should allow the firm to raise up to $50m, which it plans to reinvest in research and development of its platform.
SureRemit is building a crypto-powered ecosystem for worldwide cash remittances. Founded by Nigerian entrepreneur Adeoye Ojo, the blockchain-powered platform enables anyone to perform remittances with zero fees by using a combination of cryptocurrencies and digital shopping vouchers.
The SureRemit platform is powered in part by SureGifts and its merchant partners. This allows users to easily purchase gift vouchers that they can then send to friends or family members in other countries, as well as pay their online utility bills.
Hexel is a San Francisco-based startup that's building a platform which allows anyone to create an Ethereum-based token for their hyperlocal online community. Businesses can use Hexel to create their own token-based reward program, or even create their own branded token for digital payments purposes. Tokens can be created through AirDrop, and can be distributed to users as dictated by businesses themselves.
Since the Hexel platform runs on the Ethereum network, transactions can be conducted between individuals and businesses for just pennies, and tokens can be rapidly transferred between both parties as well. In addition, Hexel allows users to browse its entire global library of token programs, and enroll (or invest) in the token programs that suit them best.
OpenSea bills itself as "a decentralized marketplace for digital assets on the Ethereum blockchain". On the OpenSea marketplace, users can purchase rare crypto assets (like CryptoKitties) and even digital artwork. The service, currently in beta, is based on the Ethereum platform and presently has more than 600k digital assets for sale on its network.
In addition, the OpenSea platform boasts a number of developer tools that allow designers to open their own OpenSea shop or pull real-time market data from the OpenSea API. The firm also partners with independent designers to get their work posted on the platform through its OpenSea Studios design program.
The TrustToken platform enables anyone to create securitized digital tokens backed by real-world assets (like real estate), all the while being regulatory-compliant and backed by US dollars. Its TrueUSD native token is a USD-backed cryptocurrency that can be used for all manners of online transactions, from remittances to ecommerce. The firm is now pursuing formal partnerships with a number of financial institutions that are looking to use its platform to increase liquidity in certain markets.
Founded in 2017, the TrustToken team boasts a high-profile lineup of investors – including Stanford University, Blocktower, and Peter Thiel's Founders Fund.
This decentralized, San Francisco-based investment fund is unconventional in almost every way. The investment fund is fully decentralized and is funded through user deposits of ERC-20 tokens through a proprietary Dapp. According to Logic0x's founders, over 160 people have contributed to the fund to date, with more investors set to come onboard soon.
The fund primarily focuses on crypto and blockchain startups for its investment opportunities, and uses AI technology to help identify promising investments in the space. The firm was founded in early 2017 by Kyler Chin, formerly founder of drone startup Stratospheric Technologies.
CoinTracker is a San Francisco-based crypto portfolio tracker and tax manager. As a member of Y Combinator's Winter 2018 class, the team is presently focused on building a scalable tool that individuals and businesses can use to dynamically track the value (and taxable value) of their crypto portfolios.
By connecting the service with one's crypto wallets and exchange accounts, users can access one unified dashboard with all of the key investment metrics for their portfolio. On top of the portfolio layer, CoinTracker also provides a simple software tool to calculate one's taxes owed on a cost basis, as well as capital gains taxes.
The team at Origin is focused on building a decentralized sharing economy on the Ethereum blockchain. Through the Origin platform, any business can build their own decentralized marketplace, and it's already built a sizable list of clients (including Australian startup CanYa) that are using its service to transform their ecommerce experiences.
In late April of this year, Origin landed its most significant round of funding to date – a $28.5m round of funding led by FBG Investments. The firm plans to use the fresh injection of capital to continue building out its platform, while accelerating hiring on the R&D front.
Omniex is an institutional crypto trading platform that provides a full-service operating platform for crypto hedge funds and quant traders. The firm was launched on the back of a $5m round of seed funding raised in late 2017, and it's continued to grow ever since.
The Omniex team plans to use its seed funding to build out its trading platform and proprietary algorithms, while growing its customer base. The firm is led by a number of former executives from State Street, the storied investment fund.