June 11, 2018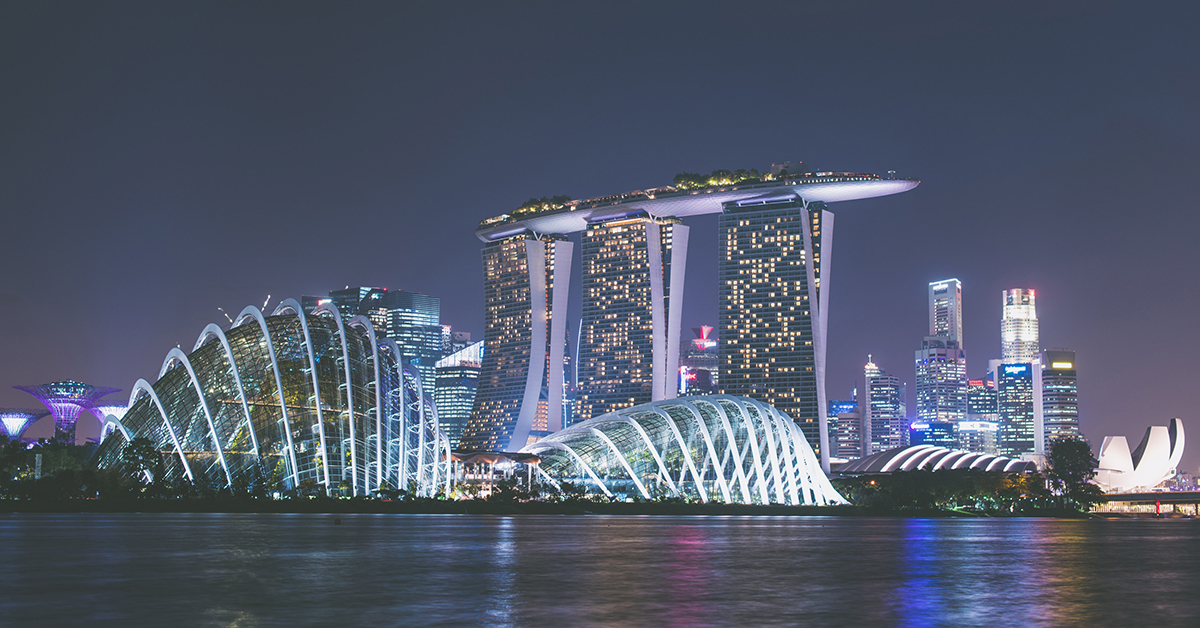 If you're interested in crypto, be sure to check out CryptoList – my hand-researched list of crypto companies, and consider subscribing to CryptoWeekly, my weekly crypto newsletter.
As one of the world's most dynamic hubs for crypto and blockchain innovation, Singapore is already home to dozens of like-minded startups, with more and more popping up each month.
These twenty crypto companies are on my radar for being key participants in the local ecosystem that are innovating relentlessly and helping make Singapore a great place to run one's crypto company.
Let's get started.
Litecoin is an open-source cryptocurrency that is one of the largest cryptocurrencies in the world by market cap. Originally founded in Singapore by ex-Googler Charlie Lee, Litecoin is well-known for having markedly faster transaction times than Bitcoin – in some cases, its network is 3-5 times as fast.
Its nonprofit arm, the Litecoin Foundation, is also headquartered in Singapore and organizes community meetups and events around the region on a regular basis. Its charter is to advance Litecoin for the benefit of society, and identify new nonprofit and commercial use cases for its technology.
TenX seeks to connect a user's assets stored on the blockchain with "real-world" payment platforms through an all-in-one, blockchain-based crypto platform. Users can leverage TenX's app to store numerous different types of blockchain assets (including cryptocurrencies all in one place), and use its debit card to pay with crypto at retailers around the world.
In the future, the service also hopes to roll out tools for retail banking and conversion of cryptocurrencies to fiat as well. In addition to having a promising hard product, TenX also has a star-studded board of advisors, including Vitalik Buterin, founder of Ethereum.
CoinHako is one of the fastest-growing crypto exchanges in Asia and has seen an influx of users after high-profile hacks at several other Asia-based crypto exchanges in recent months. The service started out as a Bitcoin trading platform and has evolved into a crypto wallet and exchange service that supports both Bitcoin and Ethereum.
CoinHako stores users' crypto funds in a cold wallet at all times and was one of the first crypto exchanges to fully ensure its user deposits. In addition to trading services, CoinHako also provides blockchain consulting services and organizes crypto workshops in Singapore for its users on a regular basis.
CoinPip is a Singapore-based international remittances startup that aims to disrupt the remittances industry by allowing customers to make payments and transfers overseas by using Bitcoin to facilitate the transactions on the backend. Presently the service offers support throughout Asia, and any transaction can be conducted for just a 2% fee.
To date, the team has landed investment (and advisors) from the Development Bank of Singapore (DBS), PayPal, Visa, and others. The service is presently B2B-focused, but CoinPip's CEO, Anson Zeall, has gone on the record he would like to expand the service into the consumer space as well.
This firm is looking to empower large enterprises to leverage blockchain technology for building secure smart contracts. Founded in 2015, Attores is the creation of entrepreneurs David Moskowitz and Gaurang Torvekar, and it helps companies develop, test, and roll out smart contracts within their own business processes.
The company has run several pilots of the technology with major banks in Singapore, and has already started building a client base of primarily SMEs that are looking to begin leveraging smart contracts for their businesses. By offering the service through a SaaS model, Attores has become one of the first to offer a truly turnkey smart contracts solution designed for medium-to-large businesses.
This crypto fintech firm was founded in Singapore and has since moved its headquarters to Tokyo, but it maintains an outsized presence (and a large sales office) in the city-state's crypto ecosystem. Quoine is focused on developing an entire suite of blockchain-driven fintech products for the consumer market, starting with its web-based crypto exchange, QUOINEX.
The firm raised $105m in its ICO and token sale late last year, and the funds will be used to further develop its Quoine Liquid platform, which aims to solve for the present illiquidity in the crypto economy. Quoine is also partnering with crypto exchanges around the world to develop what it calls a "Global Liquidity Alliance" to collaborate on the issue.
Headquartered in Singapore, this data protection firm is an industry leader in developing innovative, blockchain-driven data backup and securing solutions. In 2016, it became the first data protection company to invest in blockchain, and the firm now has a dedicated team working on bringing blockchain technology to its full suite of products.
Acronis has a number of crypto-based data storage products available, including Acronis Storage, which stores, secures, and authenticates user's data through Ethereum's public blockchain. It also offers a service called Acronis Notary, which can notarize certificates and store a time-stamped record of the certification on a public blockchain.
Blockchain Foundry is a blockchain consultancy firm that helps large enterprises set up their own "Blockchain Innovation Labs" and experiment with the technology for their own commercial purposes. The firm primarily focuses on working with partners in Singapore and Southeast Asia on developing blockchain solutions to pressing business needs.
Blockchain Foundry is also a member of the SG Innovate ecosystem, which is funded and run by the Singapore government to encourage startup innovation within the city-state. The firm frequently hosts events in Singapore, and is an active member in the larger startup ecosystem as well.
CoinGecko is fast becoming crypto investors' go-to resource for the latest market data, coin prices, and more. The startup was founded in 2014 by TM Lee and Bobby One, and provides real-time data for nearly all cryptocurrencies across a wide range of metrics. Uniquely, CoinGecko also gives users price data for cryptocurrencies across multiple exchanges as well.
The quickly-growing startup also has a proprietary algorithm that ranks coins using a number of other variables (including social media following, outside investment, and others). The service also provides detailed metrics around community and investor engagement, which is critical when doing market research for informing one's investment decisions.
FreshTurf simplifies the process of package delivery in Singapore using blockchain technology. In partnership with IBM's Bluemix team, FreshTurf has created a blockchain-based solution that can store data for individual parcels on an open registry, and allow package deliveries to be recorded and verified on a distributed ledger.
The service helps logistics management companies more efficiently verify the identities of both senders and receivers, and is presently exploring technology partnerships with the US Postal Service, Russian Post, and Australia State Post.
Ducatus is a crypto firm that offers an alt coin (known as the Ducatus coin), and may seem conventional at first glance – but in actuality, it also runs Singapore's first entirely cashless cafe, known as the Ducatus Cafe. The cafe is quickly becoming a hub for members of Singapore's crypto ecosystem, and only accepts payment in either Bitcoin or Ducatus Coins.
In addition to having a crypto cafe, Ducatus also has a sizable crypto mining operation, Ducatus Global. Users can purchase Ducatus Mining Credits to join the mining pool, which also has a profit sharing arrangement contingent on any profits generated from mining.
Aditus bills itself as "the world's first integrative platform for crypto affluents". It's effectively a way for crypto investors to securely purchase luxury goods by utilizing smart contracts and blockchain technology. The service also offers membership in a concierge program and access to exclusive lifestyle activities.
The platform, called Aditus Pay was most recently rolled out at Art Stage Singapore 2018, one of the city-state's premier art festivals. Festival-goers were able to purchase art pieces using the platform's native ADI token, as well as other cryptocurrencies. In total, four paintings were purchased with crypto during this year's edition, and the firm hopes to roll out its payment platform to other festivals in the coming months.
This crypto startup provides Singapore's crypto community with an easy way to get started in the world of crypto mining. The firm, which had its ICO earlier this year, is presently building out its virtual currency infrastructure to allow anyone to become a virtual crypto miner.
Miners at Work's recent ICO raised a significant amount of funding that will be used to develop its mining infrastructure, purchase additional mining servers, and roll out FastCoin crypto ATMs around Singapore. Miners at Work (MAW) also has its own native token, the GINNI coin, which will soon be listed on major exchanges around the world.
Electrify is Asia's first decentralized retail electricity marketplace. It allows consumers to choose where their energy comes from in a blockchain-based solution, and in doing so, aims to liberalize Asia's energy markets. The platform will go live in the second half of 2018, and will be available to residents of Singapore initially, with other countries coming online soon after.
Despite being launched only last year, Electrify raised over $30m in its ICO earlier this year. The funds will be used to accelerate hiring, increase the rate of product development, and expand the product further into international markets (Japan and Australia, in particular, are on Electrify's radar).
Launched just last December, CoinHub is a relatively new entrant to the crypto exchange landscape. The exchange allows investors to purchase cryptocurrencies using fiat, and any purchased tokens are then stored in a cold wallet for enhanced security. Most notably, CoinHub also charges zero transaction fees for any transfers or withdrawals.
CoinHub is presently looking to expand its "Ethereum market and pairing options", but it also offers support for a vast number of cryptocurrencies – far more than most exchanges running today. The service also supports firms looking to run an ICO on its platform, and has recently begun ramping up this line of business as well.
LATTICE80 is Singapore's largest fintech hub, and it has become a key player in the island's crypto ecosystem in recent years. At the most recent Money 20/20 conference, it also revealed plans to launch its own altcoin futures product, which will be rolled out after its "Smart Crypto Indexes" are introduced to the market. The firm's push into R&D is relatively recent, as its historically played a supporting role in the city's tech scene.
On the heels of announcing its plans for an imminent ICO, the fintech hub also recently made a major push into South Korea, appointing a major Korean regulatory expert as an advisor and making plans to open an R&D branch office in Seoul.
Update: LATTICE80 let me know they have shifted their HQ to London, but are still pretty active in Singapore.
Crowd Genie is a P2P lending platform founded by Akshay Mehra that is making a big push to roll out an entire suite of financial products powered by blockchain technology and machine learning algorithms. The platform matches SMEs and investors, and facilitates transactions using CGCOINS, the firm's native currency.
The firm is one of the few P2P platforms fully licensed for lending by the Monetary Authority of Singapore, having received a Capital Market License for lending within the country. Since its ICO late last year, it's also raised more than $2m to date.
The GCOX brands itself as "the world's first cryptocurrency exchange that helps celebrities create, list and trade their own cryptocurrencies". It's a blockchain-driven way for fans to get closer to their favorite celebrities, and the exchange has already inked major partnerships with several high-profile athletes (including boxing legend Manny Pacquiao) to offer exclusive content that can be purchased through the exchange.
Crypto investors are now able to purchase crypto on the exchange, and then exchange their tokens for GCOX's native coins, which can be used to purchase exclusive celebrity content (and at times, direct access) that isn't available anywhere else.
Change is a Singapore-based financial services startup that recently closed $17.5m in funding from its most recent ICO. The firm aims to become a "one-stop shop" for crypto users around the world, with a full suite of products ranging from crypto trading services to a debit card that can be used to make retail purchases using cryptocurrencies.
The platform's native asset is the Change Token (CAG), and it's presently running pilot programs around borderless business banking with both the government of Estonia's e-residency program and Finnish fintech startup Holvi.
The Singapore-based firm recently announced that it would be launching Asia's first institutional-grade crypto fund for retail investors. The multifamily office, which has historically been focused on more conventional investments, is branching out into crypto as a way to diversify its portfolio and take advantage of the capital flowing into the space.
The fund has brought on several crypto fund managers, who will be investing primarily in stocks of blockchain-focused firms, as well as investment products from countries that are early adopters of blockchain technology.