September 8, 2017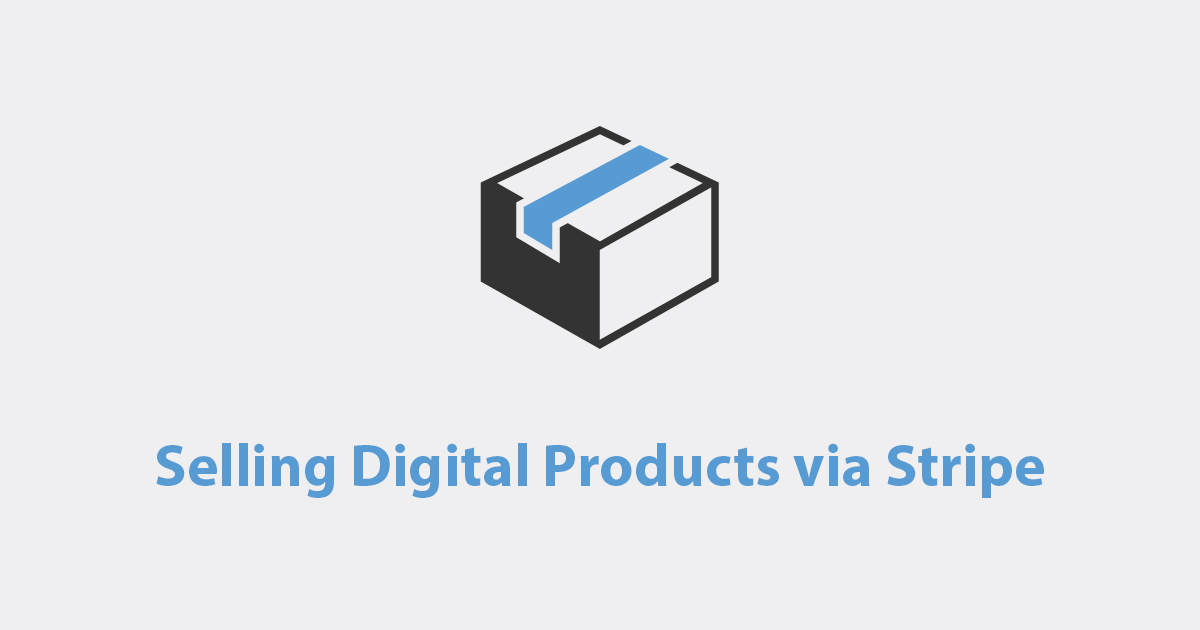 Today, a huge range of platforms allow digital creators of all types to create, market and sell their own digital products online via Stripe – the web's favorite online payments platform – without having to rely on complex e-commerce software or expensive marketplaces.
Below, I've listed 11 platforms worth checking out, along with the pros and cons I see with each platform.
Please note: The following companies are included in GrowthList, my hand-curated list of 10,000 tech companies with validated email addresses.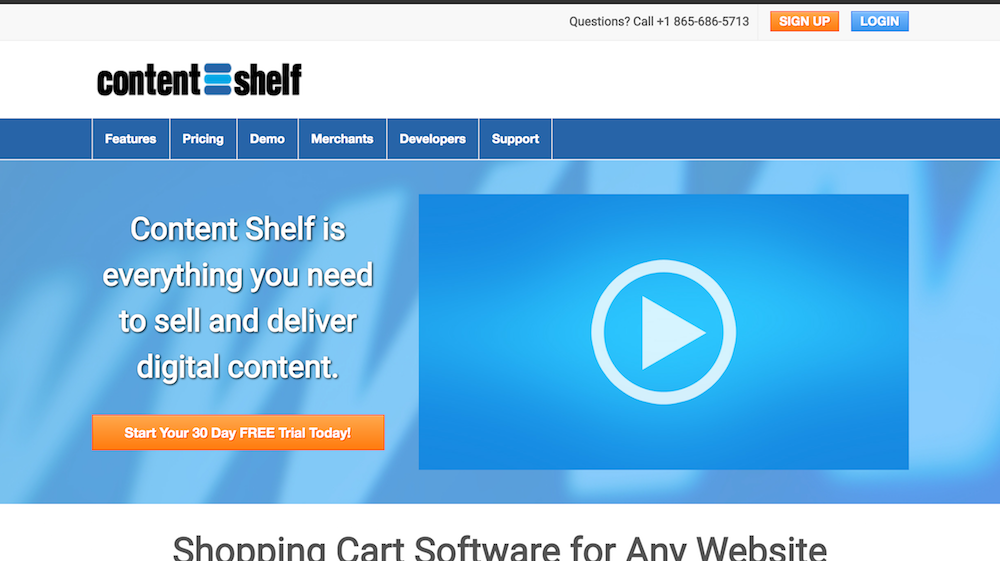 Content Shelf is a shopping cart tool designed specifically for selling digital products such as eBooks, services and subscription offers.
It integrates with most content mangament systems, making it easy to add to your WordPress, Weebly, Squarespace or custom developed website.
Since Content Shelf is a shopping cart tool that works as part of your existing website, it gives you more control over the look and feel of your landing and product pages than an all-in-one platform like Gumroad.
It's also reasonably affordable, starting from $14 per month for users with 25 products or fewer and it comes with a 30 day free trial.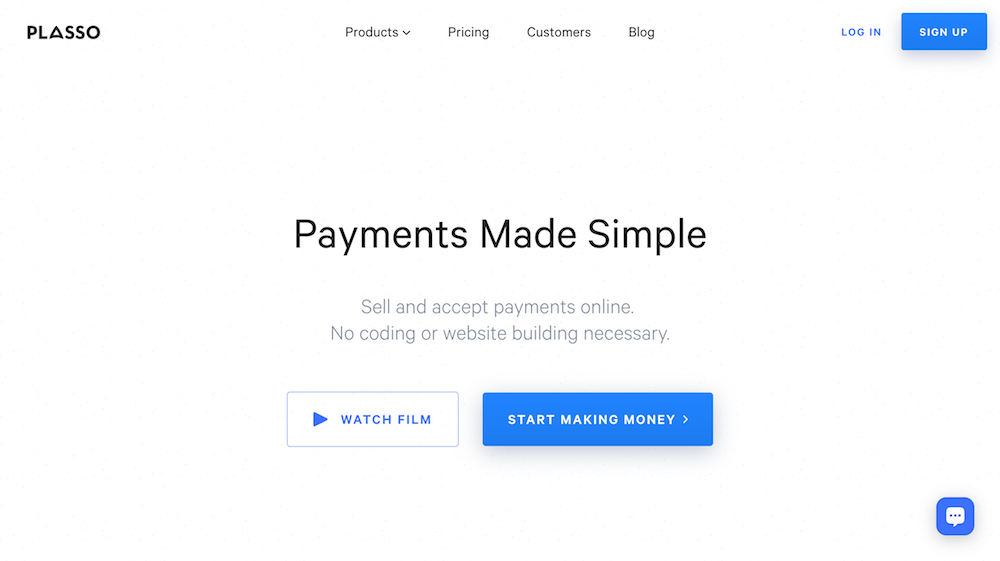 Another shopping cart tool, Plasso prioritizes ease of use to allow anyone to sell products and accept payments online.
Plasso is divided into two parts: a storefront module that's designed for one-off product sales and a membership module for subscription businesses.
Plasso also supports recurring billing, making it a great option for selling things like coaching services and membership sites.
Like most digital product platforms, Plasso includes coupons and discounts, automatic emails and analytics, giving you a great level of control over your business.
It also integrates natively with WordPress and even includes a lightweight single-page theme for product sales.
Plasso is free to use, but comes with transaction fees, merchant fees and a premium plan for power users.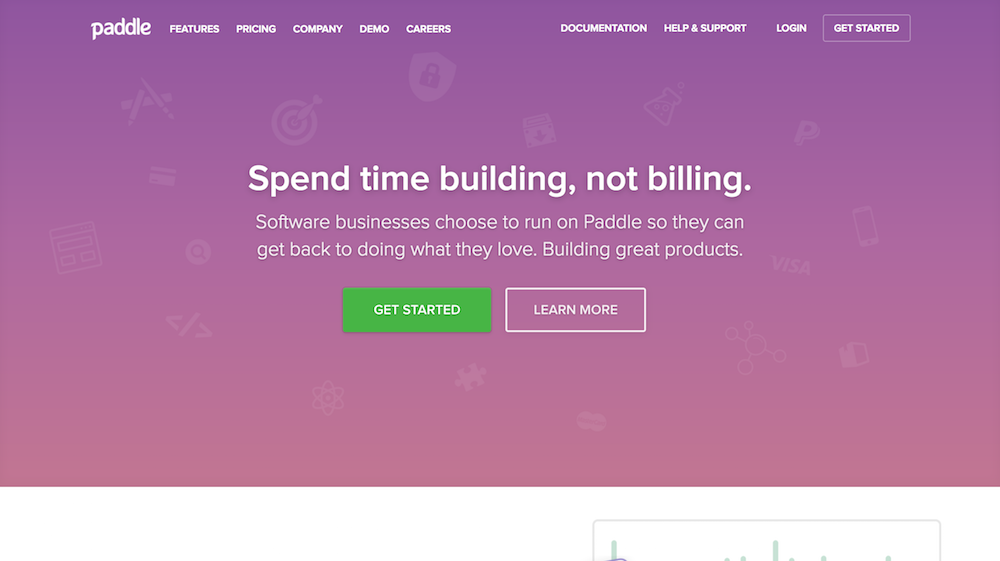 Another lightweight checkout and digital product management tool, Paddle is designed to help you receive payments and sell products through your website, app or desktop software.
Unlike most digital product platforms, which are web-based only, Paddle integrates with desktop software, letting you sell licenses and subscriptions from within your application.
This makes it a great option for software developers that want to monetize their products without directing users to an online checkout.
Paddle also supports recurring billing and metered usage, making it an option for pay-as-you-go SaaS products.
It also includes features like automatic file delivery, making it equally worthwhile for selling eBooks, video courses and other digital products.
Paddle is free to use, but comes with transaction fees and a 50c fee per sale, plus a variety of optional paid add-ons.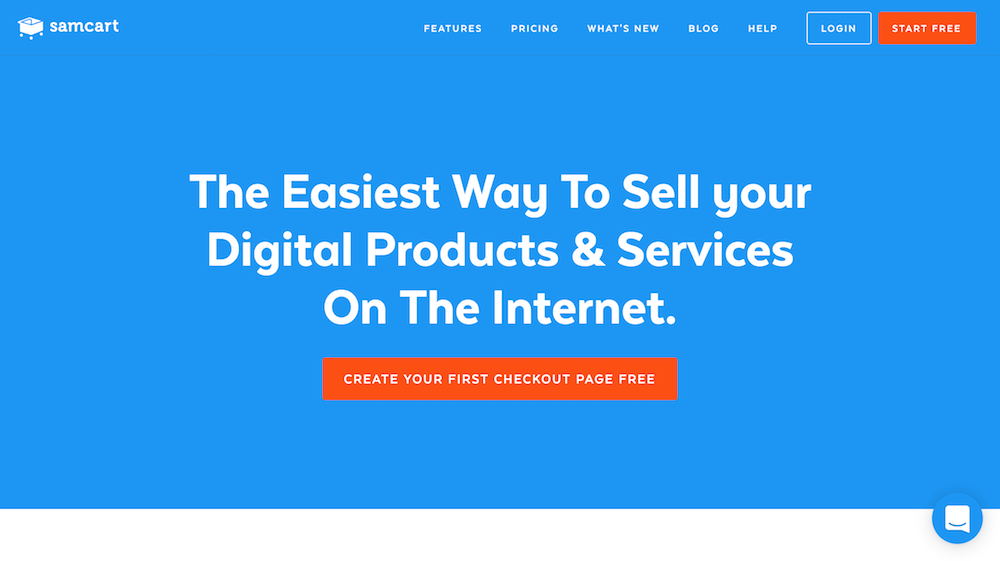 Designed specifically for selling digital products and services, SamCart is a shopping cart tool that includes a huge variety of high-converting order form and checkout templates to help you earn more sales from your traffic.
It also includes a great range of easy-to-use features like one-click testimonials, integration with membership software and the ability to send customer data to email marketing software such as ConvertKit, MailChimp and Aweber.
A nice advantage of SamCart is that it also includes an affiliate management center, letting you add and manage affiliates to generate multiple sales channels.
The basic version of SamCart is free to use, with a 1% extra processing fee. There are also Pro and Premium versions, which include extra features like one-click upsells, affiliate management and abandoned cart recovery.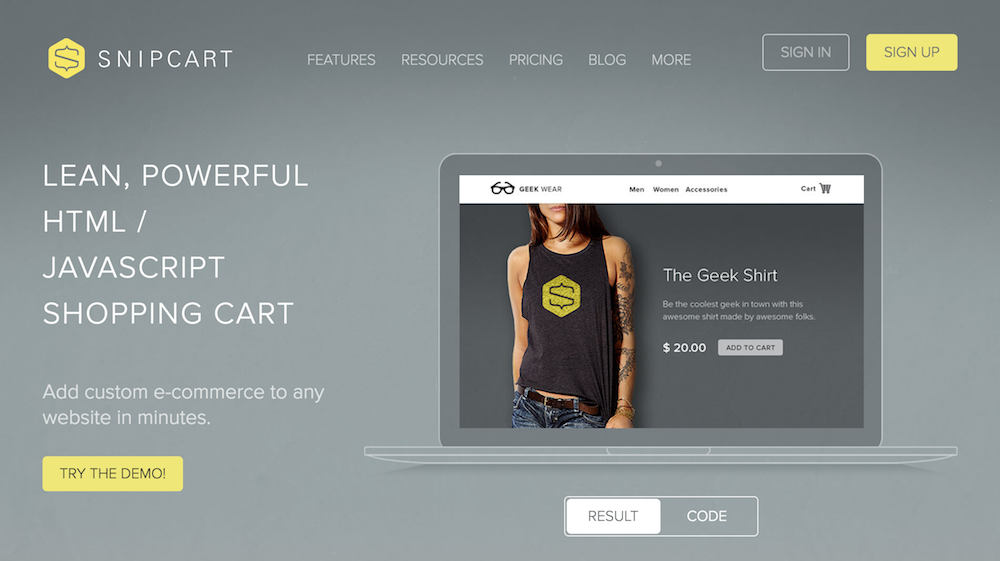 Snipcart is an HTML and JavaScript-based shopping cart that integrates easily with WordPress, Drupal, Joomla and other content managment systems.
Designed for general e-commerce, Snipcart includes features recurring payments and subscription management, making it great for selling digital goods.
It also includes support for payment processors like PayPal, Stripe and Paymill, as well as other options like Authorize.Net and Braintree.
One of the biggest advantages of Snipcart is its flexibility. Compared to most of the tools above, Snipcart offers a greater level of customization. It's also a little more intimidating from a technical perspective, making it better for developers than less technical product sellers.
Snipcart starts from $10 a month for sellers with monthly sales of $500 or less, with 2% fees as your revenue grows beyond the $500 mark.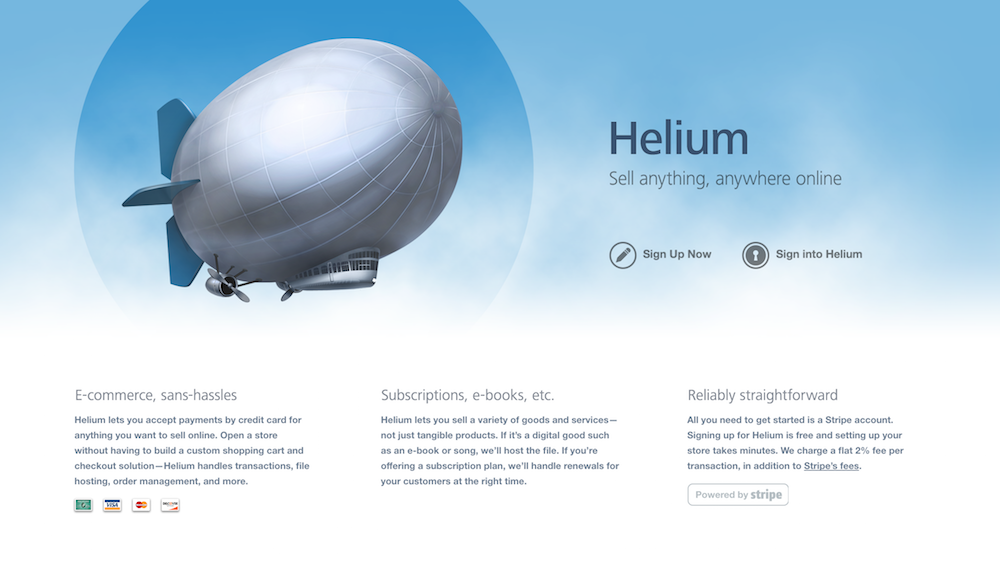 Helium handles transactions, file hosting and product sales, letting you sell digital products from your blog or website without having to worry about developing a custom shopping cart.
It also handles subscriptions, with automatic renewals and customer management. If you don't already have a website for your digital product, you can even use Helium to host your product page.
One huge benefit of Helium is that it's incredibly easy to use.
After connecting Helium to Stripe and setting up your products, you can add Helium to your website with a single line of code and let it manage your product sales, delivery and subscriptions passively.
Like many of the other tools on our list, Helium is free to use but charges a flat 2% transaction fee in addition to Stripe's payment fees.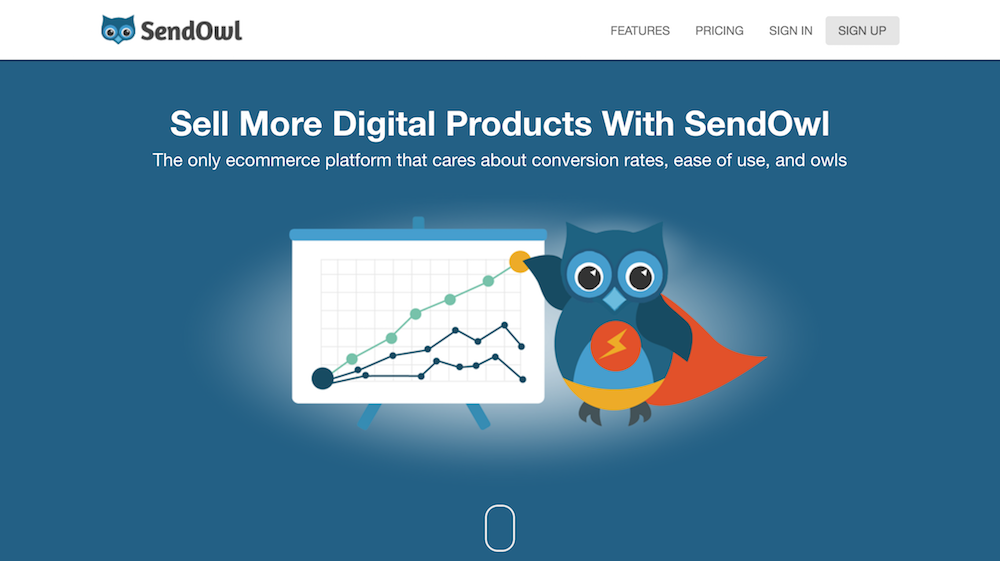 Designed for one-off digital products and subscriptions, SendOwl includes options for everything from physical goods to services and bundles.
It also has one of the simplest, lightest checkouts of any digital product platform, letting customers buy your products in 20 seconds or less.
Add integrations with everything from PayPal to Apply Pay and Bitcoin, simple upsells, affiliate management, cart abandonment recovery and pay-what-you-want pricing into the equation and SendOwl has a lot to offer as a checkout and product delivery tool.
It also includes features like analytics, automatic export of customer information to email tools like Campaign Monitor and MailChimp, simple license key generation and management, video streaming and more.
SendOwl starts from $9 per month, although you'll need to sign up for the $24 or $39 per month plans to access most of its features. There are no transaction fees — only the monthly flat fee.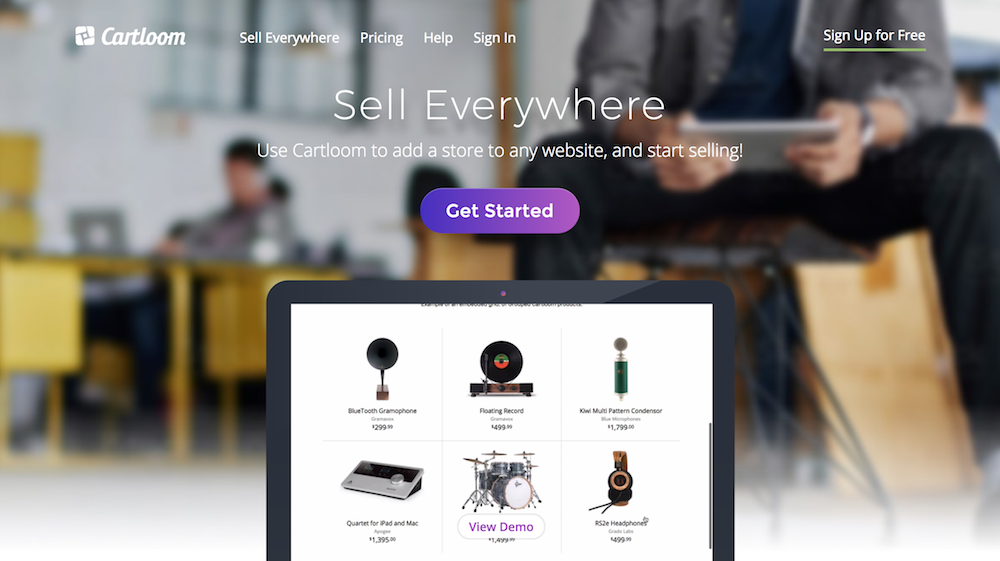 Built to allow you sell everywhere, Cartloom lets you add a stylish, lightweight e-commerce store to everything from your website to your social media accounts.
One of the biggest advantages of Cartloom is that it lets you embed your product pages into any type of content.
Product pages are handled using simple code snippets, letting you add them to everything from blog posts to tutorials, landing pages and other content.
Cartloom also includes button embeds, letting you quickly and easily add e-commerce buttons to your site's homepage and inner pages. It also includes all of the standard digital product sales features, ranging from analytics and sales reports to invoicing and abandoned cart recovery.
Priced at $19.95 to $29.5 per month, Cartloom is a good option if you're searching for a simple e-commerce platform that lets you leverage your existing content to sell digital products.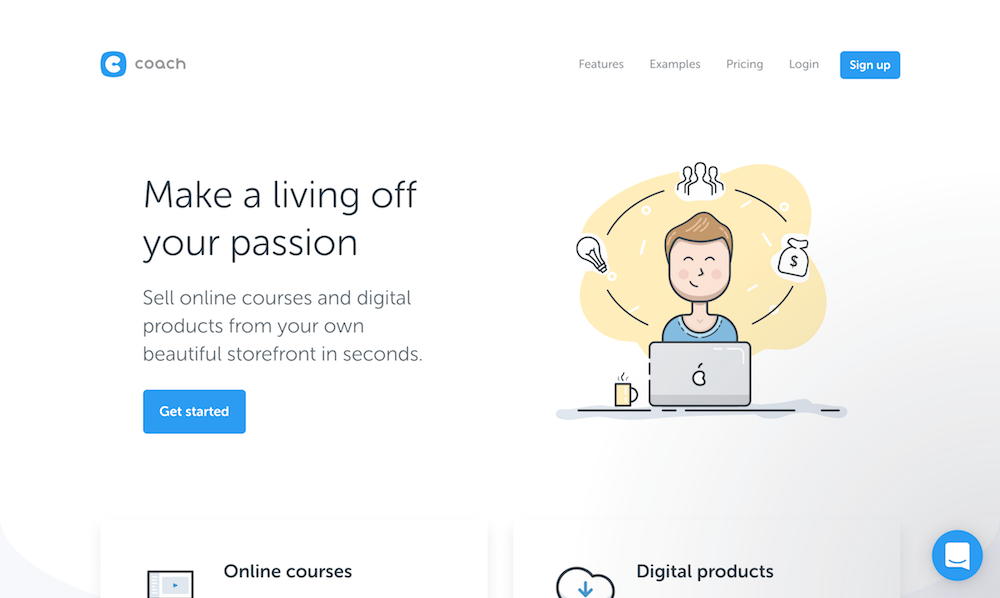 Coach is an all-in-one digital product sales platform that lets you create storefronts, sales pages and checkouts for your digital products. It also integrates with software like ConvertKit to let you follow up with customers and products via email.
With support for Stripe and PayPal, Coach includes the two most widely used payment options for digital products. It also supports subscriptions, works with a variety of analytics platforms and pixels and has what it claims is the highest converting checkout on the market.
In short, it includes everything you need to start selling digital products online. At $32 per month with no additional fees, Coach is slightly more expensive than most digital product platforms but makes up for it with a great range of features and zero extra transaction fees.
Another lightweight option, Simple Goods is a checkout tool that lets you add e-commerce functionality to any website with a small code snippet, from a WordPress blog to a custom landing page.
Simple Goods includes the usual Stripe and PayPal payment options, plus hundreds of integrations with tools ranging from MailChimp and Aweber to Hipchat, Gmail and Campfire.
One of the biggest advantages of Simple Goods is that — as you'd expect from its name — it's easy to use for both customers and as an administrator.
The checkout is lightweight and minimalistic, letting you easily sell everything from eBooks to software, while the simple admin panel lets you stay on top of your KPIs and recent orders with ease.
Simple Goods is available for free or for $9 to $29 per month, with 3% additional fees on every transaction.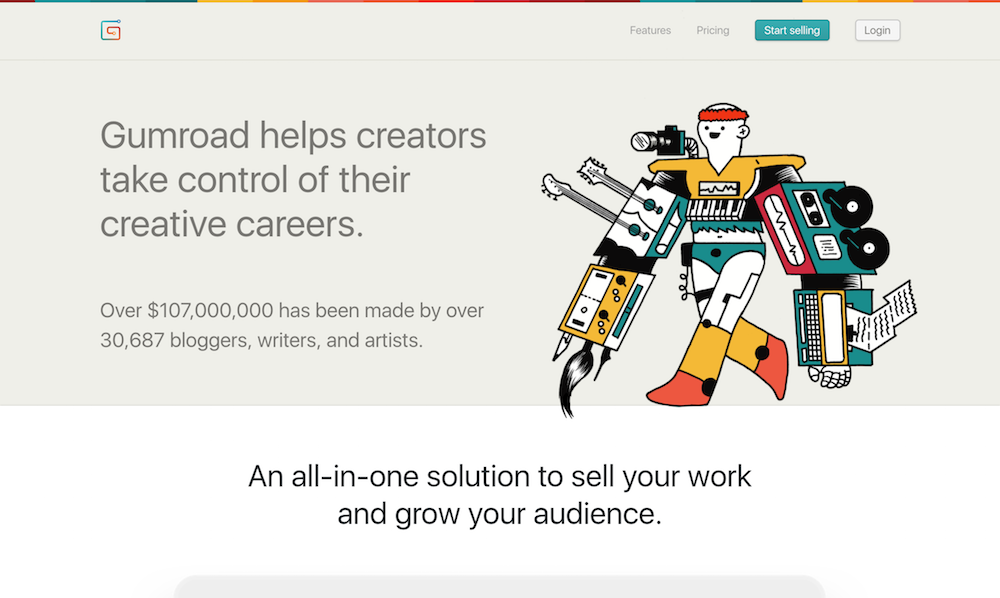 While Gumroad does not integrate with Stripe, it is a simple but powerful platform that lets digital creators sell their products, manage their customers and keep track of growth without the hassle of developing and hosting their own e-commerce website.
The biggest advantage of Gumroad is that it's incredibly easy to use. Setting up your account and adding your first product is a quick, easy process that only requires a few clicks, making it one of the best digital product platforms for beginners.
Gumroad also has a variety of useful features, ranging from customized product landing pages to pay-what-you-want product pricing, automated license key generation for software, discount codes and detailed, powerful analytics.
It's also cheap to use, starting from $10 per month with unlimited bandwidth, but payment fees are 3.5% plus a 30c charge.