August 22, 2018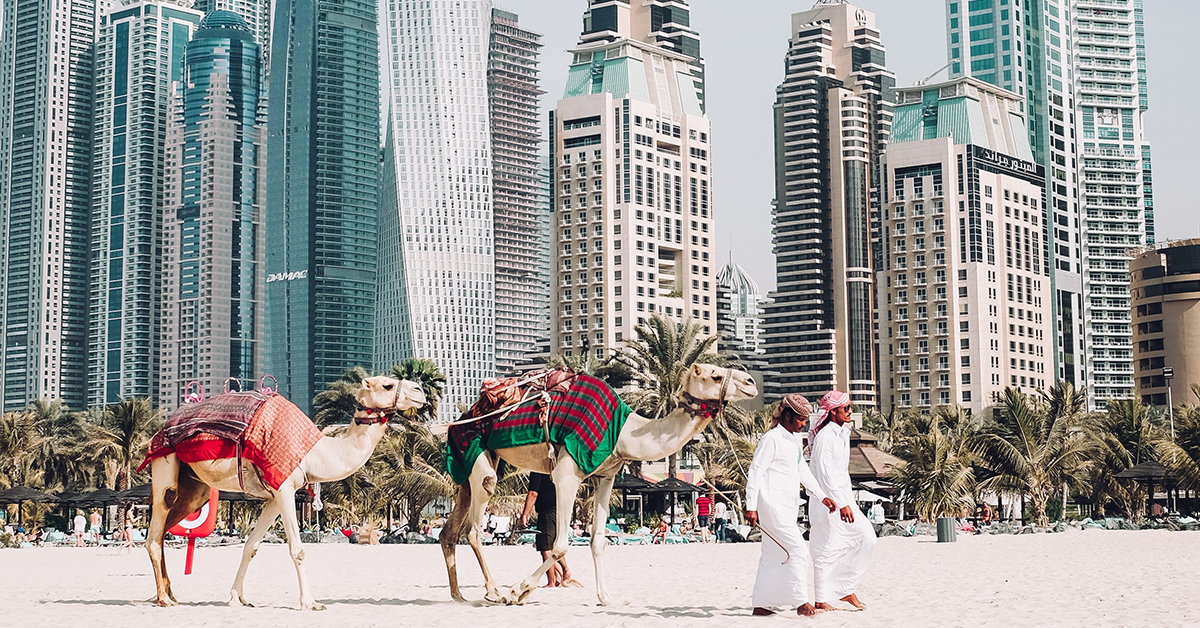 If you're interested in crypto, be sure to check out CryptoList – my hand-researched list of over 7,000 crypto companies, and consider subscribing to CryptoWeekly, my weekly crypto newsletter.
Dubai is one of the world's fastest-growing hubs for international trade, so it makes sense that it's a big hub for crypto companies, too. It may not be immediately obvious, but some of the largest crypto companies in the world are now based here in this tiny emirate.
Crypto startups in the Middle East and North Africa (MENA) region are flocking to the city due primarily to its supportive regulatory environment, political stability, and low taxation rates.
Its government is all-in on crypto too, with the Dubai Future Foundation and other regulatory bodies putting their full support behind initiatives to integrate blockchain technology into every facet of society.
With over 200m users, Telegram is one of the largest encrypted messaging services in the world. It recently started getting into crypto in a big way, and its long-anticipated ICO became the largest of all time this year with $1.7b raised to date in its private token sale. Telegram plans to use the proceeds from its token offering to develop what it calls the "Telegram Open Network" blockchain, which if successfully executed, will be even faster and more secure than both Bitcoin and Ethereum.
Although Telegram has a global presence, its headquarters is in Dubai primarily due to the UAE's tax-free zone, which allows the organization to grow without being encumbered by tax regulations.
Founded in 2015, Dubai-based BitOasis is one of the largest crypto exchanges in the Middle East market. The firm is targeting its crypto wallet and exchange services towards emerging markets and is taking a mobile-first approach to product development.
This year, the company plans to work more closely with the Dubai government to develop regulations around crypto as well, with an eye towards becoming a fully-licensed exchange by the end of the year. The company is also preparing to embark on a massive growth spurt this year, with regional rollouts planned for Saudi Arabia and other new markets later in the year.
BitPado is one of Dubai's newest and fastest-growing crypto exchanges. Founded by serial entrepreneur Omar Kassim (founder of ecommerce network JadoPado) and backed by a number of prominent investors, BitPado is aiming to be the highest-volume crypto exchange in the Middle East and North Africa region.
The exchange is presently in private beta, but is slated to open up to more customers soon. For its exchange services, BitPado currently supports Ethereum, Bitcoin, Ripple, and a wide range of other major cryptocurrencies. In addition to BitPado, Kassim also heads up Esanjo, a blockchain-powered property administration service.
Emcredit is a subsidiary of the Dubai Government's economic department, and it's responsible for developing the country's first official cryptocurrency, called emCash. The cryptocurrency was developed in partnership with the UK-based Object Tech Group in late 2017, and it's now being piloted as an official currency within the country. The Dubai government is hopeful that emCash can become the primary currency layer for the country's blockchain initiatives, and so far, results have been encouraging.
In addition to being a crypto firm, Emcredit also serves as the UAE's official credit information agency, which gives it a unique ability to establish groundbreaking public-private partnerships in the crypto space.
Palmex is one of the UAE's newest crypto exchanges, and it's the first digital asset exchange in the Middle East. Launched early this year by parent company Arabian Chain, the exchange allows users to trade in Bitcoin, Ethereum, DubaiCoin (Palmex's native token), and other major cryptocurrencies.
In addition to crypto trading, Palmex also supports a number of trading pairs, including AED to Bitcoin. Palmex has only launched in the Middle East and North Africa market to date, but has plans to grow beyond these markets this year with additional backing from ArabianChain.
Adab runs the First Islamic Crypto Exchange (FICE), the world's first Shariah-compliant crypto exchange.  Fully compliant with Islamic law, the Dubai-based company launched in August of this year and plans to launch its first public token sale later this year.
As part of the company's token sale, it will be issuing Adab tokens, which will be used for all commission transactions on the platform. The company is poised to do big business in the Middle East region, as Dubai is now the region's indisputable hub of Islamic finance.
Verify is a distributed reputation protocol that runs on the Ethereum blockchain. The startup raised $2.5m in its ICO last December, which sold out in less than 90 minutes. The Dubai-based startup plans to use this fresh injection of funds to develop its ecommerce payments platform and reputation tracking system for buyers and sellers.
The Verify platform allows the reputations of both buyers and sellers to be tracked over time, which enhances trust between both parties. Transactions conducted through the platform use CRED, Verify's native token, and each transaction completed gives buyers and sellers additional points for successfully fulfilled transactions.
The Dubai-based OneGram has developed the world's first Shariah-compliant cryptocurrency backed by physical gold reserves. The startup achieved its Shariah certification from Al Maali Consulting, and is aiming to make its cryptocurrency the online payment system of choice throughout the Middle East.
The startup has also inked a number of partnerships with property and real estate groups across the UAE that allow customers to purchase real estate using OneGram's gold-backed tokens. Adding the its list of partnerships, the firm also recently announced that it would be partnering with online gold trading platform GoldGuard to build one of the world's largest gold vaults inside Dubai Airport's free trade zone.
ArabianChain is one of the largest crypto firms in the Middle East, with projects ranging from crypto exchanges to developer APIs already in flight. The firm is headed up by serial entrepreneur Mohammed Alsehli, and raised over $1.5m from private investors last year to help it further develop its platform.
ArabianChain's vision is to create a decentralized, blockchain-based platform that anyone can run applications on top of. ArabianChain's network is primarily designed for enterprises, and the team is already working on several commercial use cases for its platform. In line with its commercial vision, the firm is also partnering with the Dubai government to achieve its stated goal of securing all government documents on the blockchain by 2020.
Regal RA DMCC is the first company in the UAE to become a fully licensed and government-sanctioned crypto trading firm. The firm, which is also one of the most well-known gold dealers in Dubai, recently expanded into the crypto storage space, and now offers its clients cold storage vaults for their crypto holdings.
The vaults are located at the Dubai Multi Commodities Centre, one of the fastest-growing economic free zones in the UAE, and are open to all Regal RA clients. With an eye on the future, the firm is also working on building its own online gold-backed crypto exchange, which will be regulated and overseen by the Dubai government.
Launched just last month, Evareium is a platform that allows anyone to make real estate investments using crypto. Users can invest in all or part of numerous properties across the Middle East, and then sell their holdings for tokens which are held on the platform. By solving the illiquidity problems of the real estate market, Evareium hopes to empower an entirely new generation of real estate investors.
Evareium's ICO was launched last month, and runs through the end of April 2018. The firm is hoping to raise $150m in its first round of funding, and plans to use the capital to build out its platform, accelerate hiring, and expand further in the region.
UAE Exchange is one of the largest foreign exchange and remittances firms in the Middle East, and it's recently started leveraging blockchain technology to improve its service offerings. In February of this year, it announced a landmark partnership with Ripple that will allow the exchange to use RippleNet to facilitate payments and remittances globally.
The exchange does not use Ripple's native token (XRP) for transactions, but is instead opting to exclusively leverage the RippleNet technology stack. UAE Exchange is hoping that the partnership will give it a competitive advantage in the increasingly crowded payments space, and early adoption indicators have been positive so far.
The Dubai-based Al Kasir Group offers publicly-traded crypto assets backed by IGI-certified diamonds. The project, which is a joint venture between an arm of the Dubai government and a local jewelry trading portal, launched earlier this year and is scheduled to make crypto assets available for trading later this month.
Crypto assets purchased through Al Kasir's proprietary exchange are backed by diamonds, but can also be used to purchase other luxury goods on Al Kasir's platform, ranging from precious stones to lifestyle products.
Loyyal is a Dubai-based startup that's in the midst of rapidly growing its blockchain-based universal loyalty platform. The firm is focused on tokenizing the world of loyalty programs, and already counts a number of Fortune 500 firms (such as IBM and Deloitte) as clients.
Last year, Loyyal closed its Series A round of funding and partnered with Smart Dubai to develop the incentivization program for DubaiNOW, a mobile app that gives users access to a full suite of government services. The firm is also partnering with the Dubai government on several other blockchain-based initiatives aimed at improving the accessibility and security of government data.
The Global Blockchain Council is an arm of the Dubai Future Foundation, a government agency that seeks to use emerging technologies to prepare Dubai's workforce and economy for the future. Launched in 2016, the GBC is a public-private partnership that's already made significant progress towards solving some of the country's most critical data-related problems.
Right now, the GBC is focused on bringing its experience to bear on seven key projects, ranging from digitizing its thriving diamond trade to incorporating new businesses on the blockchain. The council remains highly active in Dubai's crypto community, and often hosts events in the area as well.
Still in private beta, ArabCoin is looking to launch the first fully regulated crypto commodities exchange in the United Arab Emirates. The project was launched as a joint venture between a private group of Emirati investors, and several members of the royal family's investment fund.
The gold-backed cryptocurrency will be traded on crypto exchanges throughout the region, and will be issued by DUCCX, "a fully licensed crypto commodities trader in Dubai". The firm also has announced plans to partner with brick-and-mortar retailers across the UAE on rolling out crypto payments supported by the ArabCoin platform.
Etherty is another one of the many Dubai startups looking to tokenize the world of real estate investment. The Etherty platform allows users to buy, sell, and trade property-backed cryptocurrency on a secure, decentralized real estate exchange. Properties can also be purchased outright through Etherty using the platform's native tokens.
Etherty's public token sale launched earlier this year, and is scheduled to run through April 30th of this year. The firm is targeting an initial funding round of $5.3m, the proceeds of which will be used to fund development of the platform.
Block Gemini is the leading crypto and blockchain consultancy in the Middle East and North Africa region. Its team consists of a diverse team of crypto researchers, blockchain developers, and investors that are passionate about helping startups integrate blockchain technology into their business processes.
The consultancy offers clients a mix of both consulting services and bespoke software solutions, ranging from crypto wallets to digital asset exchanges. The firm is also quite active in Dubai's crypto community, and frequently participates in the city's event circuit (such as the Future Blockchain Summit, happening from May 2-3 later this year).
Headquartered in Dubai and founded in 2014, RightBTC is one of the world's leading digital asset exchanges. A true pioneer in the Middle East's crypto ecosystem, the exchange was the first to launch a coin-to-coin exchange in Dubai, and the firm remains active in the city's crypto community.
The exchange allows users to trade amongst a basket of popular cryptocurrencies, which users can then store on the firm's proprietary digital wallet. RightBTC distinguishes itself from other crypto exchanges by continuously performing risk control on all tradable assets to avoid fraud or unsavory trading activity on the platform.
The Dubai-based KEYRPTO is a blockchain-based ecommerce platform currently in private beta. The service, which bills itself as "crypto's answer to eBay", empowers buyers and sellers to exchange cryptocurrency for products – all through smart contracts, which are securely stored on the KEYRPTO platform.