December 3, 2016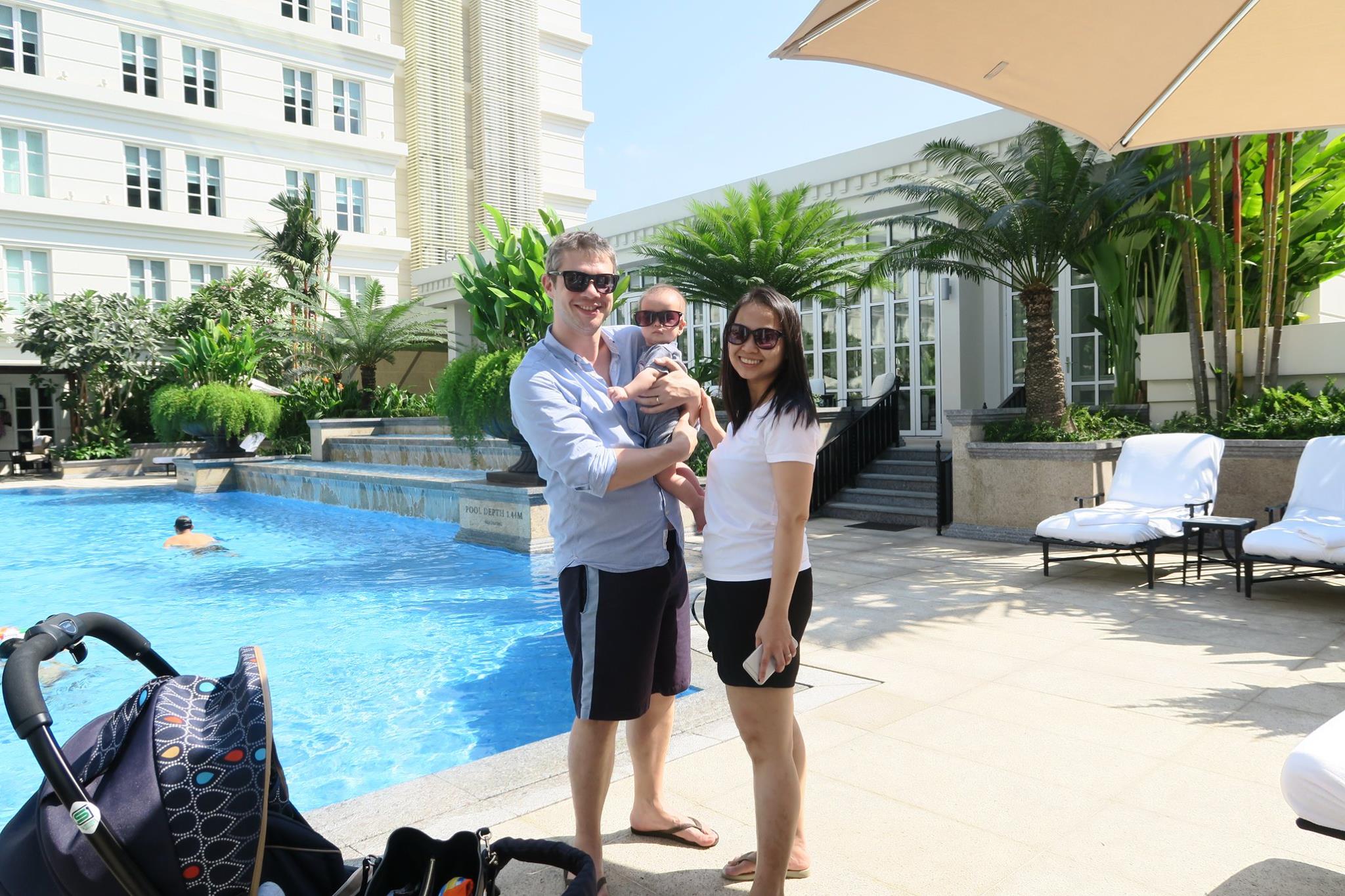 My son is now 1 year and 3 months old and since he was fit to fly at 6 months; myself, my wife and our son have been traveling while I grow my startup non-stop.
We've had a blast so far visiting Japan, Hong Kong, Thailand, Vietnam, Indonesia, Macau, Malaysia, Sri Lanka, Dubai, Turkey, Spain and the U.K over the past 9 months.
As someone who has been traveling non-stop for 11 years straight now, the transition from traveling solo to traveling with my wife to now traveling with my family has been an interesting one, and something I've wanted to write about for a while now.
Today I woke up to the following email, which presented a great chance to write down my thoughts on traveling with a family in the hopes it will help other families considering doing the same.
Here's the email:
I'm the CEO and founder of a bootstrapped software company that I started a couple of years ago. I'm also an American expat and a proud new father to a beautiful little boy.

I've read a couple of your tweets pertaining to being a digital nomad parent and living in airbnbs and hotels. I'm really curious about your perspective of traveling internationally with young children.

Specifically, I'm curious about finding child-friendly hotels, babysitters abroad, running your business with your family around 24/7 and what that's like.
Some thoughts:
1. First up, I will say a huge part of why we are able to travel is due to my amazing wife – she's really supportive of my work ethic and she enjoys caring for our boy while I work.
They are always visiting parks, play rooms, swimming pools, going out for lunch etc. We would not be able to travel and work at the same time if this was not the case.
2. While having the luxury of deciding what your expenses are going to be for any given week or month (on a budget? visit Vietnam. Feeling flush? visit Japan), flights for the whole family, hotels, healthcare etc. does mount up quickly.
With this said I wouldn't recommend jetting off with your family until you can easily afford good health insurance (I use World Nomads) for the whole family.
3. The biggest hurdle you'll no doubt face is keeping productive while traveling. Here's how I approach it:
I believe most humans can only produce 40 hours of GREAT work per week, and this is personally my weekly goal whether I'm traveling or not. So while most of my friends work from 9-5, Mon-Fri, my work schedule is scattered all over the place.
I may work 4 hours before breakfast, two hours after lunch while my son is taking his afternoon nap and then a further 3 hours after dinner when we as a family are settling down for bed.
But the goal is the same every week: produce 40 hours of great work. Having this mind-set has really allowed me to stay productive while traveling.
4. Serviced apartments (or Airbnb) that have a kitchen, pool and a play room have made traveling so much easier. They create a home type setting that allows me to "go to work" while the family "stays at home".
Some great serviced apartments (all with play rooms and swimming pools) that have really helped us over the past year include:
Somersett or Centerpoint in Thonglor, Bangkok
Intercontinental Residences, Saigon
Eastin Tan Hotel (get the suites), Chiang Mai
Ascott Residence, Osaka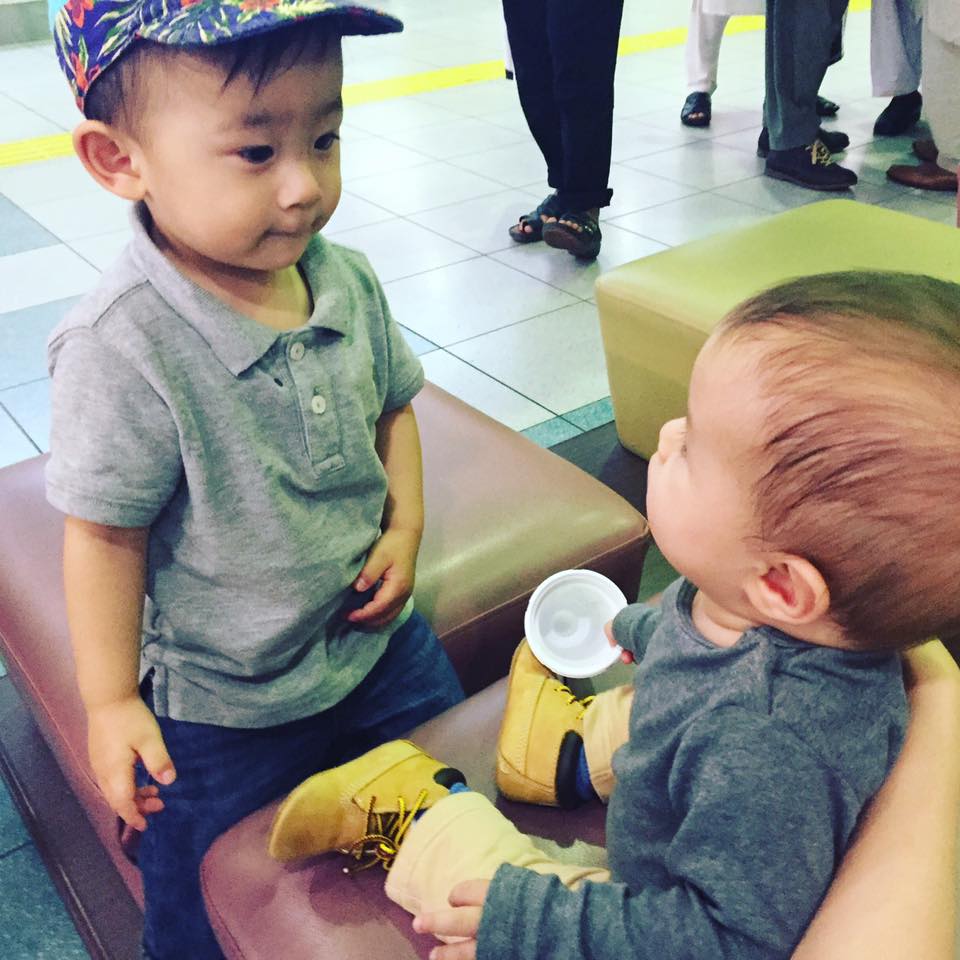 Oliver making new friends in Fukuoka
5. In my experience traveling with kids is hard on the parents – not the kids (they love it!).
6. Flying with kids, especially in Asia, is a breeze. In many airports, we're able to take advantage of the express lane reserved for disabled and/or first class travelers – just make sure to smile when you ask!
7. With that said, my boy (as with most humans) does not react well with flights over 5 hours. To solve this issue we now stop off in various destinations along the route when traveling long-haul.
For example, we flew from Bangkok to London via Sri Lanka, Dubai, Istanbul and Barcelona for around the same cost of a one-way direct ticket from Bangkok to London by leveraging low-cost airlines on many of the routes. It was a lot of fun staying 3/4 nights in each city and as an added bonus, we never experienced any jet lag!
8. The hardest part of working while traveling for me is getting setup in a new location. It can take 2-3 days before I find a co-working space or a coffee shop I like working from.
9. The most difficult part of traveling with our son prior to he was 1 years old was finding organic baby food. I can remember in Hong Kong I spent $300(!!!) on baby food for a week and in Saigon spent 2 hours in traffic driving to the other side of town. Thankfully life's much easier now he is eating solids.
10. Get good at delegating and outsourcing – not just with work but also planning travel. I often ask my assistant to search for opening times, hotels, flights etc. which saves us heaps of time.
11. I've not hired any nannies yet and I don't think we will unless we have enough time to really get to know the nanny before leaving our boy alone with her. That's just our perspective.
12. Japan and Thailand are by far the most kid-friendly spots we've visited and we've found it really easy to network with other families in both locations just by smiling and saying hello.
Anything I missed? Have specific questions? Feel free to reach out to me on Twitter.