September 13, 2017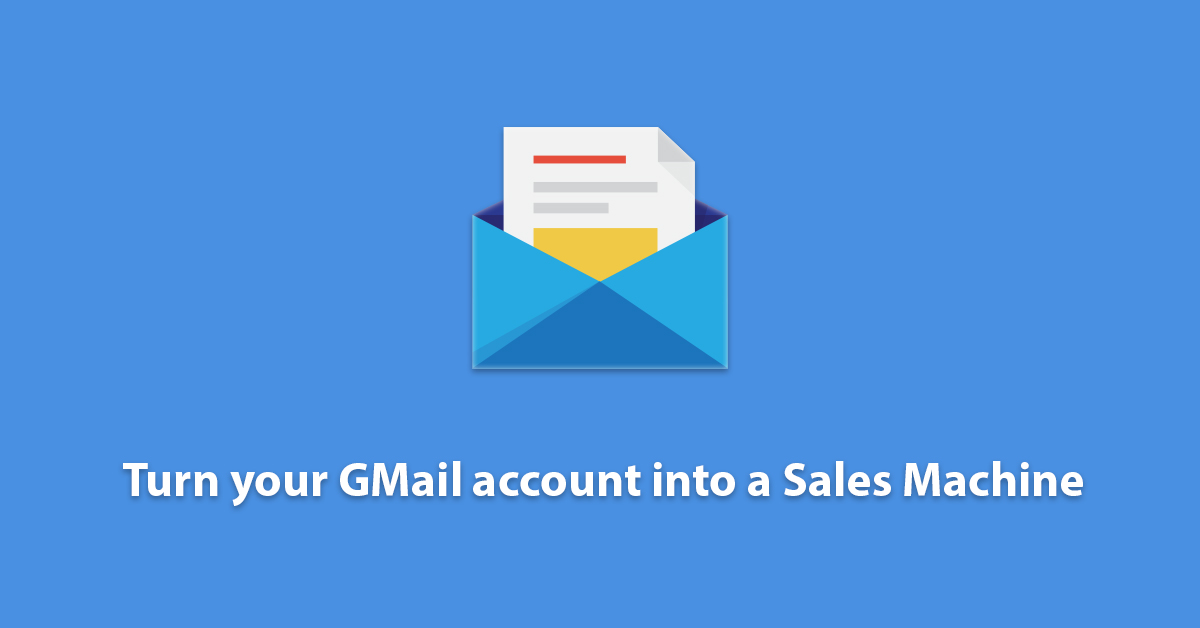 If you're just getting started with cold email, there's no need to spend your money on complex software. Instead, you can send high quality, effective emails in volume using little more than a Gmail account with a few small customizations.
Sticking with Gmail saves you money, letting you spend your budget more effectively on cold email tools that provide real value. It also gives you a familiar interface to work in, instead of forcing you to learn your way around a completely new application.
Below, I've listed 12 tools that you can use to convert Gmail from a vanilla email tool into a powerful sales machine.
Side note: My company GrowthList can provide you with a list of fast-growing tech companies you can do business with every week, along with verified email addresses, that will really help you get the most out of the tools below.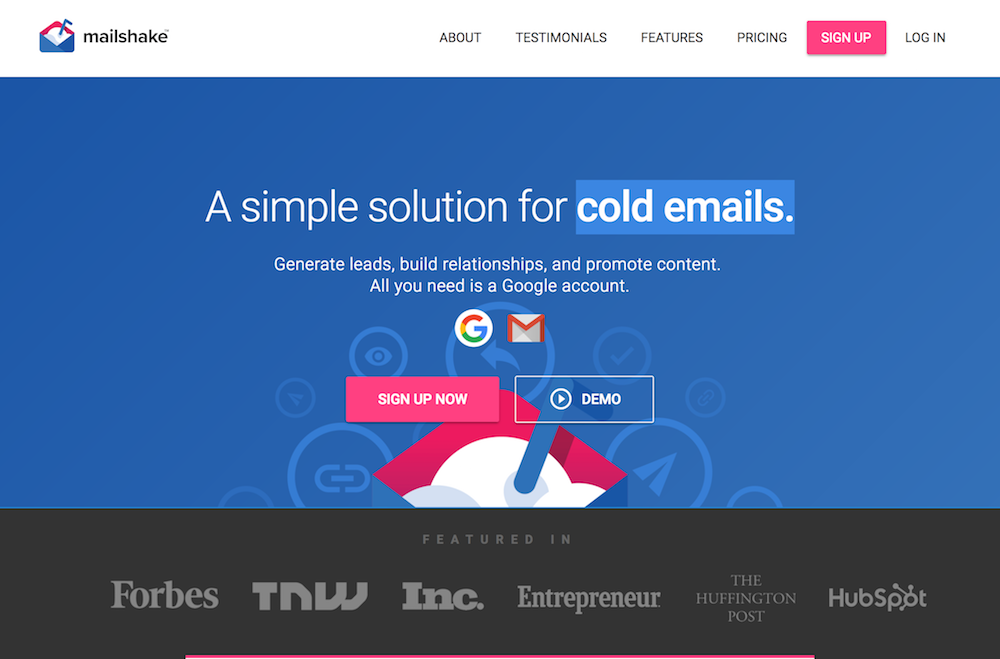 Mailshake is a cold email tool for Gmail that includes a huge variety of email templates, auto follow ups, personalization, team collaboration and a range of other features to help you send smarter, more effective cold emails in less time.
It also includes analytics, with click, reply and sent email statistics to help you stay on top of your campaign's performance.
Mailshake integrates with a huge selection of applications through Zapier, making it easy to connect with CRM tools, Google Sheets and the other tools your sales team depends on.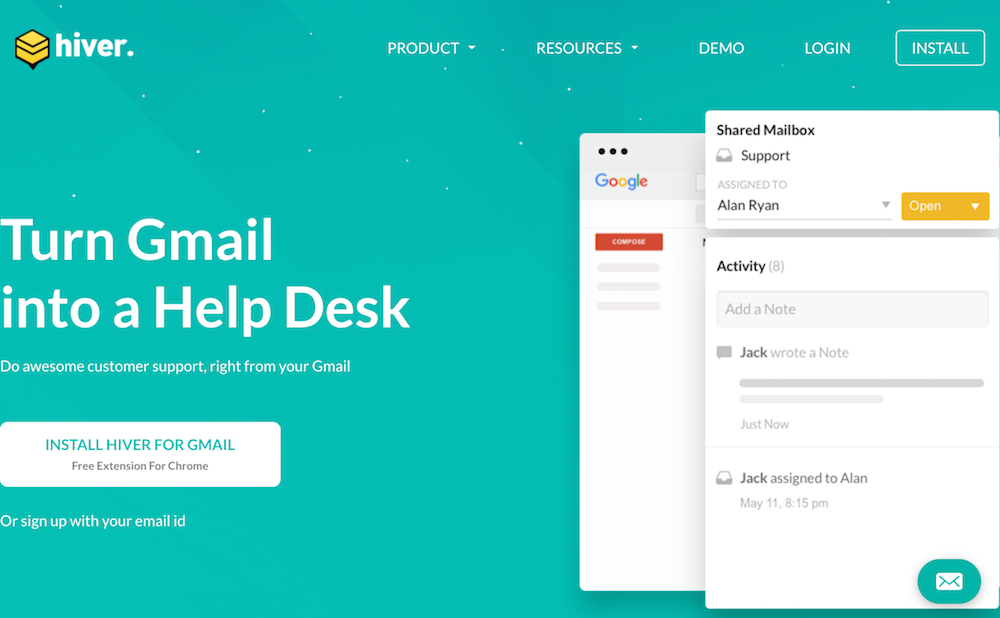 Although it's designed for customer support, Hiver doubles as a great tool for using Gmail to manage your inbound sales leads.
Hiver lets you assign emails as tasks, making it easy to hand off prospects to the most suitable member of your sales team. You can also automate specific aspects of your inbound email sales process, like sending all emails from a specific domain to a certain member of your staff.
Like Mailshake, Hiver integrates with Zapier, Slack and Salesforce, making it easy to link up with the other tools you use on a daily basis.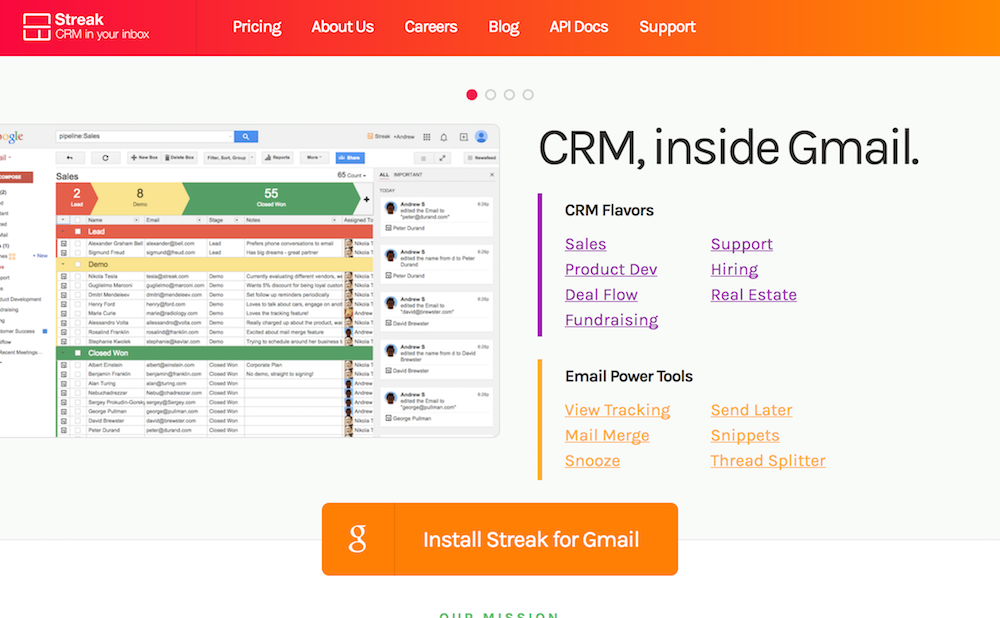 Streak is a CRM for Gmail that lets you manage every aspect of your sales process from your email inbox.
Aside from saving time and helping you eliminate unnecessary software, Streak also makes managing your sales process much less stressful. There are built-in structures that you can tweak and modify to suit your needs, as well as simple one-click collaboration.
As you'd expect for a Gmail-based CRM, Streak connects perfectly to Google Apps, allowing you to manage your sales team from any of your Gmail accounts.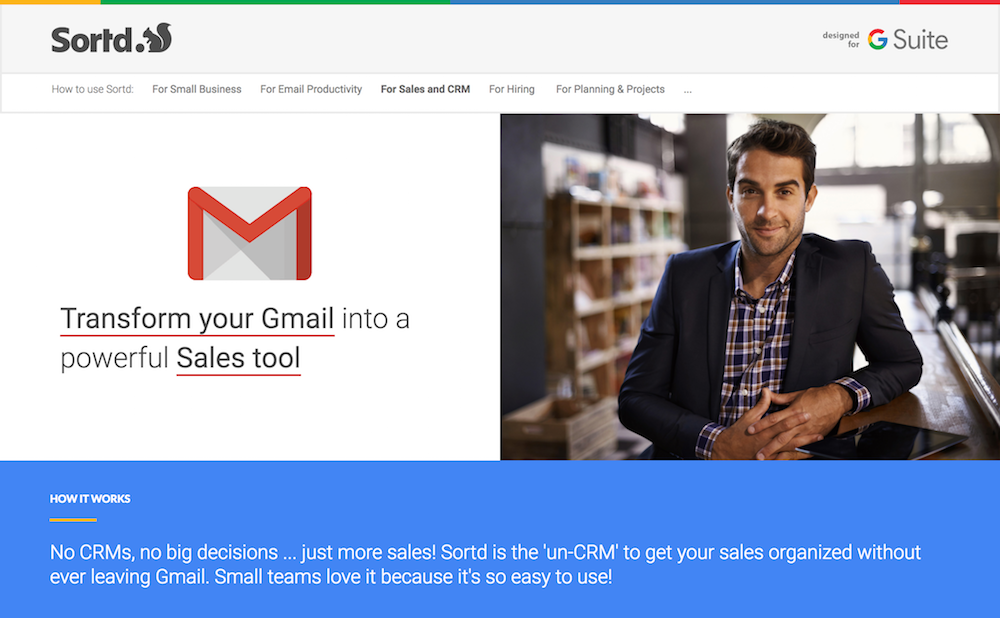 Billed as the "un-CRM," Sortd is another Gmail-based sales management tool that helps you manage customer relationships, close deals and stay on top of your complete sales pipeline without having to leave your Gmail inbox.
Sortd includes a full collection of CRM features, ranging from task management to reminders, leads, pipelines and deal cards. Since it works from Gmail, it also supports easy collaboration between your team members, virtual assistants and other staff.
Like Streak, Sortd is a good option if you're looking to simplify your sales software toolkit and manage as much of your business as possible from Gmail.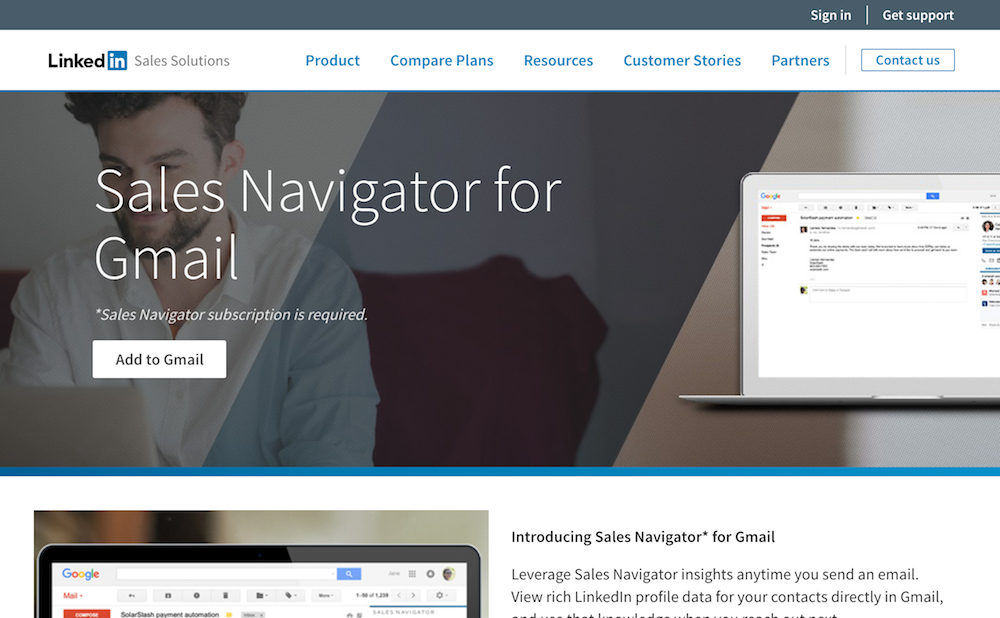 LinkedIn Sales Navigator lets you view rich LinkedIn profile data from your Gmail inbox, giving you confirmation that you're emailing the right person before you click "send."
It also gives you quick and easy access to each prospect's social media accounts, letting you click through and discover more about the person you're emailing. This can be a huge help if you like to write customized, unique emails for every person you contact.
Like most LinkedIn tools, Sales Navigator is subscription-only. For a more lightweight tool with similar functions, you can also download the free Rapportive extension for Google Chrome.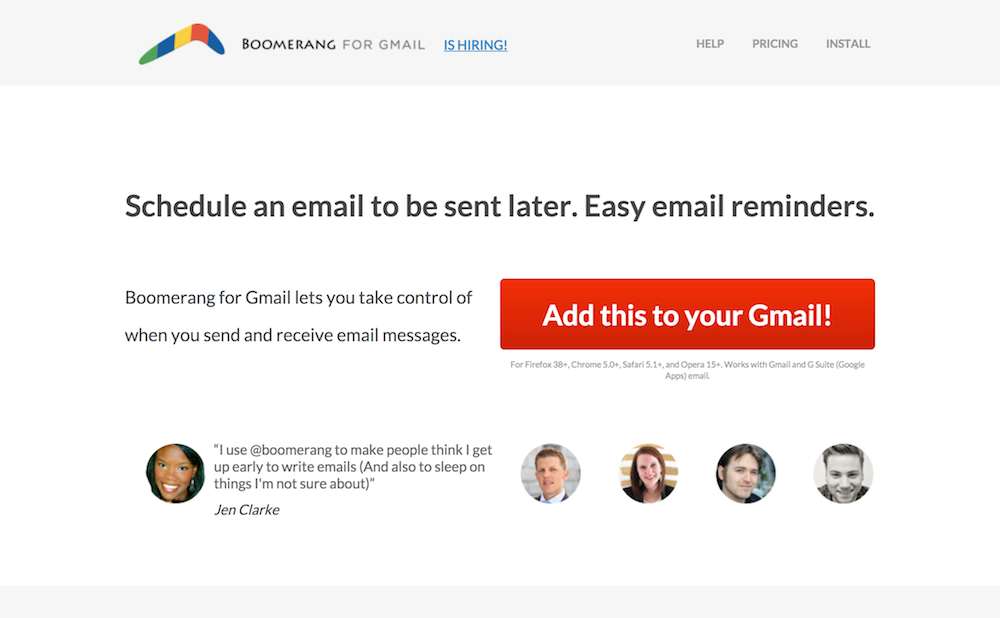 Boomerang for Gmail lets you schedule emails to be sent at any time and date, letting you write emails now and queue them for delivery over the next few days, weeks or months.
It also includes a reminder function that informs you when a person hasn't replied to your email within a specific time frame, making it a great tool for helping you follow up on outbound sales emails.
Finally, Boomerang includes Respondable — a cool tool that tells you how likely your message is to receive a response based on its length, question count, reading level, politeness and a variety of other factors.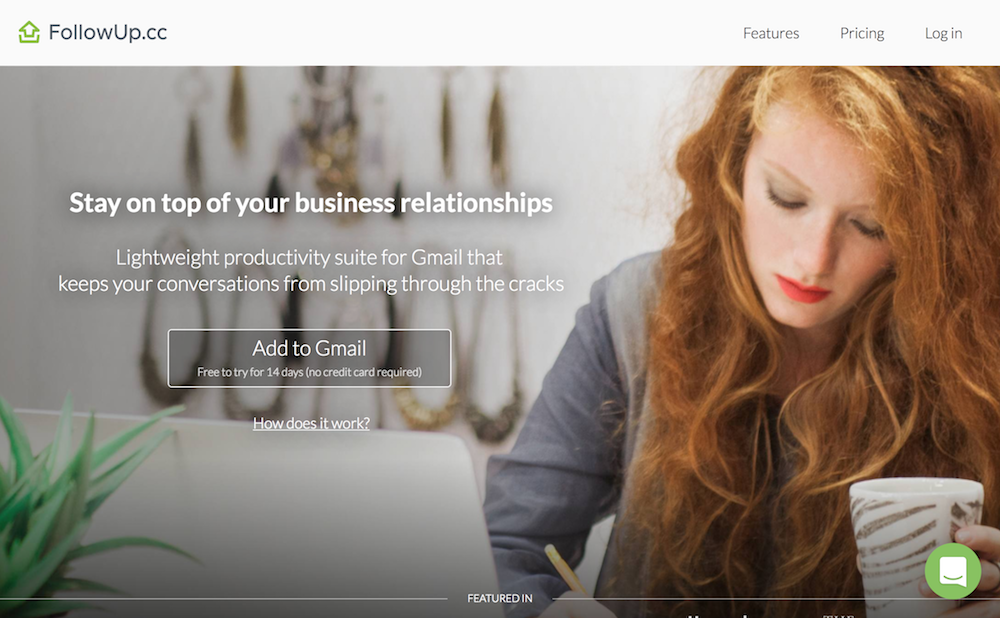 Designed as a lightweight productivity suite for Gmail, FollowUp.cc provides CRM-like data on your relationships with prospects, customers and key contacts. It also lets you write notes, tag contacts and customize their profiles to stay on top of important details.
Other features include simple one-click reminders to help you stay on top of important emails, automated follow-up messages for conversations that fall through the cracks and a live feed of recipient activity that lets you know exactly when a contact opens and reads your email.
FollowUp.cc can also schedule your emails to send at a specific time, making it a good potential replacement for simpler tools like Boomerang for Gmail.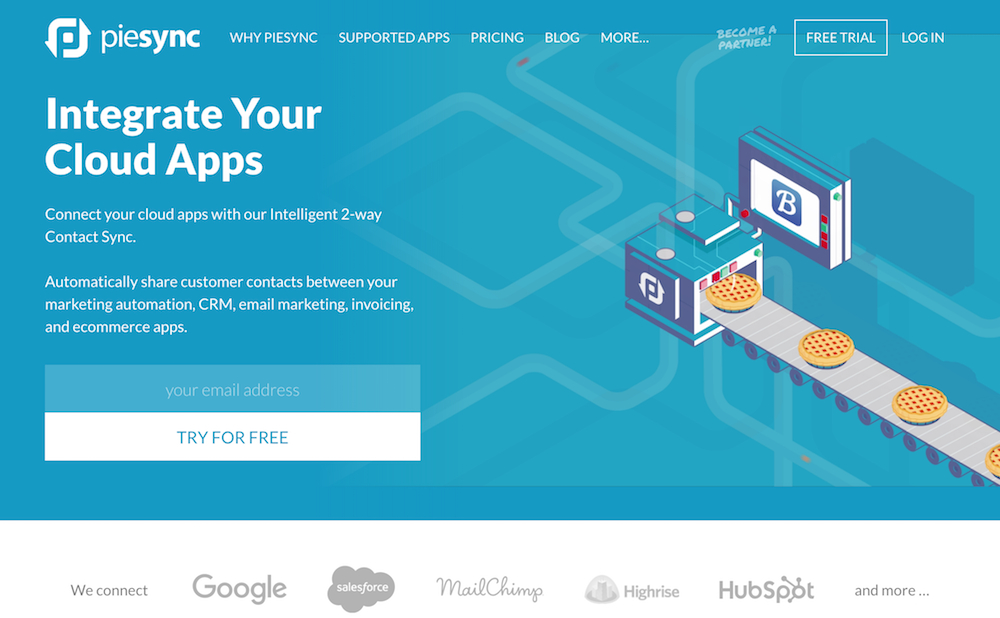 PieSync lets you synchronize and share your customer data between different cloud apps, such as marketing automation tools, CRM software, invoicing and more.
If you use Gmail, PieSync can help you automatically synchronize your email history with CRM software, saving you from entering data manually or using a Gmail-based CRM. It can also add new contacts to your marketing automation list for an automated follow-up email sequence.
Since PieSync uses two-way synchronization, it also sends data back in the opposite direction, putting it a step ahead of simpler integration tools like Zapier.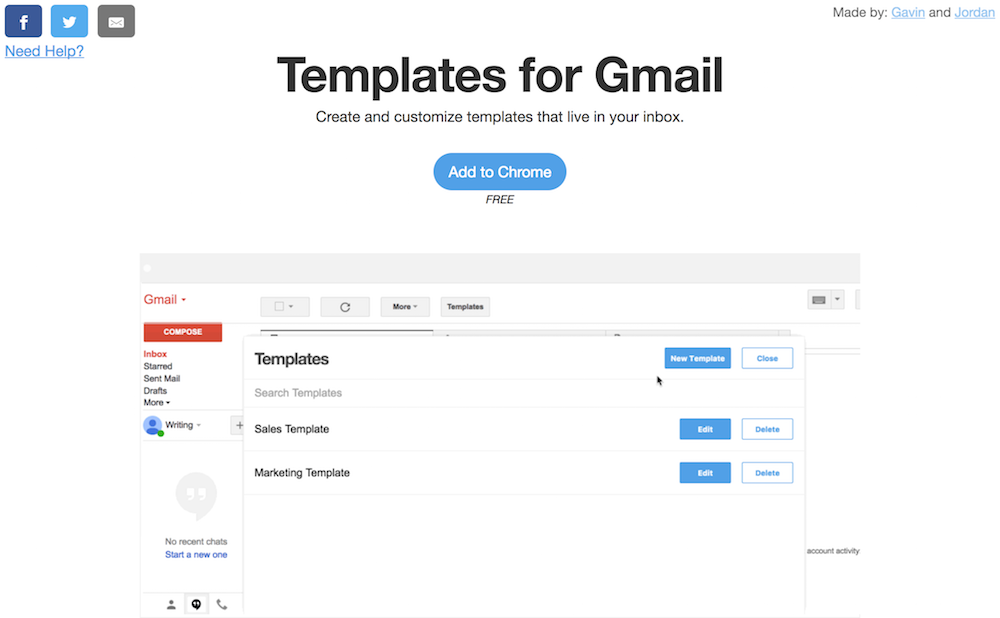 Templates for Gmail is, as its name suggests, a template management tool for Gmail that can save you hundreds of hours every year.
Using Templates for Gmail, you can create and save cold email templates within your inbox to access at any time. All of your templates are accessible in one click via the "Templates" button that appears below each new email you start to write.
If you send hundreds or thousands of emails every month, Templates for Gmail can be a huge time-saver. It's also free, making it a zero-cost improvement for your Gmail account.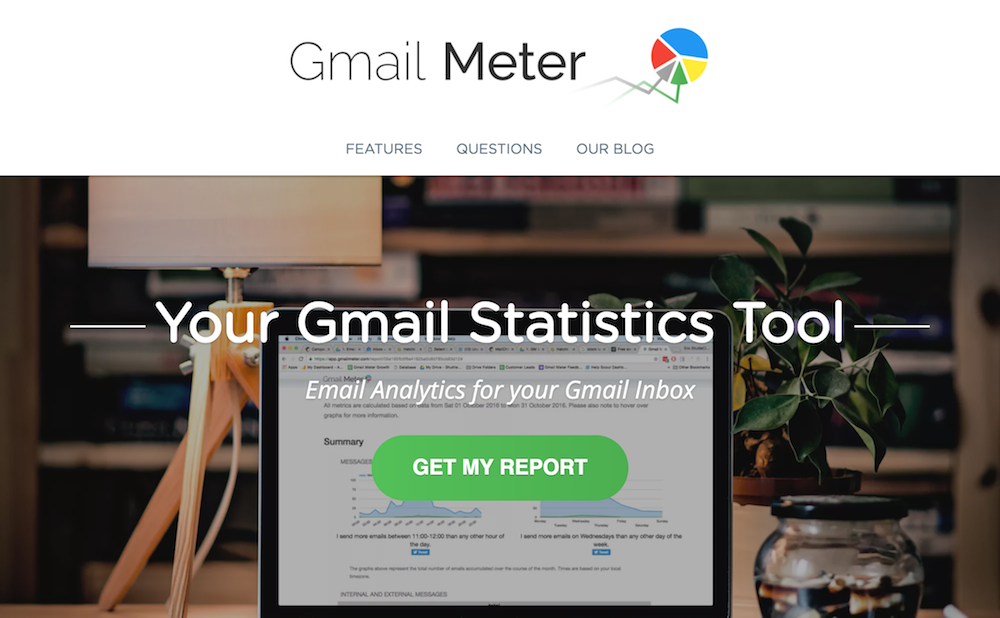 Gmail Meter adds analytics and statistics to your Gmail account, letting you track important stats like average response time and messages sent and received by hour and weekday.
This makes it a great tool for monitoring your busiest and least busy periods, helping you plan your schedule more effectively. It's also great for customer support teams that need to stay on top of incoming emails and achieve a fast response rate.
Will Gmail Meter revolutionize the way you send sales emails? Probably not. But it can help you make small optimizations to your email habits that help you close more deals and get more from every hour you put into Gmail.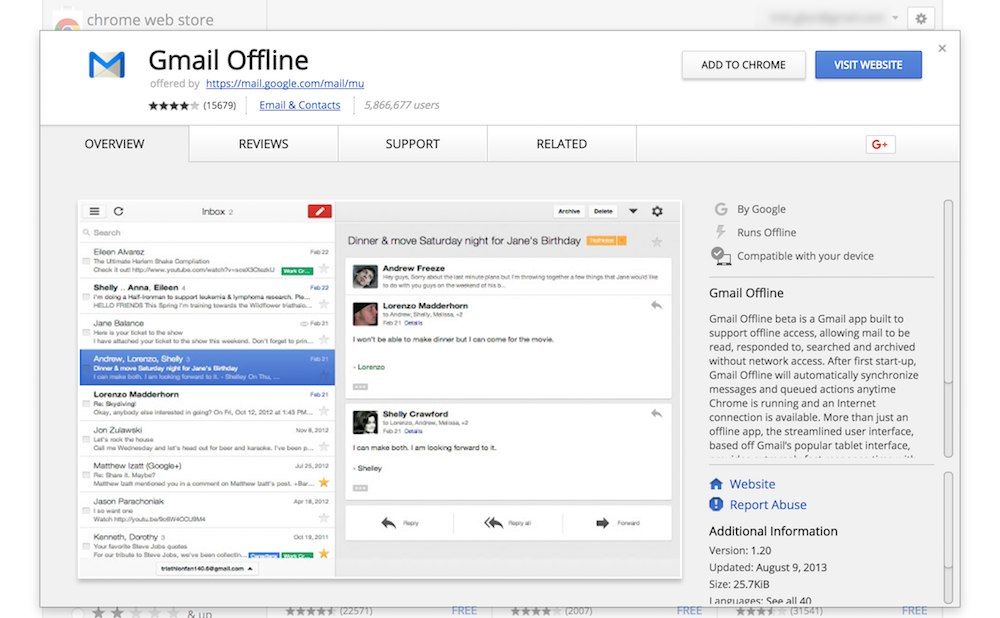 Gmail Offline lets you read and respond to new emails, search your inbox and archive recently received emails while offline. It does this by syncing your inbox whenever Chrome is open and running, creating a full offline copy of your Gmail inbox.
Since it's a Google Chrome extension, there's no need to install any new software or create a new account.
If you travel often for business and want to stay productive on long flights without Wi-Fi, Gmail Offline can be a huge help. It's also helpful if you live in a region without a reliable connection and need to stay on top of your inbox throughout the workday.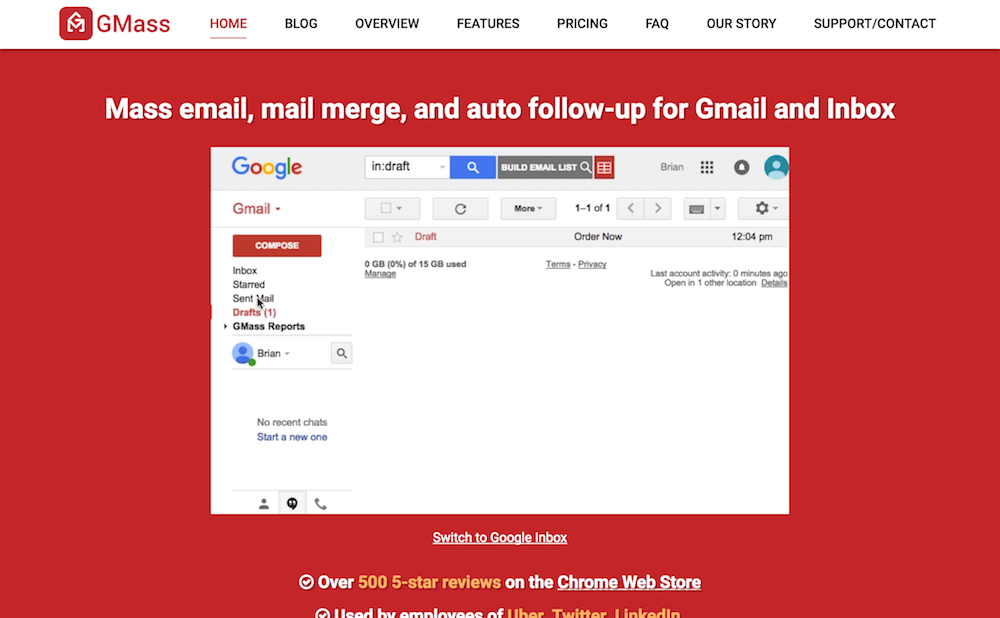 GMass adds mail merge functionality to your Gmail account, letting you mass send personalized emails to your prospects and customers without any special software.
It uses Google Sheets data to automatically personalize your emails, using the data entered into columns like "First Name" and "Company" to customize each message. Emails sent with Gmass can be delivered as new messages or as replies, helping you increase your response rate.
GMass also includes tools like automated sequential follow-up emails, click and open tracking, a variety of campaign-level reports and email scheduling.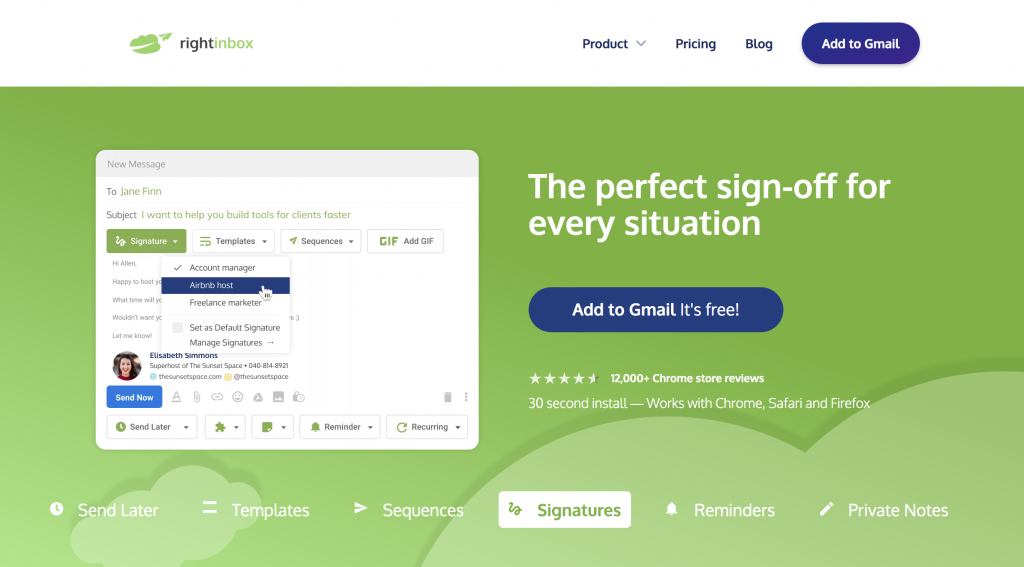 Right Inbox allows you to set up automatic reminders so you never lose track of important emails. It can take up to 5 follow-ups to close a deal and it's hard staying on top of every single email. With Right Inbox's follow up feature it puts it on autopilot for you.
Another great feature for sales professionals is the scheduling feature. Schedule your emails to be delivered at just the right time for recipients. Right Inbox has time zone support built-in so you don't need to start searching and counting when determining the timing of your scheduled email.