Meet GrowthList, a hand-researched list of 10,000 fast-growing tech companies with validated email addresses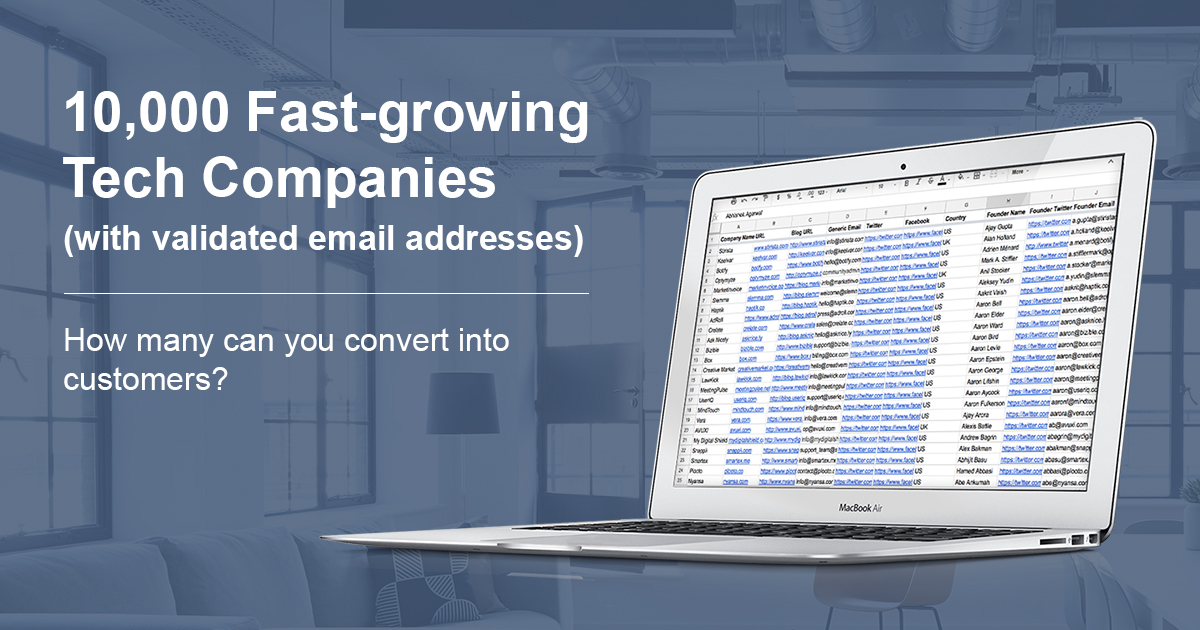 Reaching out to your potential customers directly will have a huge impact on your business and revenue.
But finding, researching, and understanding the right companies to contact is time consuming, complex, and painful.
This is where my in-depth report of 10,000+ fast-growing tech companies will help.
I've hand-researched all the data points you'll need and have validated all the email addresses, which will preserve your domain's authority and brand reputation by not getting penalized for bounced emails.
This is the exact same list I've used to onboard hundreds of customers into my businesses.
Ready to start emailing the companies who can benefit from working with you?
Download a sample:

Researched by hand, for unparalleled accuracy
By researching each company by hand, you can be assured each data point just works as it should, saving you heaps of research and testing time.
GrowthList includes the following data columns:
Company Name
Website URL
Validated generic email address
Blog URL
Twitter URL
Facebook URL
Founder/CEO Name
Founder/CEO Email
Founder/CEO Twitter URL
Validated founder/CEO email address
The report is split up into the following files and comes in both .csv and .xlsx formats so you can easily import each file into Google Docs or your CRM of choice:
5,000 B2B Tech Companies
1,000 Sales & Marketing Tech Companies
1,000 Active Web Design Agencies
1,000 Tech Recruitment Companies
1,000 SaaS Companies
1,000 Fast-growing Shopify Stores
Bonus: 500 Marketplace Companies
Bonus: 500 Hardware Companies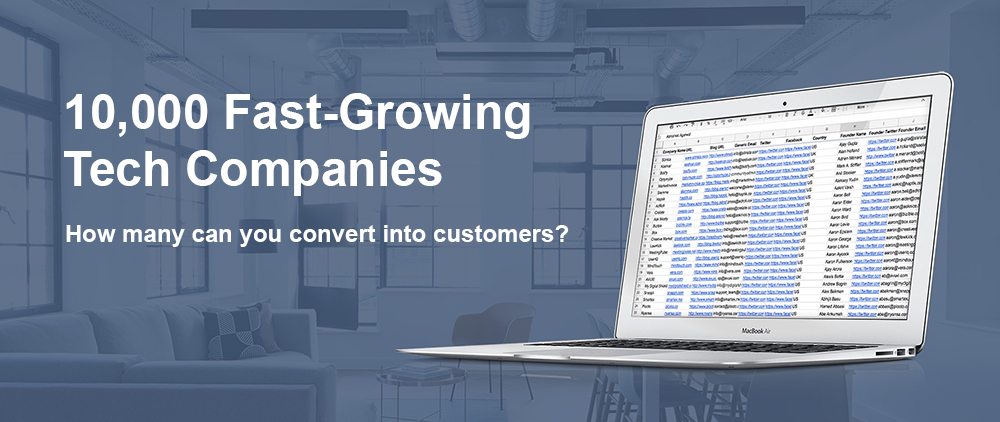 Ready to start building relationships with those who can benefit from working with you?
Download GrowthList for $999
For a limited time, download GrowthList for just $497:

What users are saying:
"We wouldn't recommend anyone start prospecting in tech without GrowthList. A huge time saver!" – Patrick Campbell, PriceIntelligently
"A successful sales process starts with a high-quality lead list, and that's exactly what GrowthList provides." – Jordan Gal, CartHook
"GrowthList provided us with the best ROI over any other marketing investment we've made." – Justin Mitchell, SoFriendly
Download a sample: