March 5, 2018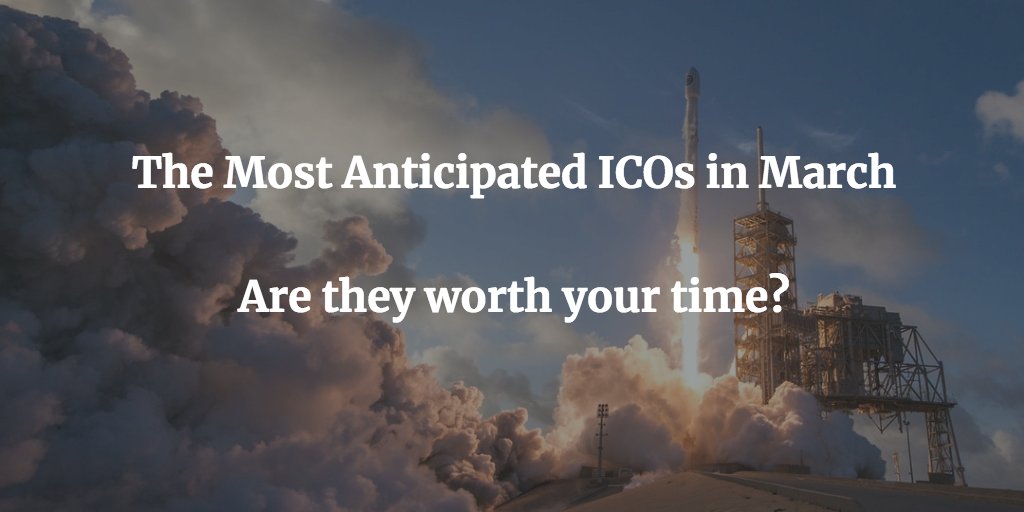 If you're interested in crypto, be sure to check out CryptoList – my hand-researched list of crypto companies, and consider subscribing to CryptoWeekly, my weekly crypto newsletter.
2018 has seen an exponential increase in the amount of ICOs being launched. This influx of investment options makes choosing a high-quality ICO to invest in a difficult task, so my team at CryptoWeekly has done some of that work for you.
Today, I'll be taking a look at the five most highly-anticipated ICOs that are open (or will be opening) in March, and am going to be brutally honest about outlining the pros and cons for each. Hopefully this rundown helps inform your crypto research and gives you some quality insight on this month's most significant ICOs as well. Let's get started.
Friendz
The Italy-based startup was founded in 2016 by a team of ex-software engineers and economists from across Central Europe. The company's business model is executed through a mobile app that allows users to participate in digital marketing campaigns for various corporations by posting digital content related to their products.
Users are then given FDZ tokens if their content is approved for use on a given brand's site. Previously, users were compensated with virtual credits, which will all be converted to FDZ tokens once the ICO is launched.
In short, the platform democratizes "influencer marketing", and empowers anyone to be a brand ambassador for numerous well-known corporations around the world.
Pros:
By having a fully-functioning product (with 200k users) and a viable business model that brought in ~$2m last year, the team at Friendz is already ahead of most other proposed ICO launches.
In Facebook and Twitter, it already has established technology partners as well, which provide an opportunity to grow its user base even more after its ICO launch. The team is also 35 people strong, and growing.
With a functioning ecommerce network already in place, Friendz also has a marketplace on which users will be able to exchange their credits for tokens to buy products through retailers like Amazon or iTunes. This gives the service immediate value and will legitimize the use of tokens on the platform (as well as potentially support their value).
Cons:
As an established company, Friendz's services can already be used by using a variety of payment methods – this may turn out to be a non-issue, but it's equally possible this contributes to a dilution of value for FDZ tokens.
In addition, Friendz's integration capabilities with 3rd party services are quite limited. Right now, only Facebook is an official partner, and this limited ecosystem may eventually prove to be a turn-off for some advertisers.
A lack of more content partners being brought onboard may eventually put downward pressure on the price of FDZ tokens as well. Growing the partner ecosystem will be critical to building Friendz's customer base, so this will be a key area to watch once the ICO has been launched.
Lastly, the Friendz team hasn't yet announced any plans to incorporate true blockchain technology into the platform. This could be a red flag for some investors, as leveraging blockchain technology would make the entire token usage experience significantly more transparent and full-featured.
Token Sale Details:
The Friendz ICO will be running from March 1-21, 2018, and is open to any crypto investors (with the exception of those located in the USA). Its native token is called an FDZ token (at the time of writing, 1 FDZ = $0.067).
FDZs will be the standardized tokens by which user interaction and online activity is measured. Upon purchase in the ICO, tokens will be distributed to users immediately. The total supply of tokens has a hard cap of ~$50M, half of which will be getting distributed during the ICO.
Learn More:
CoinMetro
CoinMetro is an Ethereum-based trading platform that allows users to use a native cryptocurrency to purchase other cryptocurrencies and invest in a variety of financial products. In particular, users will be able to invest in crypto trading funds and tokenized asset management.
The firm is partnering with FXPIG, a well-known forex broker, on sharing both technology and R&D resources to add additional financial functions that many other trading platforms don't yet have.
CoinMetro will also have its own cryptocurrency wallet, which will support storage of the top five largest cryptocurrencies (in terms of market cap). The CoinMetro platform is designed to allow novices and experts alike to get involved in crypto trading, and it offers a streamlined, easy-to-use design that will likely appeal to many first-time investors.
Pros:
CoinMetro's partnership with FXPIG will help its products reach a much larger audience, and if the duo's R&D efforts continue, it may end up having a truly competitive financial services platform whose main value proposition is being able to use crypto to do almost anything in the financial world (provided it's legal, of course).
In addition, CoinMetro already has a simple and easy-to-use user interface. This will endear it to first-time investors, and this combination of streamlined design and high-powered capability are one of its greatest competitive advantages. The platform provides an easy way for customers to do business between both crypto and fiat – this is something that surprisingly few platforms are able to do effectively today.
Cons:
The market CoinMetro is entering is already highly competitive, and many exchanges that offer a similar service already exist. There are numerous grammatical errors on the website and in the service description, leading one to believe attention to details may not be as high as that on some other teams.
Token Sale Details:
CoinMetro's ICO is already open, and will be running from February 21 to March 21, 2018, and is open to all crypto investors. Its native token is called the COIN (XCM) token, and it is ERC20-compliant. There will be a total supply of 500,000,000 tokens available to potential investors.
Learn More:
Biometrids
Biometrids provides a blockchain-powered platform that records facial recognition data for its users on the blockchain and allows users and businesses to recognize one another for commercial transactions.
Every face recognized by the platform is linked to a unique ID, and is stored on the blockchain in perpetuity. Facial recognition occurs through pre-existing technology on the user's side (such as through a smartphone) and requires no extra hardware.
Biometrids is reportedly working on an API that will link their facial-recognition platform to other services that require identity verification (such as banks, real estate firms, or even public services).
In an ideal state, their platform could even be used by governments for law enforcement, but this would require a massive amount of scale to be practical.
By acting as a bridge between multiple data sources, Biometrids hopes to fill the identity verification gap between companies and individuals, all while preventing data leaks using blockchain technology.
Pros:
By leveraging machine learning to identify faces, link them with actual user data, and store them on the blockchain, Biometrids has a genuinely creative business model that could scale well if rolled out properly.
In addition, the team's idea solves a real business need by removing the middleman for identity verification, while also allowing users to retain control and ownership over their data. As an added bonus, biometric and facial data will be able to be written to smart contracts, which adds a new set of possibilities for commercial implementation.
The Biometrids API, should it come to fruition, would also give the platform added value as it would be able to integrate with a wide array of commercial and government applications. The API is not available yet, but the prospect of having one on the Biometrids platform is exciting to consider.
Cons:
Despite storing user data on the blockchain, in some ways Biometrids is actually creating a centralized database of user data and faces, which is stored in a decentralized manner.
That said, such a setup may still be vulnerable to malicious attacks, and the Biometrids team hasn't provided an immense amount of detail around the data security measures that will be used to ensure data leaks don't occur.
Despite the product being in beta at the moment, the Biometrids team isn't aiming for a go-live date anytime soon. Right now, the second half of 2020 is being targeted as a launch date, but if any snags in development crop up, this might prove too optimistic. To truly capture investor confidence and support the price of its tokens, the Biometrids team would do well to speed up their development timeline.
Token Sale Details:
The Biometrids native token is called IDS, and there is a total supply of 100,000,000 tokens. Investors can pay for tokens in Ethereum, and at present, one Ethereum is equivalent to 450-665 IDS. The ICO will be running from Feb 19 to Mar 19, 2018, and is open to all investors that are not US citizens.
Learn More:
GoNetwork
GoNetwork wants to use its mobile-first, off-chain transaction network to solve some of the scalability issues faced by Ethereum today while giving users a way to buy, sell, and exchange goods and services within videogames.
With mobile gaming growing at a rapid rate and more users than ever utilizing mobile commerce in daily life, the GoNetwork team saw an opportunity to innovate in the space and improve the Ethereum platform in one fell swoop. Most notably, with their new platform, GoNetwork recently won the ETHWaterloo hackathon, the world's largest Ethereum hackathon.
As part of its ICO, GoNetwork plans to issue GOT tokens, which can then be used to purchase apps or make in-game purchases and upgrades. As such, the company will be competing with the likes of PayPal and Stripe, given this is another type of payment solution.
Pros:
GoNetwork plans to issue a debit card to its users, which they will be able to use to pay with GOT tokens at selected retailers – as of late last year, they had already built and tested a working prototype.
By leveraging their token and platform as a go-between for game developers and gamers themselves, GoNetwork could conceivably scale the technology up to cover a number of other industries as well. With an active and growing community, this might be possible, but the team will need to execute on its timeline in order for this to happen.
Cons:
The GoNetwork team has already been involved in several online mini-scandals, undermining its credibility even before launch. Their COO was accused by a Reddit forum member (with evidence) of orchestrating the ICO purely as a money grab so that he could raise another even larger ICO after GoNetwork's.
In addition, both the team and its immediate advisors appear to have no previous experience with blockchain development. This should raise a red flag to investors, as GoNetwork's underlying technology is supposedly based on the blockchain.
On top of that, the team doesn't seem committed to executing within the deadlines set out in their original whitepaper. The GoNetwork ICO was supposedly going to occur in Q4 of 2017, but since has been pushed back to this quarter.
Token Sale Details:
The total supply of GOT tokens (which are ERC20-compliant) is 100,000,000. Of this supply, 50,000,000 will be available for purchase via Ethereum during the ICO, the launch of which is slated for late March 2018.
Learn More:
Eximchain
Eximchain was originally started in 2015 as a blockchain project by a team of MIT students. The team's goal is to create a worldwide supply chain network that, at its core, is powered by smart contracts and blockchain technology.
Since its inception, the project has been partially backed by MIT, which supports the group's mission to transform the world of supply chain management. The Eximchain software aims to allow organizations to improve their supply chain financing using blockchain technology.
This can help companies reduce overhead by a significant amount, and as an added benefit, the platform will increase transparency for all parties and by extension, strengthen trust at each link in the supply chain.
Pros:
Eximchain was conceived within the confines of MIT, meaning the idea and its technology have been rigorously peer-reviewed and vetted. In addition, the Eximchain team is highly technical, and has previous experience working with blockchain technologies.
The goal as set out in the team's whitepaper is both ambitious and achievable, and there are no obvious roadblocks holding the team back (aside from execution).
The team is already running pilots with some small partnerships with SMEs in China, showing that the business model is viable and not vaporware. According to the product roadmap, a larger-scale rollout will likely be occurring in Q1 2018.
Eximchain's technical architecture also is extremely well thought-out, and its multi-party dynamic contracting feature will help organizations improve their operational efficiency and optimize their supply chain from beginning to end. This is a high-quality blockchain project with an experienced team and a superbly well thought-out roadmap.
Cons:
Eximchain's project is surprisingly well thought-out, particularly when compared to most ICO projects, but the team suffers from a lack of well-established partners outside of MIT. Bringing a brand name partner of two on board would give help support the token's value, and give the team some substantial use cases to work on.
Token Sale Details:
Eximchain's native token is the EXC token, which is ERC20-compliant. The initial token sales period has ended, but this month the team plans to launch a second round airdrop of 1.5m worth of EXC for all potential investors that pass standard "Know Your Customer" guidelines.
Learn More:
Conclusion
All of these token sales, while widely anticipated, vary dramatically in terms of the quality and viability of their business models. Some (like Friendz) already have an established product and go to market strategy, while others are bordering on vaporware.
I hope this rundown of ICOs was useful and will prove helpful for your own crypto research. If you found this useful and would like to see more guides like this in the future, please let me know on Twitter, and be sure to subscribe to CryptoWeekly for a carefully hand-curated list of the best crypto news delivered to your inbox every week.