July 5, 2018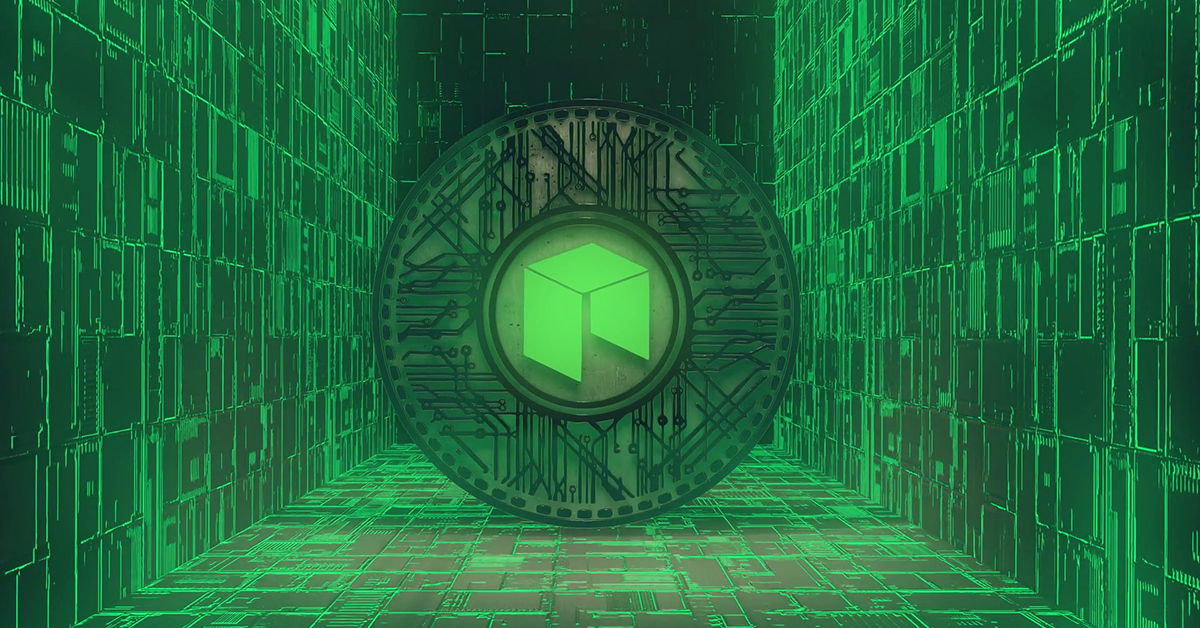 If you're interested in crypto, be sure to check out CryptoList – my hand-researched list of crypto companies, and consider subscribing to CryptoWeekly, my weekly crypto newsletter.
NEO is perhaps one of my favorite blockchain projects out there today, and for good reason. While some platforms (like Ethereum) are focused on building centers for dApp development, NEO is looking to put the physical world on the blockchain as well.
Its vision of a "smart economy" involves creating a distributed network that supports not just applications that run on it, but also the digitization of physical assets, which will have proof of ownership stored on the blockchain.
These physical assets can then be sold, invested in, or traded using smart contracts. The team at NEO has also done a great job of remaining regulatory-compliant as they continue to scale, which is commendable given the disregard many token projects have for regulators today.
In addition to developing the core platform, NEO's founders have also spun off a couple of organizations that are proving instrumental to the growth of the NEO ecosystem. One key player is OnChain, which has created a Decentralized Network Architecture (DNA) that enables the development of private blockchains that can be leveraged by businesses and government organizations.
OnChain's DNA technology is what enables NEO applications to connect their users' private data with NEO's public blockchain, and a number of token projects are already formally partnering with OnChain to secure their users' data on a public blockchain.
This strategy of bridging the digital and physical worlds is just one of the reasons I'm so bullish on NEO as a platform. The team clearly has an ambitious vision, and it's already attracting notice from the development community.
A new crop of applications has surfaced in recent months, and they promise to transform everything from global shipping to HR. Below are my favorite apps in the space that are creating truly innovative solutions to some of the most pressing problems online today. Let's get started.
NEX is a platform for decentralized crypto trading and payment services. Unlike many exchanges, NEX uses an off-chain matching engine that makes it possible to conduct complex trades quickly across multiple blockchains. The NEO-based platform also provides a crypto wallet for investors, in addition to its proprietary suite of trading products.
The service was founded by developers Fabio Canesin and Fabian Wahle, and has a quickly-growing team that's already making tangible progress on its project roadmap. NEX's highly-anticipated mainnet release for its trading platform is presently scheduled for later this year.
Moonlight is a decentralized platform that empowers HR department to transform the way they recruit and build their workforces. The platform allows recruiters to find top talent for their organizations through a built-in talent matching service that leverages smart contracts to verify applicants' experience and professional skills.
Most of Moonlight's founding team comes directly from the NEO open source community, better known as City of Zion. While the platform itself is still in development, the Moonlight team are scheduled to launch their ICO in the coming months, with the public beta of the platform scheduled to go live in the third quarter of this year.
QLC Chain has created a public blockchain that supports decentralized, network-as-a-service applications. QLC aims to democratize the global telecommunications industry, and make it possible for anyone to become a network provider. To aid in this, QLC offers an open-source SDK that developers can leverage to build dApps on top of QLC's public blockchain.
Through its proprietary Shannon Consensus protocol, QLC enables anyone to become a micro network operator, provided they already have a supported network device. The firm bills itself as the world's first NaaS (network-as-a-service), and recently went through a major rebranding (the startup was previously known as Qlink).
Phantasma is a decentralized content distribution platform that runs on the blockchain and provides a more secure environment for content creators to store and share their data. The Phantasma platform uses a hybrid system of both on and off-chain hashing to improve performance across the NEO blockchain.
The Phantasma team is laying the groundwork for their ICO later this month, and plans to launch the testnet version of its product later this year. Once the platform is ready for production, the team plans to fork it from the NEO blockchain and create its own blockchain, which will continue to utilize the NEOX protocol for cross-compatibility.
NeoAuth is a free NEO-based application that allows users to login to any app or platform using the NEO blockchain. The product is designed for online businesses looking to provide a more secure way for users to log on to their services, and is powered entirely by the NEO blockchain. Logins are conducted through a combination of public keys and smart contracts.
NeoAuth's technology will first be implemented on the NEO community's own applications before rolling out to other platforms. In addition, NeoAuth also supports integration with a number of NEO crypto wallets, which allows users to verify ownership of their public addresses with ease.
AdEx is a decentralized ad network built on the NEO blockchain, and is the first dApp based on NEO. Originally built on Ethereum, the AdEx core platform was ported over to the NEO blockchain late last year to improve overall performance and reliability. The platform's public beta was released earlier this year, and the company is aiming to launch its mainnet release later in the year.
The AdEx platform connects advertisers looking for high-quality ways to reach their audience, with influencers seeking to get paid for online advertising. AdEx already works with a number of international publishers, and operates on a commission-free model – making it incredibly attractive to advertisers.
Zeepin bills itself as a "distributed new economy for the creative industries". It's a platform which enables creatives around the world to protect their intellectual property, form distributed teams, and attract funding for their projects. The NEO-based platform uses ZPT (its native token) for all transactions, from creative sales to investments in new projects.
The Zeepin project is presently in its testnet phase, and is aiming for a mainnet release later this year. In addition, the company already has established technology partnerships with a number of industry leaders, ranging from OnChain to the public blockchain organization Ontology
Chain Line is a decentralized shipping platform built on the NEO blockchain. The platform, which currently only has a public demo available, promises to connect shippers with couriers around the world – creating what is effectively a P2P shipping platform powered by the blockchain. Most recently, the Chain Line team won 3rd place for their idea in the most recent City of Zion dApp Competition.
Every shipment initiated through Chain Line's platform is signed and secured via a smart contract, which tracks shipments from point to point. In addition to simply shipping products, users are able to register their travel on the Chain Line platform, and are matched with potential shippers in real time.
Imusify is a blockchain-based music media platform that is powered by user-generated content. The Imusify team is looking to build a decentralized platform that enables anyone to easily become a music content producer, and it's already taking significant strides toward that goal. The project was launched at NEO's developer conference earlier this year, and has continued to grow since then.
Through Imusify, artists can upload their own content, which can then be sold to users on the platform. Content is then compensated for in IMU, the platform's native token. Imusify is launching its token pre-sale on July 1st, with its public ICO set to follow shortly after.
Red Pulse initially distinguished itself from the competition by becoming the first ICO token built on the NEO blockchain. Initially founded by executives from a Hong Kong-based consultancy, Red Pulse is a decentralized market intelligence marketplace focused on the China market. By paying for data using RPX tokens, users are able to request and consume market intelligence on specific topics, all generated by the Red Pulse platform.
Although still a relatively new entrant to the crypto scene, Red Pulse has already inked partnerships with some of the world's largest content providers – including news organizations like Bloomberg and Thomson Reuters.
PikcioChain has created a NEO-based exchange for personal data. Pikcio enables anyone to buy and sell their data through a trustless platform that's backed by smart contracts. As the global regulatory environment becomes increasingly stringent for data protection, PikcioChain provides businesses with an easier way to ensure that any data they procure is both regulatory-compliant and legally available.
In its token sale earlier this year, PikcioChain raised more than $12M to fund platform development and accelerate hiring. The company has already established several strategic partnerships with key players in the corporate data space, including Ernst & Young and Pricewaterhouse Coopers.
The Key has created a decentralized identity verification platform based on the NEO blockchain. The company's platform is designed for governments, and will allow any branch of a given government to securely verify a citizen's identity based on data they've previously stored on the blockchain.
The Key has started working with some governments already, and recently launched a partnership with the Chinese government to integrate its technology into the central government's existing tech stack. In addition, the company has received more than fifteen different patents for its groundbreaking technology, and it's presently scheduled to launch the mainnet release of its platform in December of this year.
Switcheo is a multi-chain, decentralized exchange that allows crypto investors to trade NEO, GAS, SWH, and a number of other tokens across multiple blockchains. Presently, the exchange supports all NEO and NEP-5 tokens, with plans to support more in the future.
Switcheo boasts far lower trading fees than most exchanges, and doesn't impose any withdrawal fees either. The exchange launched its mainnet release in March of this year, and plans to build in support for ERC20 tokens by the end of the year.
Travala began its life as a startup called Concierge, but rebranded itself last month after completing its public token sale. Travala is a blockchain-based online travel marketplace that enables users to book flights and hotels using a P2P platform that secures all transactions through smart contracts.
By the end of the year, users will be able to book travel using AVA, Travala's native token. Upon the platform's mainnet release, transactions will be conducted with 0% commission, and any disputes will be able to be resolved using an automated, AI-based conflict resolution system.
Bridge Protocol is building a decentralized identity management platform that enables anyone to digitally store and protect their private data online. Through Bridge's proprietary Identity Management System, users can import their private data and save it on a private blockchain for use in future transactions.
Private data can only be accessed through a user's public address, and is governed by privacy settings that define which applications can access user data (as well as what kind of data those applications are allowed to access). By securing user data in a portable format, Bridge Protocol is aiming to ease the cumbersome process of obtaining KYC details that many ICOs and token projects go through when raising funding – all the while making it easier than ever for crypto investors to pass along their relevant details and get involved.