August 31, 2017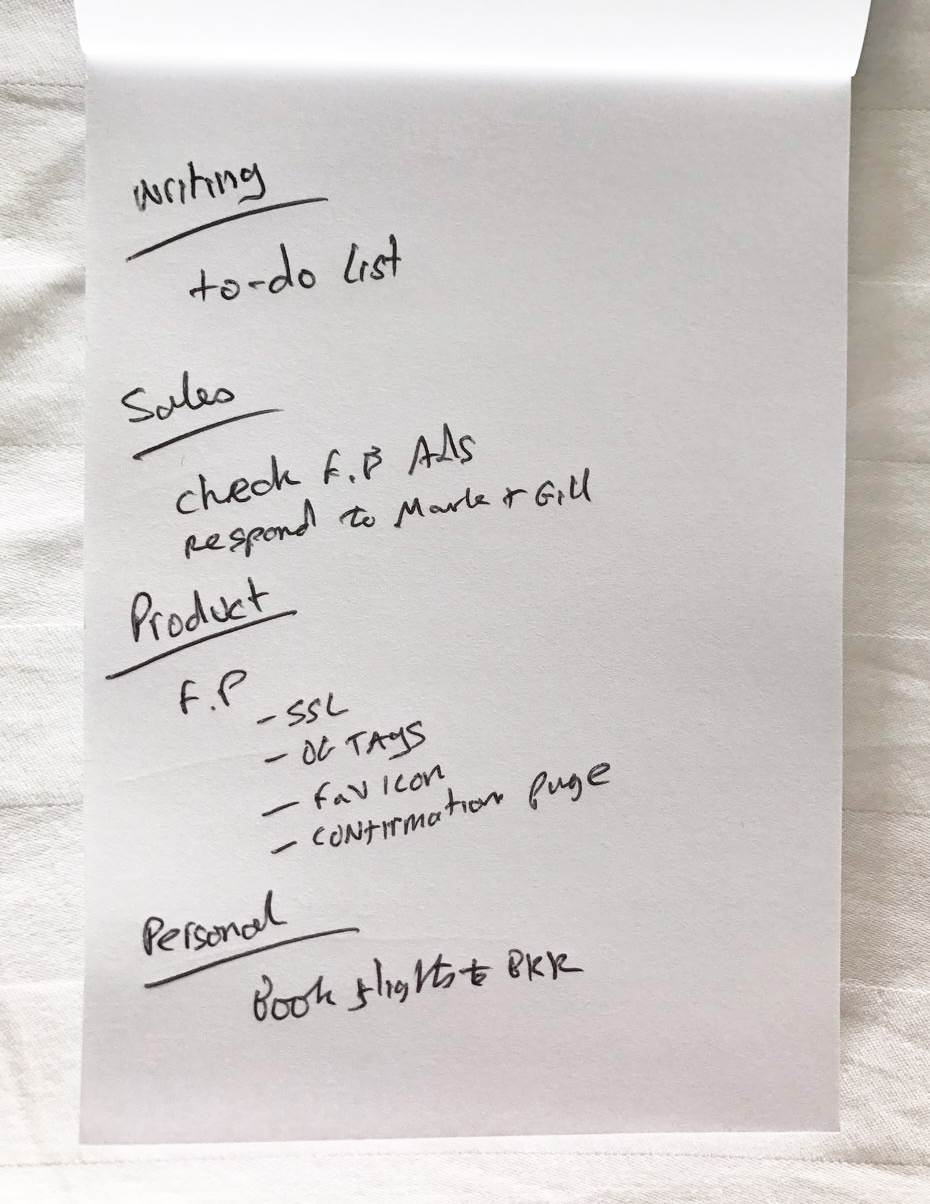 Writing my to-do list every evening for the next day ahead is easily the most important task I do with my business every day.
If I don't write what I need to get done, I'm a mess. I'll find myself switching back and forth between multiple tasks and at the end of the day realize I haven't been as productive as I would have been with a solid to-do list in front of me.
I was lucky to understand this early on in my career, which has meant I've been fine-tuning my daily to-do list for 12+ years now. What follows is how I format my to-do list every night – and why it's my best iteration yet.
Pen and paper is the best way to write a to-do list
While there are hundreds (thousands?) of to-do list and note taking apps out there, many of which I've tried and tested, I personally feel you can't beat using pen and paper.
There are a few reasons for this.
For one, writing your to-do's on a pad means the list is constantly beside you while you're working instead of hidden away on your notebook or phone.
Secondly, there's something really satisfying and special about crossing each to-do item off your list upon completion – and ending the day with all to-do items crossed off.
Side note: I like to use small note pads (about the size of a smart phone) and use one sheet of paper per day. If you stay in hotels often, look to see if there's a note pad at the desk as these are often the perfect size!
How to keep your to-list organized
I store my never-ending list of tasks and ideas in a Google Spreadsheet and save it as a Bookmark so I can open it easily.
This gives me a clear picture of what needs to get done long-term, let alone unclutter my brain, and I'll often look at this to pick out the tasks I want to complete the next day.
I only write down what I want and can accomplish the next day. There's no point adding all your tasks to your daily to-do list, so I highly recommend breaking big projects down into smaller tasks.
And always start with a fresh piece of paper each day. It's hard to explain why this is so important, but it really does provide you with a clean slate to start the day ahead which will have a profound impact on your productivity.
Side note: If you missed some tasks from the previous day, either add them back to your Google doc or onto the next day's to-do list.
Why you should focus on Product, Marketing and Sales every day
In my view there are 3 primary tasks a bootstrapper or founder of a lifestyle business with a small team should focus on:
That's it.
If you split your time evenly between Product, Marketing and Sales, I believe your business will have a much higher success rate and bring less stress to your life.
Let me explain.
Product – Whether you're improving an existing product, adding new features or building a new product from scratch, our businesses live or die by creating great products users want. This is why I'm happy dedicating a 3rd of my working day to product.
Marketing – You need to let your target audience know your product exists. Again, this is why I'm happy to spend another 3rd of my day marketing my products – whether that's Facebook advertising, email outreach, publishing content, analyzing stats etc.
Sales – The foundation of a good business is pretty simple – you need to generate more revenue than you spend. This is why I think you're final 3rd part of the day should be spent on sales. Tasks could include taking calls, responding to emails or improving your sales funnel etc.
Here's what my to-do list looks like
My to-do list will be very different from yours, but after 12 years of fine-tuning my list, I start each working day with the following headings:
Writing (aka Marketing)
Sales
Product
Personal
Inbox Zero
I add writing first as I'm my sharpest just after my morning coffee. I also add Inbox Zero at the end of my working day as for me, answering emails takes the least amount of brain power.
Personal is where I add tasks that are not necessarily related to my business – for example booking flights, or educating myself on a particular topic I'm interested in.
Will you give it a try?
Hopefully the above will help you write a better daily to-do list that will help you focus on the areas that really matter and make you more productive.
Give it a try, and let me know how you get on via Twitter.