September 11, 2018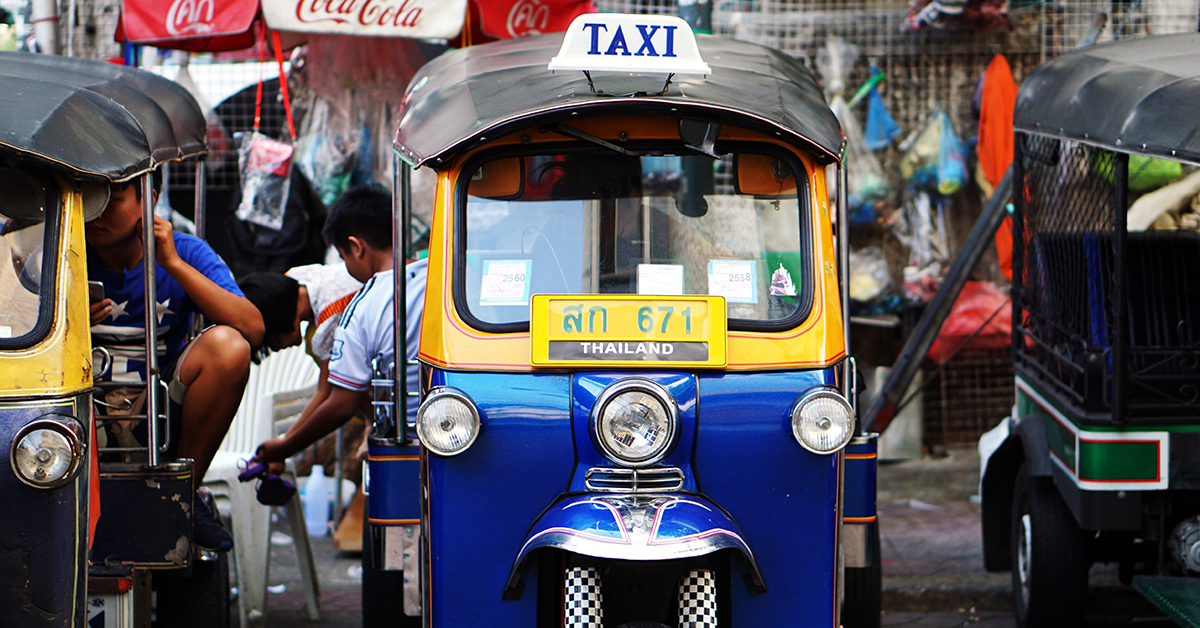 If you're interested in tech and startups in Asia, be sure to check out AsiaTechList – my hand-researched list of 4,000+ fast-growing tech companies in Asia.
Asia is home to some of the world's most rapidly developing countries, and that development has created a unique set of transportation challenges for urban designers and commuters alike.
Luckily, a new crop of startups has arrived to address some of the most pressing transportation issues in this part of the world, and the solutions they've come up with are already being implemented in other parts of the globe as well.
To better understand the future of transportation, it's worth taking a look at the numerous Asia-based startups that are unlocking new markets and coming up with breakthrough innovations to make it all possible.
Let's get started.
Grab started out its life in Singapore as a generic ride-sharing startup, but it's since evolved into a major platform player in the region that now offers a truly diverse range of services (like its payment platform, Grab Pay, and GrabFood for food delivery). It recently landed $1B in funding in a financing round led by Toyota, and now has a market cap of more than $10B.
To help foster the startup ecosystem in Southeast Asia, Grab recently launched Grab Ventures, a new venture fund that's aimed at fostering a vibrant transportation and logistics sector in the region.
Just over a year old, Chinese startup Pony.ai is now one of the fastest-growing startups in the transportation sector, and for good reason. Earlier this year it raised $112M in a Series A round to help it continue developing its AI-based autonomous driving platform, and it also launched its first fleet of self-driving taxis on the streets of Guangzhou earlier this year.
With dual headquarters in Beijing and Silicon Valley, Pony.ai is a transport startup with global ambitions. It's presently developing its own autonomous car, which it hopes to have driving on roads around the world in the next few years.
Formed by the merger of two of China's largest ride-sharing startups, DiDi is the largest ride-sharing startup in the Chinese market. Its acquisition of Uber last year helped
eliminate any excess competition, and now it's seeking to expand globally, with expansion plans for Australia and other countries already in the pipeline.
The ride-sharing startup is also partnering with several of China's largest auto manufacturers to make electric vehicles affordable to all, with a goal of having 10 million electric ride-sharing vehicles in operation by 2028.
After several years spent focusing on its home market in Indonesia, GO-JEK is finally giving Grab some serious competition in Southeast Asia. The ride-sharing startup recently was offered a $1B line of funding from some of the region's largest investors – a lineup that includes heavyweights like Tencent, Warburg, and others. That funding is setting the stage for some massive growth that will likely put it on a collision course with other ride-sharing services in the region.
But GO-JEK isn't just about ride-sharing either – the startup also offers food delivery services, a payment platform, and even on-demand massages to users on its platform.
Some say that the global bike sharing revolution started in China – and if that notion is true, then Beijing-based Mobike is the startup leading the way. The bike-sharing service is now available in most major Asian cities, and it's recently begun expansion abroad too, with rollouts in the UK and the US already underway.
In April of this year, Mobile was acquired by Chinese ecommerce giant Meituan-Dianping for nearly $3B in a move that will help complement Meituan's recently rolled-out ride sharing services in the region.
Twenty Two Motors is an India-based startup that's focused on bringing the next generation of electric scooters to the world. It launched its flagship Flow scooter earlier this year, which is the first electric scooter in the world to have an AI-powered driving system. With Twenty Two Motors' proprietary OS, the Flow scooter is able to predict and identify potholes in the roads before they appear – a true competitive advantage in a market that's notorious for its poorly-maintained roads.
The startup has raised nearly $2M in funding to date, and is already working on the next generation of its electric scooter, which may incorporate limited self-driving capabilities as well as additional AI-powered functionality.
Xpeng is China's fastest-growing electric vehicle startup. Earlier this year, the company raised nearly $350M to help it invest further in the development of autonomous driving technology as it prepares to roll out its first production vehicle, the Xpeng G3, later this year. Although its first production model will be available this year, the startup isn't planning to produce cars en masse until 2020.
That hasn't sated the appetite of investors, though, and Xpeng is looking to capitalize on that interest by raising an additional $1.6B in funding by the end of the year.
JingChi is a startup that's fully focused on creating the world's most advanced infrastructure for autonomous vehicles. Most notably, the startup recently joined Baidu's Apollo program, an initiative that's aimed at accelerating the development of autonomous driving platforms (70 other Chinese startups are already on board with the program).
JingChi's technical offerings range from high-definition LIDAR mapping software to deep learning software that can be embedded in almost any vehicle, and the company most recently raised more than $50M in a Pre-A funding round late last year.
EHang is already the most innovative drone startup in Asia, but this year it boosted its credibility even further by unveiling the Ehang 184, an autonomous passenger drone that can carry two passengers and fly up to 80mph. The drone startup has already completed more than 1,000 successful test flights, and hopes to bring the drone to the commercial market in the coming years.
In addition to its transport-oriented drone, EHang also offers a full line of consumer-focused drones designed for everything from action photography to video surveillance.
Four year-old Ofo was one of the first startups to bring bike-sharing to the Chinese market, and it's now expanded globally, with a fleet of more than 15 million bikes in operation around the globe. Earlier this year, the startup raised $866M in a funding round led by Alibaba. The funding will reportedly be used to accelerate the bike-sharing platform's expansion into additional markets in the months ahead.
Bike sharing vandalism is quickly become a significant problem for cities around the world, but Ofo is there to help. It recently announced a program to help combat bike vandalism, which will see it partner with city governments on better controls for bike-sharing platforms.
Often described as an "Uber for trucks", Huochebang is an on-demand logistics platform for commercial trucks across China that matches commercial truckers with shippers that need help with transportation. The startup recently got even bigger late last year after merging with its largest rival, Yunmanman, and it's raised more than $400M in funding from investors like Tencent and others to date. Huochebang now has more than 3.7 million trucks on its platform, with plans to add even more drivers across the region in the coming months.
Chinese startup Byton is quickly becoming a major player in Asia's increasingly crowded electric vehicle startup market. It recently raised $500M in a Series B funding round led by FAW Group, one of China's largest carmakers, and it's now partnering with the auto manufacturer on producing a new line of electric vehicles.
The startup is working on building its own electric vehicles too, and is promising to unveil a prototype of its widely-anticipated electric sedan later this year.
Ola is India's largest ride-sharing startup, and has managed to remain dominant in the market even after Uber's entry into the market a couple of years ago. As of earlier this year, it'd already raised $3.9B from a worldwide coterie of investors, and last month it reported a record 70% revenue growth for its most recent financial year.
Though India is Ola's home market, the startup is already seeking growth opportunities overseas, with a major expansion into Australia already underway.
Tencent-backed NIO is one of China's fastest-growing electric vehicle startups, and it recently filed to go public in the US in what could end up being a $2B IPO. Along with its lineup of standard electric vehicles, NIO is also working on the next generation of its EP9 hypercar, which is said to boast around 1,350hp and fully autonomous driving capabilities.
The Shanghai-based startup already has 4,000 employees around the world, and is continuing to grow rapidly in Asia and abroad as it prepares for its upcoming IPO.
Xcharge is a Chinese startup that's developing the next generation of high-powered charging systems for electric vehicles. While the its charging stations are commonplace across China, Xcharge recently embarked on an ambitious expansion into Europe, with a new network of chargers set up in Germany earlier this year.
The startup has around 20,000 charging stations in operation around the world, and payment for charging services is accepted through both credit cards and Xcharge's proprietary app.
Seoul-based BlueSignal is creating an innovative platform to help relieve traffic congestion around the world. Its app is able to predict the risk of heavy traffic for drivers days in advance, helping users to adjust their travel to time slots that have lighter traffic.
In addition to its consumer-facing technology, BlueSignal is working on enterprise-grade solutions as well. It recently announced a partnership with a major automaker to create predictive traffic management software for its next generation of vehicles, and is continuing to work on other applications for its technology as well.
VersaFleet is a Singapore-based SaaS startup that's building software to fuel the next generation of logistics and transportation startups. The startup raised nearly $3M in pre-Series A funding earlier this year, which will be used to expand its presence in Asia and further develop its enterprise SaaS offerings.
The VersaFleet platform helps transportation companies automate their logistics operations while streamlining their fleet planning in the process.
Connected car startup Katsana has built one of the world's most effective systems for quickly recovering stolen cars. With a 98% recovery rate, the Malaysia-based startup is tracking cars for numerous auto manufacturers, and stopping thefts before they start.
The startup has also developed software that helps auto manufacturers "score" drivers based on their driving habits, and encourage good driving behavior for reckless drivers.
Niu is a Chinese startup that wants to make high-quality electric scooters accessible to all. The company builds electric scooters that are designed short trips with a large urban center, and is looking to solve for the "last-mile" problem that plagues the urban cores of many Asian urban centers.
The company is looking to export its scooters abroad too, and it began selling its new flagship model in Europe after announcing it at the Urban Mobility Summit in Paris last month.
Indian logistics startup Delhivery has created a transportation platform to help Indian companies solve for the last mile of delivery. With a valuation of around $2B, the startup has already raised more than $250M in funding to date – and it's reportedly planning to go public and raise at least $350M in its IPO later this year.
The Delhi-based startup presently operates in more than 1,200 locations across India, and is now embarking on an ambitious growth plan across India's secondary cities.
FOMM is a Japanese startup that's developing a compact electric vehicle designed specifically for Southeast Asian and European cities, where roads tend to be smaller (and traffic tighter) than other parts of the world. The company is planning to begin producing 10,000 vehicles per year as soon as possible through its production facilities based in Thailand.
The most intriguing feature of FOMM's car, though, is that it floats – literally. This could prove to be an attractive feature in countries like Thailand, which frequently experience massive floods that bring traffic to a standstill.
India-based logistics startup Rivigo is focused on solving for some of the country's thorniest transportation problems using big data and AI. The startup has a fleet of more than 2,000 trucks scattered across India, and is looking to automate its entire operations as it moves to an on-demand shipping model.
Earlier this year, the startup raised $50M in Series D funding in a round led by Warburg Pincus, which values the startup at around $1B
Cainiao is a Chinese startup that's seeking to streamline the process of conducting ecommerce deliveries. Earlier this year, the company was acquired by Chinese ecommerce behemoth Alibaba for $870M, and although now under the Alibaba umbrella, it continues to operate independently.
The startup recently announced that it will be setting up a $1.5B digital logistics center at Hong Kong's international airport that will feature automated warehousing and cargo transport capabilities.
Beijing-based TuSimple is a startup that's building the next generation of fully self-driving commercial trucks. The company is presently testing its self-driving technology on test tracks in both China and the US, and is also using the same technology to help automate port operations in some of China's largest cities.
The startup has already raised more than $100M in funding to date, and is aiming to make its commercial trucks available to shipping companies around the world within the next 2-3 years.
Carro is a Singapore-based automotive marketplace that is revolutionize the way its users buy, sell, and rent out their cars. It recently raised $60M in Series B funding (led by Softbank Ventures) to expand its operations in Southeast Asia after announcing Genie Finance, its insurance underwriting and services business.
If you're interested in tech and startups in Asia, be sure to check out AsiaTechList – my hand-researched list of 4,000+ fast-growing tech companies in Asia.