June 1, 2021
At the beginning of the month I shared my monthly to-do list in my private makers group: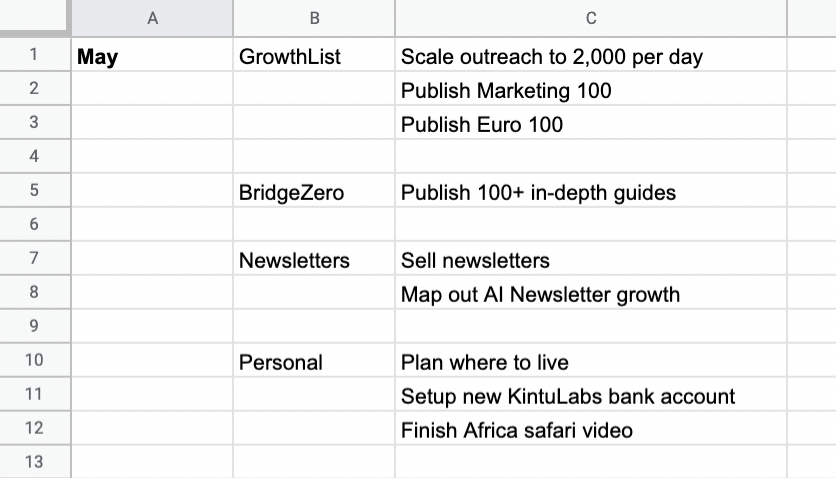 I thought it would be a great idea to publish this publicly in order to keep myself accountable, and maybe, I can inspire some you to start working through your own to-do list.
Let's look at how I got on:
Scale outreach at GrowthList to 2,000 200 per day
The 2,000 was actually a typo and should have read 200.
We researched 4,800 potential customers who could be a good fit for GrowthList in May, which divided by 20 work days, is 240 outreach emails per day. So we nailed this one on the head and will repeat this in June.
Publish 2 new "Top 100" lists
I am in the process of building 2 new 'top 100' lists to promote GrowthList and I finally got one of them ready (here's a sneak preview). Unfortunately I didn't get around to completing the Euro list, but now I have the template ready, it sure will get done in June.
Publish 100 guides at BridgeZero
BridgeZero is my site listing over 100 global visa and residency programs you can leverage. We are in the process of creating a dedicated page per visa program we cover, along with launching an educational blog.
It took more time than I originally thought to design and code up 3 different content templates, but we got there in the end. We now have a template for the different type of visa programs out there, a template for blog content and another for the individual visa guides.
In total I published 13 new guides:
Sell Newsletters
We've decided to double down on 1 newsletter at TheNewsletter.Company and sell off the rest. We sold one in May, and spent a lot of time preparing and adding the others to various online marketplaces. If you're interested in taking one of them over, be sure to send me a DM on Twitter.
Map out AI Newsletter Growth
I sent out 3 AI newsletters in May with 3 paying sponsors. I also brainstormed ideas on how to grow the newsletter subscriber base organically, and have settled on launching a comprehensive AI company directory. We've researched 750 AI companies already and will code up the directory in June.
Plan where to live
This one is a bit complicated but suffice to say, we don't have a permanent home yet (our eldest son will attend school in September so time is running out!).
Setup new bank account
After a few calls with bank managers in Singapore, we have applications getting screened now. Fingers crossed we get this completed by next week.
Finish Africa Safari Video
I shot some great footage of our Safari in Kenya last year and I want to make an educational video outlining what it was like taking my family on a Safari there. Sadly I ran out of time this month to edit it, but I hope to carve out a couple of days to get it done in June.
Final thoughts
When not working, I spent most of May exploring the South West of England while driving back and forth to London at the weekends to spend some quality time with my mum (who is terminally ill). I wrote a recap of some of the best things we did and see on the trip here.
I'm now back in London so if anyone is around for coffee, hit me up on Twitter 🙂
The markets were not kind to me, or anyone else who trades, this month so overall it was a stressful one. In fact, May has been one of the most stressful months I've had in recent years.
But I'm thankful I have walking. An alarm sounds on my phone at 3pm every day and that's when it's time to log-off, and go for a walk. In stressful times it's a great reminder how important walking is for our mental wellbeing.