June 15, 2018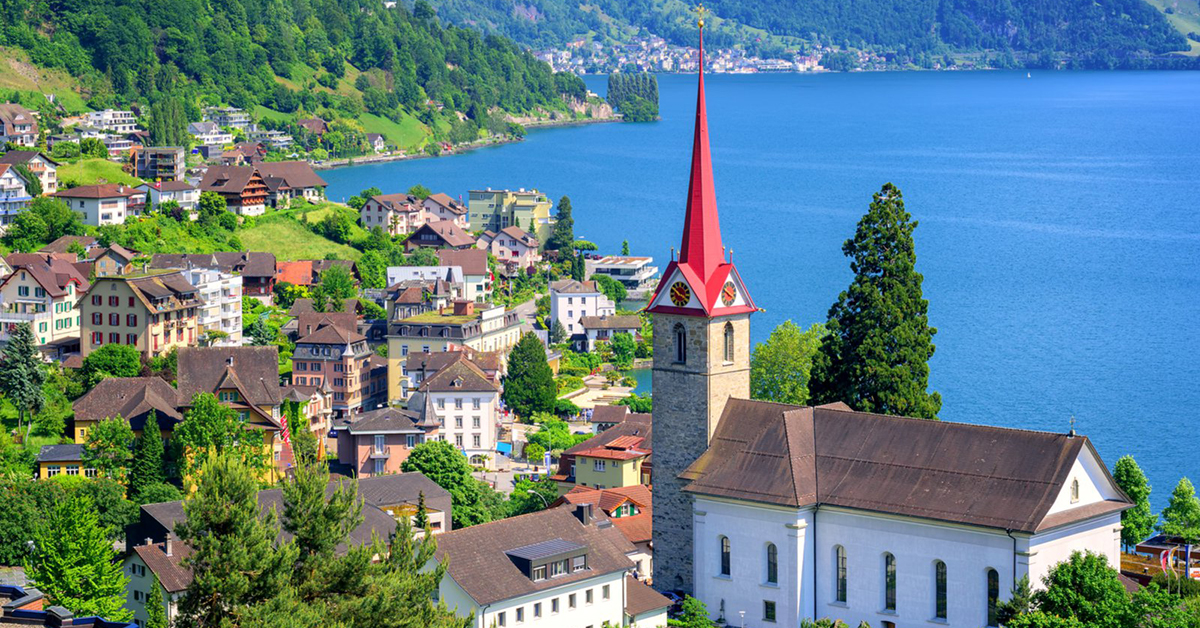 If you're interested in crypto, be sure to check out CryptoList – my hand-researched list of crypto companies, and consider subscribing to CryptoWeekly, my weekly crypto newsletter.
Zug is an unlikely contender for the world's foremost hub of crypto companies. Nestled in the foothills of the Swiss Alps, the low-key city has become a talent magnet for blockchain companies and is now home to dozens of crypto startups.
The Swiss city benefits from a local government that has taken an open approach to blockchain technology, as well as a vibrant startup ecosystem that's attracting blockchain researchers from around the world.
With a low-tax environment and an ample amount of funding, Zug could be the ideal place to start up your next crypto venture. Read on below for some of the most exciting crypto projects that have already set up shop in this quaint, but technologically advanced city.
Ethereum has an outsized role in Zug's crypto ecosystem. Not only is it owner of one of the world's largest cryptocurrencies by market cap, but it also has a nonprofit arm – the Ethereum Foundation – which is wholly headquartered in Zug. The company also hosts numerous meetups and events in Zug and the surrounding area.
In addition, the company is getting involved in local government initiatives as well. Late last year, Zug's municipal government began recording citizens' digital ID registrations on an Ethereum blockchain in partnership with Uport, a self-sovereign identity and data management platform.
Tezos is a self-governed, decentralized blockchain platform that has a "digital commonwealth" of members that work together to establish on key decisions related to the development of the platform. It's also a platform for smart contracts that, unlike Ethereum, leverages the Michelson programming language to facilitate verification.
Its nonprofit arm, the Tezos Foundation, is also active in Zug's crypto community while maintaining stewardship of Tezos's finances. Tezos contributor Ryan Jesperson was recently named head of the Tezos Foundation after a recent reshuffle and is looking to grow the foundation's presence in Zug even more in the months ahead.
Bitfinex is the newest entrant to Zug's crypto ecosystem, having just announced its intent to relocate its global headquarters from Hong Kong to Zug just weeks ago. Bitfinex is the 5th largest crypto exchange in the world by trading volume, and its pending move to Zug is likely to bode well for the crypto ecosystem there.
As part of Bitfinex's relocation, its legal, financial, and technical departments will be moving to Zug. This significant geographic transfer of talent is likely to have a positive impact on Zug, which has historically been seen as a haven for founders and investors, but is less of a hub for blockchain development talent.
With its Monaco Visa card and mobile platform, this Zug-based startup is set to transform the crypto payments landscape. Monaco's mobile platform allows users to pay for nearly anything using crypto, and it most recently unveiled two new products – Monaco Credit and Monaco Auto invest, which will allow users to automatically invest in crypto on credit.
Although the firm is headquartered in Zug, it also has a significant presence in Asia, with offices in both Hong Kong and Singapore. Monaco's native token, MCO, is also traded on most major crypto exchanges worldwide.
Xapo was originally founded in Hong Kong, but recently moved its headquarters to Zug after noticing the influx of crypto talent into the region. Xapo is best known for its cold wallet crypto storage solution, which has set an industry standard for data security and is approved by FINMA to operate in Switzerland.
Xapo's crypto vault is decentralized and is run by a network of servers in high-security, undisclosed locations around the world. Some of the firm's technical operations are also headquartered in Switzerland and are run out of a network of World War II-era bunkers in the countryside around Zug.
Cardano is a decentralized public blockchain organization that is wholly focused on preserving user privacy. Headquartered in Zug, it is backed by its nonprofit arm, the Cardano Foundation, which is also based in Switzerland. Cardano is one of the largest cryptocurrencies worldwide in terms of market cap, with a market cap in excess of $3.5b as of March 2018.
Cardano runs a multi-layer protocol that provides support for smart contracts and enhanced identity verification. In partnership with Emurgo and IOHK, it most recently launched futures for its native token, ADA, on the BitMEX exchange.
Feathercoin has been around for more than five years, but in recent months its been making deeper inroads in Zug's crypto ecosystem. Its nonprofit arm, the Feathercoin Development Foundation, moved its headquarters to Zug last year, and the firm has been active in attracting investment from several prominent Swiss investment groups.
Like many other cryptocurrencies, Feathercoin is fully open-source, and it was originally formed via a hard fork from Litecoin by the creation of its genesis block. Feathercoin leverages NeoScrypt for its encryption, making it significantly more difficult to crack and mine than other alt coins.
Shapeshift is a digital asset exchange that doesn't require any private information from its users (nor does it create physical accounts for them). In addition, it distinguishes itself from other crypto firms by having a "no fiat" policy, meaning that traditional banks and currency are not used anywhere in the company's operations.
Shapeshift was founded in 2014 by prominent crypto entrepreneur Erik Voorhees, and has been headquartered in Zug since its inception. Through its services, users can anonymously buy and sell a variety of tokens and crypto assets – all that's required is a user's receiving address in order to complete a transaction.
Cryptos Fund is a relatively new entrant to Zug's crypto ecosystem, and it's already making a significant impact. Created by a team of researchers and academics based in Zug, the fund tracks the CCI30 Index, which indexes the top 30 cryptocurrencies worldwide.
The fund launched to retail investors earlier this year and requires a minimum of $100k to participate. Annual management fees are low, and the fund's performance fee is 0%, the lowest in the industry. Over $100m in institutional investment has already been poured into the fund, which has already reached 10x its starting capital in just a matter of months.
Status has built an elegant mobile Ethereum client for Android and iOS. The firm markets its offering as a "mobile Ethereum OS", and offers a number of creative features – including support for decentralized apps, user messaging, and a hard wallet for storage of the cryptocurrency. The client also offers users the option to verify transactions with smart contracts.
Status's R&D efforts are based in Zug, but its developer community is global in reach. The firm has been active to date in Zug's crypto community and frequently participates in events and meetups there.
Zug-based Omega One is building a "decentralized automated execution platform" that can automatically perform trades across the world's largest crypto exchanges. Once the service goes live, users are set to see significantly lower trading fees (and likely higher returns as well) on the trading platform.
Omega One's platform is intended to improve liquidity in the crypto market and will introduce intermediaries (agency brokers) to help facilitate this. Omega One's trading protocol works through its native token, the Omega Token, which can be used by crypto investors to trade on the platform, make investments in crypto, or trade in the firm's proprietary dark pool.
Etherisc is a startup on a mission to create a decentralized insurance platform that's accessible to all. Built on the Ethereum blockchain, the platform is accessible to individuals and corporations and supports Dapps for different types of insurance (for example, the firm recently released a dedicated Dapp that automatically purchases blockchain-based flight insurance for airline delays).
The German startup moved its headquarters to Zug in 2017 and has formal partnerships with Lakeside Capital and Inacta, two other major players in the Zug crypto ecosystem. The firm also operates a nonprofit arm, the Decentralized Insurance Foundation, which is also based in Zug.
From its headquarters in Zug, Sweetbridge is looking to transform the world of global supply chain management through the blockchain. The startup is a member of the Liquid Value Alliance, which is seeking to collaboratively improve upon existing supply chain processes around the world by using blockchain technology.
The Sweetbridge protocol also allows users to receive low-cost loans on crypto assets without any need for an intermediary bank. The company is seeking to build the foundations of a new supply chain ecosystem built on the Sweetbridge platform, unlocking the potential of underutilized supply chains globally.
The China-based crypto mining giant recently expanded its operations into Zug, on the heels of news that the Chinese central government is preparing a major crackdown on crypto miners. The company has said that it plans to be active in the Crypto Valley Association, and will also be building data centers in the country as well.
Bitmain views its Switzerland subsidiary as a way to begin growing its presence in Europe and diversify its portfolio beyond just China. Upon entry into the market, it will almost immediately become the largest mining player in Europe by a wide margin.
Datum is a decentralized marketplace that allows users to store, sell, and trade data. The marketplace allows users to buy data by using the native DAT token, which is then stored on a network of decentralized storage nodes. The firm completed its ICO in late 2017, and has begun ramping up its presence in Switzerland in recent months.
Users have the ability to submit any type of data to the Datum network. That data can then be sold, shared, or distributed across Datum's decentralized network. Datum customers are allowed to have granular control over how their data is stored and shared as long as it remains on the network.
A Swiss development team led by Thomas Goetschmann founded its Ethereum-based startup to put retail shopping loyalty programs on the blockchain, while tokenizing the entire concept of customer loyalty. Users can sign up for loyalty programs with a number of vendors, and earn tokens that can then be exchanged for crypto and tracked in the LoyaltyCoin mobile app.
Late last year, the team also won third place in a major blockchain startup competition at the inaugural Blockchain Summit held in Zug (the judging committee was made up of subject matter experts in the fintech and legal spaces).
ClimateCoin is a cryptocurrency that allows anyone to invest in the fight against climate change. Based in Zug, the startup looks to encourage businesses to be environmentally sustainable while giving back to their investors in the form of tokens.
In December of last year, the firm inked an agreement with the Carbon Trade Exchange (CTX) to build the first P2P decentralized network for the trade and exchange of carbon credits. Carbon credits are attached to each coin sold or traded, and these credits are applied whenever a transaction occurs.
UBEX advertises itself as a "global decentralized advertising exchange" that allows publishers to tokenize the engagement that happens with marketing assets on their sites. The company uses AI to calculate future ad revenue based on engagement and token activity, and is a relatively recent entrant to Zug's crypto ecosystem.
Uber's head office is in Zug, but the team has developer talent located around the world. The firm is presently working on developing its smart contract protocol, which will form the underpinnings of its advertising analytics platform.
The Crypto Valley Association is one of the key players in Zug's startup ecosystem. As a nonprofit focused on fostering a healthy crypto ecosystem in Zug, the organization routinely holds meet ups and events around blockchain technology and cryptocurrency.
This organization is one of the primary places members of Zug's crypto community come to network, exchange ideas, and recruit new talent. The organization also tracks the token metrics and successes of its members on its website, and recently helped draft a set of ICO regulations for its member organizations.
Proxeus enables almost anyone to build high-impact blockchain applications that integrate with existing enterprise systems. The Proxeus platform is targeted towards large enterprises looking to add a layer of blockchain technology to their business processes and can be integrated with a number of 3rd party applications as well.
Earlier this year, the Proxeus team won first place in the Early Stage category of the Swiss Fintech Awards, in conjunction with the official launch of its native token, XES. The tokens can be transferred via Ethereum, and will be listed on most major exchanges later this year.