September 19, 2017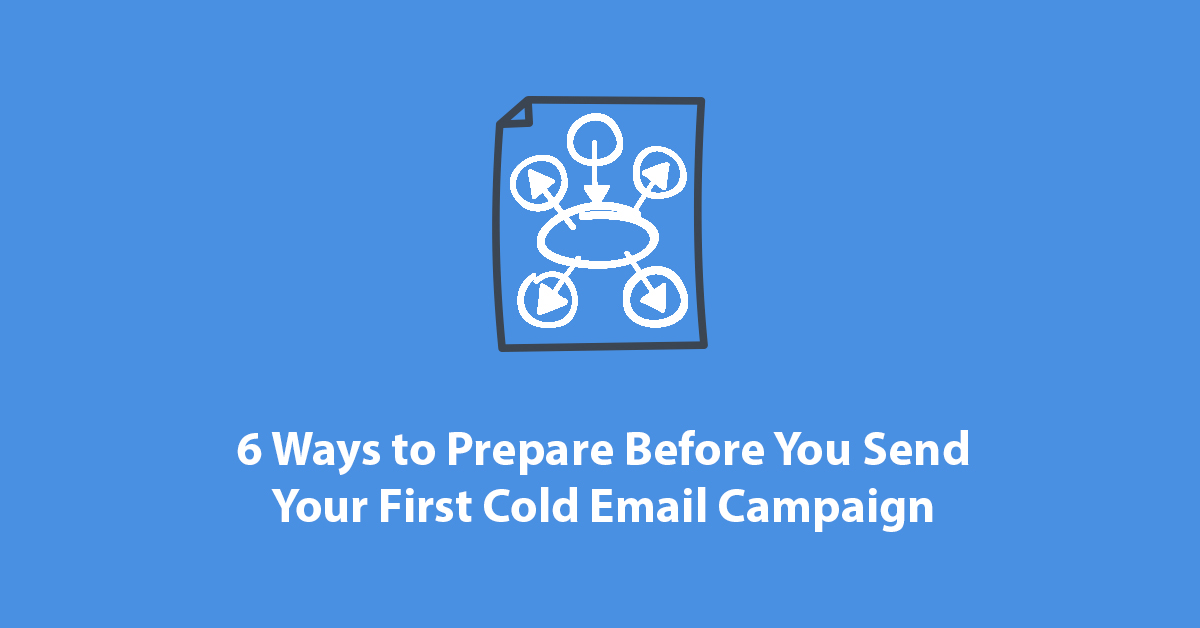 The most effective cold email campaigns are never spontaneous. Instead, they're the result of a dedicated, deliberate planning process that involves everything from writing templates to finding and segmenting the highest-value targets.
Just like many other aspects of marketing and growth, the key to getting great results from your email outreach campaign is to put just as much time into preparing as you do executing.
Below, I've listed six of the most effective ways to prepare for your cold email campaign before you start writing, proofreading and sending. All are equally important, making them worthwhile additions to your to-do list if you're new to the world of cold email.
Don't have a list of cold email targets yet? GrowthList includes validated email addresses and Twitter account URLs for 10,000 founders/CEOs of fast-growing software companies, helping you get up and running with cold email without the extended research time.
Emailing in volume? Use software strategically
The software you use to prepare, customize and send your cold emails can have a huge effect on the final results of your campaign.
This effect can be positive or negative, depending on how you use cold email software. Treat email outreach like a conventional email marketing campaign and there's a chance you'll get few or no replies; treat it like one-on-one conversation at scale and you'll fare much better.
The keys to using effectively using software as part of your cold email campaign are to choose the right tools for your needs and to use them strategically.
For example, you can use software to make contact with prospects you think aren't as likely to convert into customers, saving you time and effort. Meanwhile, you can contact the prospects you believe are the most valuable directly, letting you focus your efforts on rewarding targets.
I've included some of my favorite cold email tools in my list of tools for sending and managing your email outreach. Whichever tools you opt to use, thinking of software strategically can help you save large amounts of time and ultimately get better results from your outreach efforts.
Create your cold email templates ahead of time
It's important to prepare several cold email templates ahead of time. This saves you from having to come up with emails spontaneously and gives you a great 'base' of email content to build on as you reach out to new prospects.
If you have an existing cold email that's worked for you in the past, you can add it to your email outreach templates list as a template to use in your campaign.
If not, I've put together a list of give cold email templates that are great for things like B2B email prospecting, networking with founders/high-level staff and reconnecting with old prospects that have gone inactive.
Having templates a single click away makes it much easier to take action and start reaching out to your target list, saving you from making excuses or experiencing writer's block when it's time to launch your campaign.
Prepare your follow-up before you click send
Just like it's important to have a range of email templates ready before you start your campaign, it's also important to prepare your follow-up emails before you initiate contact.
Preparing a variety of follow-up templates ahead of time lets you reply far faster when prospects respond to your initial email. It also lets you guide your email conversations down a specific path and towards a predetermined goal, removing some of the uncertainty of email outreach.
There's nothing quite as frustrating as having hundreds of emails to follow up on without a clear understanding of what you should say. Follow-up templates completely solve this problem.
If you use tools like Boomerang, you can schedule automatic alerts if a prospect doesn't reply to an email within a specific time frame, letting you quickly and easily queue up the right follow-up template to reignite the conversation and move things forward.
Identify high-value prospects for personalized emails
To most people, there are two ways to do email outreach. The first is to use tools like Reply to reach out to a large audience at scale, using a lightly personalized email template that can be sent on autopilot.
The second is to take the opposite approach and reach out to each prospect with a completely unique, personalized and manually written email.
There's also a third way to do email outreach. If you have a list that's made up of high-value and mid-value targets (for example, a few "exact match" businesses and hundreds of prospects that don't seem quite as matched to your offer) you can combine automation and manual email.
The most effective way to do this is to remove high-value prospects from your mail outreach list and instead set them aside for personalized, unique contact.
This way, you can prepare engaging, precise and specific emails for your highest-value targets while using software to automate and optimize the rest of your email outreach. The end result is a faster, more efficient process that helps you invest your time where it's most needed.
Use the 3-B plan to eliminate fluff and get to the point
Every decision-maker has received an overly long and needlessly detailed sales email at some point in their career. Most of these emails end up where they belong — in the trash folder of the recipient's email inbox.
While there's no perfect length for a cold email, most data shows that emails between 50 and 200 words in length achieve the highest response rates. This means that if your default email template is long and detailed, you'll need to do some thorough editing before you send it.
One way to do this is by using the 3-B plan, which dictates that cold emails should make use of brevity and bluntness, all while using basic language that anyone can read and respond to.
In short, avoid sending emails that are overly long and full of fluff. While there's nothing wrong with a detailed email that runs slightly over the 200 word limit (as long as it feels natural), your outreach emails definitely need to be free of fluff and needless information.
Make it as easy as possible to book an appointment
Finally, you should always have your post-response appointment process worked out before you start emailing.
The key to turning responses into appointments is to make the process of scheduling a call or meeting as simple as possible. If it takes more than a couple of clicks or a few keystrokes for your recipients to schedule a meeting with you, your process is probably too complicated.
An easy way to solve this problem is to use email software like Mixmax, which lets you share your availability with email recipients and let them schedule appointments with a single click.
You can also do this by creating appointment slots in Google Calendar, although the process isn't quite as slick as Mixmax.
Get 10,000 validated founder and CEO emails for your cold email campaign
GrowthList is a hand-researched list of 10,000 fast-growing tech companies with validated CEO and founder contact information. How many do you think you can convert into customers?